Description
This is your chance to tour the facilities and speak to current students and staff about the University and the programmes we offer. Academic and admissions staff will advise, educate and inspire you about your future studies. There will also be an opportunity for you to tour our accommodation units. This open day will be your last call to register for our January 2017 intake.
For SPM and O-Level students, this is your opportunity to find out more about our Foundation programmes that will commence in April 2017. You can apply using your forecast results.
Our January undergraduate intake are only for the programmes below.
The following is our schedule for Career Talks during our Open Day: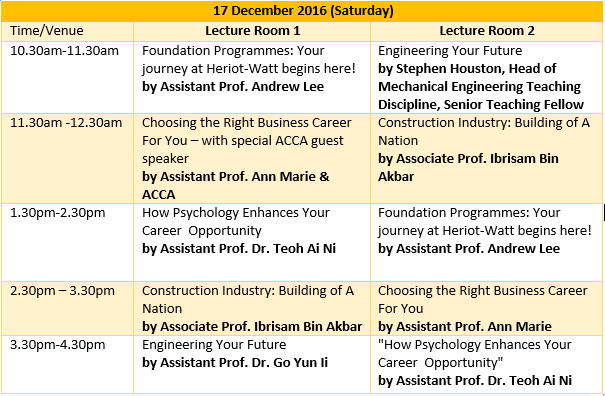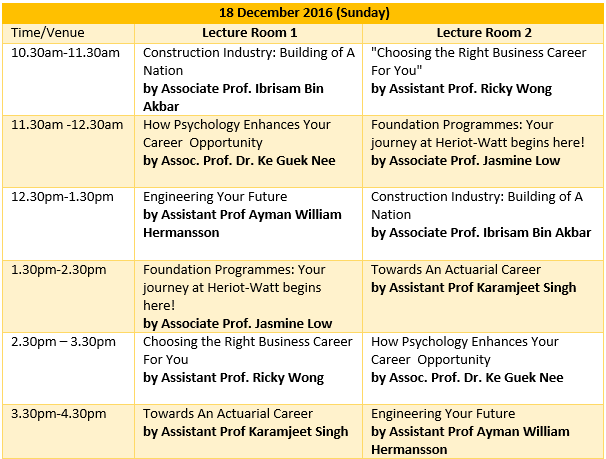 Want to hear personally from our students regarding our courses? Read their testimonials here: http://bit.ly/HWUMStudents
Download our full prospectus in PDF here: http://bit.ly/HWUM2016
Information regarding our scholarships here: http://bit.ly/hwumscholar
Curious on how our our campus looks like? Here's a 360 view: http://bit.ly/HWUM360