Description



The Child Protection Task Force
Justice For Children hosts
its 2nd Scottish Conference in Dundee

Here Our Voice Survivors Conference
Theres No Excuse For Child Abuse.
On the 2nd November 2016 between 930 am and 530pm at the Queens Hotel Nethergate Dundee has the privilidge of hosting Scotland's 2nd Child Protection Conference. With speakers from across the uk in the line-up,
Andy Peacher Ceo Of Freedom Talk Radio and The Child Protection Task Force and Sandy Smith Justice For Children are holding a Conference that will demonstrate and indeed begin to challenge the longstanding failings of government policy and practice, by challenging domestic accountability through a new multi-survivor approach. We will hear stories from many diverse walks of life to raise awareness on how best to protect our children and families from the devestating effects of Child abuse, rape and all other forms of abuse.
https://www.facebook.com/events/1085872818122182/
For the 2nd time Scotland's victims, survivors and professionals have been given a platform to be heard, understood and respected, a platform for us all to unite and protect our future children from the harm so many of us have sadly faced at the hands of others.
Freedom Talk Radio The Child Protection Task Force @ Justice for Children are delighted to be holding this International Conference that will discuss the structure imprisons parents or labels them with mental illness and covers up serious crimes against Survivors, to feed off vulnerable families going through difficult times we need to change these views and we all need to work together and end child sexual abuse.
Free Tickets are available via an online Registration process, donations are welcome
When will all survivors get justice when will they get compensation when will they be heard when will they be believed ?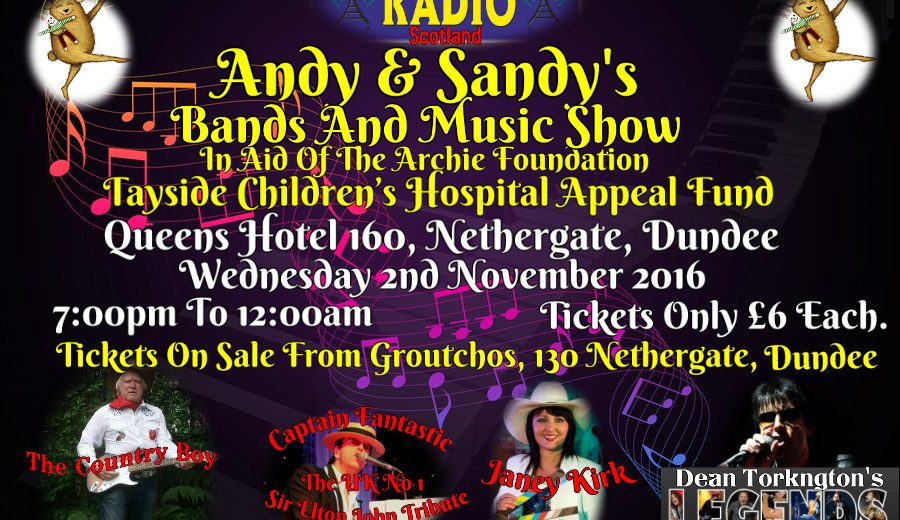 Evening Tribute Night
Charity Song.
http://www.cdbaby.com/cd/edcampbell
Tribute Act Night November 2nd.
Facebook Share With All Your Freinds AS Often as you can.
https://www.facebook.com/events/1014603118618035/
Also Tickets for the entertainment on sale at grouchos Dundee.
The Evenings Entertainment will raise vital funds for Dundees Ninewells Hospital Childrens Appeal for a operating room.
Tonights line up we have the following artists.
Elton John Tribute Act Captain Fantastic
The Legends of Rock Show Dean Torkington
http://www.eltonjohntribute.co.uk/
The Country Boy Roy Orbisons son Troy Orbison
https://www.facebook.com/donttellanyonescotland?fref=ts
Sky tvs Channel 191 Janey Kirk Blondie Tribute Act