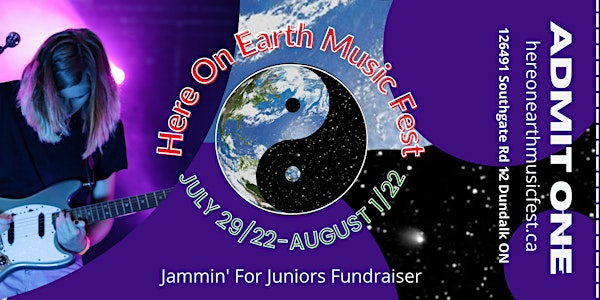 Here On Earth Music Fest
Here on Earth Music Fest is a 4 day fun filled Fundraiser for the Jammin For Juniors Program with a minimum of 18 shows and events to see!
About this event
Some of the amazing Acts include THE MUDMEN, REGGADICTION, JAMIE WARREN, PAIGE WARNER, OUR SHOTGUN WEDDING, BOOTLEEROY, SANDY HARRON, NEEMA CHILD PROJECT DANCERS, R.A.F.T., MANY MORE (THE BAND), MARTIAL ARTS DEMONSTRATIONS AND MORE.
THE EVENT CLOSES WITH AN OPEN PARTICIPATION DRUM CIRCLE, SO BRING YOUR RHYTHM INSTRUMENTS!
There will also be rough camping, open mic times, craft tent and vendors.