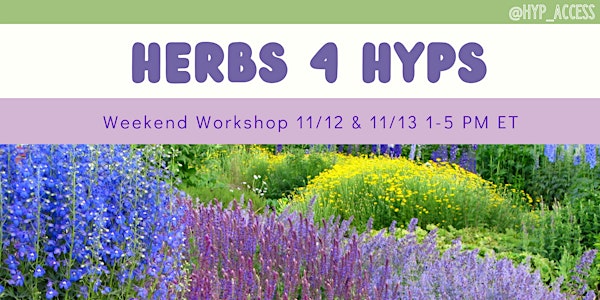 Herbs 4 Hyps
Weekend workshop with community herbalists for folks on the common and neglected spectrum of Hypermobile disability!
Refund Policy
Contact the organizer to request a refund.
Eventbrite's fee is nonrefundable.
About this event
Herbs 4 Hyps: Weekend Workshop
November 12th & 13th, 2022
Featuring: Hannah Fisenne, stephanie martinez griffin, Mae Eskenazi, & Marisa Hall
Hosted by Hyp-ACCESS
ABOUT:
Herbalism is a vital alternative and/or complimentary care resource for the Hypermobile community, especially for those most impacted by Hyp+ disability and intersectional oppression. We've been wanting to offer a series like this for a long time and are so excited to finally be doing it!
We hope you can join us! Remember that if you have a conflict or flare-up during the live event, you'll get the recordings!
SCHEDULE:
Sat. 11/12:
Hannah Fisenne, 1pm-2:30pm ET
stephanie martinez griffin, 3pm-4pm ET
Sun. 11/13:
Mae Eskenazi w/ Marisa Hall, 1pm-2:30pm ET
ALL herbalists panel conversation, 3pm-5pm ET
PAYMENT STRUCTURE:
We have several sliding scales available that integrate sponsorship options for those in our community with more resources to help make this workshop available to ALL Hyps who need it!
("Hyps" is shorthand for Hypermobile people). If you are someone for whom the medical system is somewhat supportive, this is a perfect opportunity to express your solidarity with Hyps for whom it's entirely unsafe/unusable!
- Base sliding scale: $100-$500
- Sponsor AND attend yourself: $200-$1000
- JUST sponsor an attendee: $100-$500
*Note that to accommodate sliding scales, Eventbrite ticketing is set to "donate". This event is NOT donation based. It is sliding scale with free access for specific community members -
This series will be free to Black, Indigenous, and low-income Disabled folks. Our ability to offer free access for those who need it and pay our herbalists, team members, and access providers RELIES on community solidarity - that means those who can must leverage their privilege to extend access to our entire community. We did this for our last workshop and were able to offer free access to EVERYONE who needed it. WE CAN DO IT AGAIN! Review Sliding Scale Guide below to decide how much to pay for this event.
SLIDING SCALE GUIDE:
Pay more* if:
- You don't identify as disabled
- You can afford your medications & treatments
- You have medical insurance that meets your care needs
- You can afford travel to and from treatments
- You're white
- You're thin
- You're cisgender
- You're a relatively successful artist
- You're a dance or somatics educator
- You're a medical practitioner/clinician
- You've learned from us in the past (especially if you learned for free!)
- You're ok with rent & food
- You can afford to take vacations
- You are employed/have steady income
- You have support from family
*Scale by how many criteria you meet!
ACCESS:
- Live captions
- ASL by request *Please request by October 12th
- Breaks between workshops & panel
- Recordings available afterward to all who register
CONNECT WITH THE HERBALISTS:
Hannah Fisenne (they/them): @claybrained
stephanie martinez griffin (they/them): @serenusherbs
Mae Eskenazi (they/them): @swamp_witch__
Marisa Hall (she/her): @eesahall
Image description of banner: green, cream, and lavender blocks hold the text: "Herbs 4 Hyps. Register at: tinyurl.com/herbs4hyps. Weekend Workshop: 11/12 & 11/13 1-5pm" with "@HYP_ACCESS" in the top right corner. Below the information, indigo, purple, yellow, and green plants bloom.
MEET THE HERBALISTS & LEARN ABOUT THEIR OFFERINGS:
Hannah Fisenne
Accessible Growing & First-Aid
Sat. 11/12, 1pm-2:30pm ET
Hannah Fisenne (they/them) is a multidisciplinary artist who works in sculpture, performance, herbalism, and Zine making. Hannah's work draws on their experience as an adopted, queer, disabled, Latinx person, and what it means to exist in a body on the intersects of marginalization. Their work often covers the topics of cultural knowledge of care, our culture's discomfort when dealing with the disabled body, generational knowledge, and diaspora. In addition to their work as an artist, they are a practicing street medic who uses plant medicine in addition to other techniques to help their community.
This workshop will teach participants about what adaptations can be made to traditional herb growing and processing to increase accessibility and what herbs should be in your herbal first aid kit, both at home and in the street, their various uses, and preparations. The herbs in the first aid kit portion will cover both herbs you can grow/buy and ones that can be foraged and prepped for use in the field. Hannah will also go over what additional items should accompany the herbs in your first aid kit and how to organize a med kit for quick use.
stephanie martinez griffin
Ground Down: Herbal Topicals for Chronic Pain
Sat. 11/12, 3pm-4:00pm ET
Ground Down will explore some of the many ways plant medicines can be used externally for relief from chronic pain. Often, disabled, chronically-pained and immunocompromised people are unable to safely or comfortably add in yet another internal treatment to our endless list of daily pills, vitamins, tonics, etc. Finally gaining some relief from constant discomfort is the first step to truly grounding down in your body, and eventually, helps to mend the dissociation that often accompanies chronic pain.
The recipes shared in Ground Down are alcohol-free, external-only medicines good for those with internal sensitivities or contraindications with prescription medications. Each recipe is easy to make, accessible to those with no background in herbalism, and requires only basic kitchen tools. We'll focus on herbs that can provide relief from muscle & nerve pain and inflammation, such as St. John's Wort, Comfrey, Ginger, Cayenne, Arnica. Participants will learn to make an infused oil, salve, and bath soak - all of which can be tweaked to your scent preferences/sensitivities and pain level needs.
Participants will receive a download of the recipes in this knowledge share. Please note these specific recipes should not be used by pregnant people or those currently body-feeding. These recipes are vegan and gluten-free, with the exception of beeswax used in the salve (please support local, sustainable beekeepers).
This skillshare is led by stephanie martinez griffin (they/them), a Black Indigenous queer non-binary community organizer, photographer, farmer & herbalist from Albuquerque, NM. They share small-batch, sliding-scale herbal medicines formulated for chronic pain, anxiety and immune issues at @SerenusHerbs. Stephanie also runs @MoonpenceFarm, a small herb & flower farm in NM, and the Serenus Herb Bank, a reparations-based project that sends free herbal medicine to Black and Indigenous community members. You can find all of their work at https://stephanie.vision/
Mae Eskenazi with Marisa Hall
Immutable Substance
Sunday 11/13, 1pm-2:30pm ET
Immutable Substance explores honey as a form of ritual and potentiality. From local ecologies to queer erotics, honey is a sticky, sweet, and a soft place to land at the intersection of disability and chronic illness, with potent medicinal benefits. From ingredients easily found in a bodega or grocery store, Immutable Substance will guide participants in two different honey infusion methods, followed by a conversation between Mae Eskenazi and Marisa Hall about ancestral herbalism, care work, and medicine for the gut. Participants will also receive a written worksheet and an audio instruction manual as well with suggested ingredient lists from Marisa and Mae to refer to after the workshop.
Mae Eskenazi (they/them) is a visual artist and ritualist whose interdisciplinary approach extends across sculpture, lens based media, installation, plant medicine, and performance. Calling upon lineages of disabled/trans carework, Mae is interested in the embodied, fleshly, and material enmeshment of BDSM, the medical industrial complex, and disability. Curious about the invocation of the somatic and haptic, their work situates itself within questions of grief, memory, and collective amnesia as it unfolds beyond teleological temporalities within trans, disabled, chronically ill, and queer life.
Marisa Hall is an herbalist and movement facilitator from Berkeley, California, currently based in Upstate New York. She is also the founder of Augustine Herbals, a small batch herbal medicine initiative that fuels her ongoing project 'Herbal Medicine for Black Lives', which offers black people anywhere in the US to receive limited runs of herbal medicine free of cost. She's the co-founder of Queer Healers, an online directory of queer practitioners who offer a broad spectrum of healing modalities. Marisa takes a holistic approach to healing, offering modalities that encourage inward exploration, balance, and accessing deeper, more sustainable joy. Her hope for anyone she works with is for them to walk away feeling grounded and embodied in their healing journey, with more capacity to reach further toward a more abundant state of being.
ALL HERBALISTS PANEL CONVERSATION!
Sunday 11/13, 3pm-5:00pm ET