Herbal Resurgence Rendezvous 2013

Thursday, September 19, 2013 at 9:00 AM

-

Sunday, September 22, 2013 at 3:00 PM (MDT)
Event Details
"An amazing conference, resurrecting the spirit of Western Herbalism."
-Paul Bergner, North American Institute of Medical Herbalism
"Some gentle folk commented to me this could be the start of new renaissance in American herbalism. I'm less poetic. This could be the start of a well needed revolution.  It is time to remember the wisdom of our grandparents and our elders and bring it back to the forefront of herbal practice. It is time to bring back the heart and passion of American herbalism."    
- Chuck Garcia, California School of Traditional Hispanic Herbalism
4 days of herbal workshops and classes by over 27 of the Western World's best herbal teachers and practitioners! PLUS two nights of live music and a Healer's Market!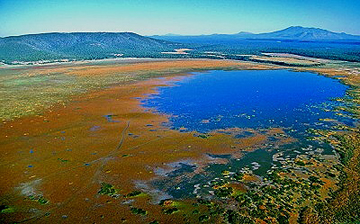 Our 4th Annual international conference and celebration, can you believe it? – now in the plant-lush Coconino Forest, and still in the inescapably enchanted Southwest.  Against all odds, The Herbal Resurgence continues to act as a seedbed for the reinvigoration and resurgence of folk herbalism in the western world, fostering its culture and serving its community.  This surge can be seen in the connections and alliances our participants make, the new practices committed to, the stances taken, and daily lives enlivened! 
Enjoy 4 days of classes and hands-on workshops taught by some of the most knowledgable, inspiring and exciting of teachers, each bringing to this conference their absolutely most adventurous new class topics... along with a Healer's Market and Friday and Saturday night concerts.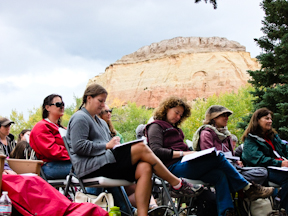 Today's plant-based healers are the most recent in a long line of herbwives, root doctors, yerberas, mountain men, curanderos, grannywomen and village herbalists that stretch back through time and across cultures. From the hills of Vermont to the shores of Cornwall, the rainforests of the Amazon to the mesas and canyons of the Southwest, we are walking in the footsteps of our ancestors to bring together people and plants at a time when such work has never before been so necessary and urgent. Our teachers will again focus on practical application and the latest findings of cutting edge research as well as the personal, energetic and spiritual relationship between our kind and the plant world. They will each be stretching at this event, giving more personally revealing and conceptually adventurous talks than they usually feel free to, speaking from the voice of experience and practice rather than theory, with powerful instruction and insight based on real life work. This and every future Conference will feature a strong conservation component, addressing the ecology, proliferation and preservation of native plant species and the necessary natural habitat… healing ourselves and each other as we heal the earth. And it will be distinguished, more than any other way, by its Western, folk identity, consciously rough edged and unapologetic, insisting on hope, bucking the norm, combining self reliance with neighborly cooperation, rooted in experience as well as tradition. In the end, the conference was not so fae as feral, with a touch of norm-busting new science, the flair and attitude of cowpunk, true to and in keeping with the down home, dirt grounded, earth honoring, grassroots, self authorized, community building, alternative offering, chance taking, magic making and oft celebrating Folk Herbalism Revival. 
Find out more at the Herbal Resurgence website!!!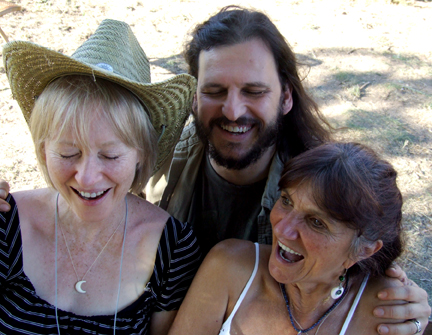 (Teachers Rosemary Gladstar, Phyllis Light and Jim McDonald enjoying the 2010 Conference)
Refund Policy: If you bought a ticket and then found out you can't attend for some reason, you have the option to:
 1. Donate your ticket to a worthy and grateful applicant to our Scholarship program, with you informed of who you end up sponsoring, and them told about your gift if you so desire.
 2. Transfer your ticket to the next annual Herbal Resurgence event, so that you're already paid in full even if prices were to increase... or
 3. Receive a refund anytime before August 15th, minus the $75 non-refundable deposit and $7.00 ticket processing fee included in the ticket price.  There is a non-refundable ticket fee is $2 for Children's tickets, though up until the August 15th cutoff the $55 ticket price will be refunded by us in its entirety.
Again, please: No cash Refunds whatsoever can be issued after August 10th, regardless of reasons.
That said, even after August 10th you would still have the option of either applying your ticket to the following year, or sponsoring a grateful Scholarship student.
When & Where

Mormon Lake Lodge

Mormon Lake, AZ 86038


Thursday, September 19, 2013 at 9:00 AM

-

Sunday, September 22, 2013 at 3:00 PM (MDT)
Add to my calendar
Organizer
HerbFolk Gathering
The HerbFolk Gathering was conceived by Animá teacher and herbalist Kiva Rose as a portal to help distill, further and propagate these home grown tradtions of knowledge vital to our well being and the well being of the world, with links to informative writings, various schools and avenues of study, and sponsoring and showcasing the annual HerbFolk Gathering. Together we provide the sensibilities and skills to better heal ourselves and each other, ultimately working to mend emotional wounds as well as physical, helping return to wholeness our wounded culture as well as the threatened natural world that informs, heals and sustains us.
-Jesse Wolf Hardin

Herbal Resurgence Rendezvous 2013