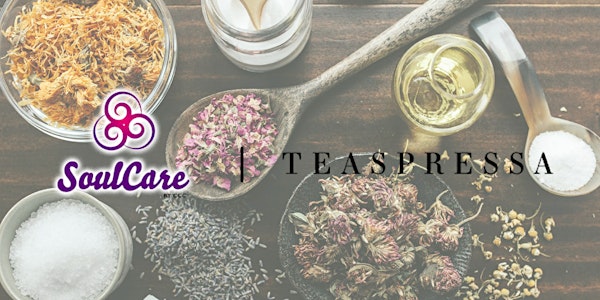 Herbal Bath Soaks | Ancient Beautification Rituals
Event Information
Location
TEASPRESSA | Arcadia
4628 East Indian School Road
Phoenix, AZ 85018
Learn, create, and experience the benefits behind bath therapy. This workshop will be featuring a build-your-own herbal bath kit activity!
About this event
Teaspressa, a locally-crafted artisanal tea shop, and Soulcare (by CCC) are joining forces!
With this workshop, we will be kicking off the Soulcare (by CCC) Workshop Series: A seasonally-inspired collection of events that will feature a hands-on type of learning and creative experience in topics covering day-to-day organic wellness, eco-friendly, and purpose-driven self care routines.
All ticketed attendees will be taking home an Herbal Bath Soak Kit, which will include 8oz of oil-infused epsom salt + 8 oz of individually-crafted herbal mix. This is enough product for 2 baths.
In addition to this, guests will be leaving knowing and understanding how to mindfully craft their own eco-friendly, herbal bath soak remedies, so that they may be able to instill an easy and every-day self-care routine into their lives.
Date and time
Location
TEASPRESSA | Arcadia
4628 East Indian School Road
Phoenix, AZ 85018