About this Event
Net Impact Amsterdam has partnered with Yerba, Dierenwelzijnscheck, Cityplot, and PwC, to dive into the effects that our food choices have on the environment and social well-being. 
We know commercial agricultural systems and mainstream consumption choices put great stress on natural resources and biodiversity, jeopardize human health, and can be deeply inefficient at transferring energy and nutrients from one source to another.
Join us for a four-course, plant-based, dinner and wine pairings with Yerba, Dierenwelzijnscheck, Cityplot, and PwC. Over dinner, these experts in sustainable food and agriculture will explore their vision for an inclusive shift in the way our food is produced and will introduce the roles that consumers can play in actively prioritising sustainable practices. Presentations are followed by a light guided table dialogue.
The event's four-course dinner and wine pairings have been uniquely curated by Yerba's plant-forward and waste-free Chef, Walter Marskamp.
Herba Vora comes from the Latin word 'Herba', meaning plants, and 'Vora', meaning to devour.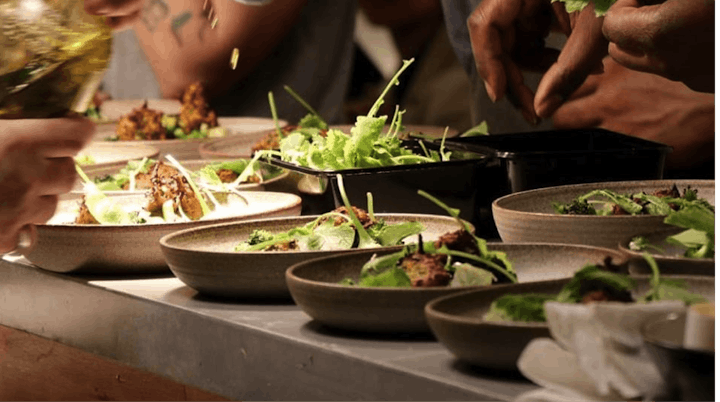 Programme
Each course is served over an expert presentation and followed by a light guided table dialogue.
19:00-19:30 | Hors d'oeuvres, bubbles, and socialising | Welcome messages by Net Impact Amsterdam and Yerba
19:45-20:15 | First course served | Ethical Eating: A look at Amsterdam Restaurants by Dierenwelzijnscheck
20:15-20:45 | Second course served | Grow the City: A look at city permaculture and co-ops by Cityplot
20:45-21:15 | Third course served | Real Impacts: The truth about food waste and plastics by PwC
21:15-21:45 | Fourth course served | Guided table dialogue
21:45-22:30 | Socialising and closing remarks
About Yerba
Located off Amsterdam's Museumplein, Yerba is a plant forward restaurant space for creative, root-to-seed, seasonal dining.
Yerba cares about exciting and engaging food, based on the finest vegetables and edible plants of the season. They prioritise growing their own, working with local producers, farmers and fishermen, and presenting the best new alternative dining.
About Net Impact Amsterdam
Net Impact Amsterdam launched in 2018 as a coalition of local professionals who seek to use their skills for positive environmental and social change.
We are a membership organisation that provides people who do positive work with a platform to inspire others through immersive learning, tours, debates, workshops, blogs, and other in-person events that help their members to drive their impact mission forward.
We are part of a bigger picture. Net Impact is a global organisation with 10,000+ members and 350+ chapters across nearly 40 countries.
Visit our website and become a Net Impact Amsterdam member. Membership is free of charge.