Location
Keepsake Cidery
4609 135th St e
Dundas, MN 55019
Enjoy food and cider in the Tasting Room (open 12 to 6 pm) and explore the many opportunities to learn about herbalism and herbal products
About this event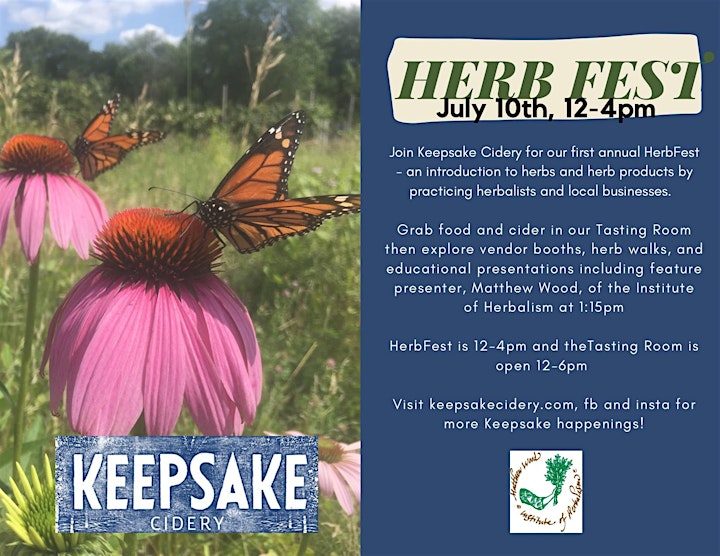 Keepsake Cidery will be hosting its first annual HerbFest on Sunday, July 10, 2022 from 12 to 4 pm. Due to the significant interest in this event and the limited capacity on the farm, this is a ticket only event.
Enjoy food and cider in the Tasting Room (open to 6 pm) and explore the many opportunities to learn about herbalism and herbal products from local businesses and practicing herbalists. In addition to vendor booths, guided herb walks and educational workshops will be offered. Renowned herbalist, author, and teacher Matthew Wood, founder of the Matthew Wood Institute of Herbalism, will be the featured presenter at 1:15 pm.
Keepsake Cidery, located 4 miles south of Dundas, Minnesota, is a family owned cidery, orchard, and tasting room. Their aim is to produce delicious, high-quality cider from simple ingredients and time-honored methods.
For more information about Keepsake Cidery, see keepsakecidery.com and follow on Facebook and Instagram to keep up with special events.
Ticket Price includes $1off coupon for a bottle of cider to bring home!