Description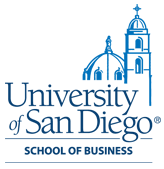 USD Welcomes Hera Venture Summit!
A One-Day Intensive Event Aimed at Building Critical Connections Between Female Investors and Female Entrepreneurs
Our Summit will bring together EXPERTS from both sides of the investment table to share best practices, essential tips and lessons learned. Binational, local and global resources will be shared and discussed along with trends and hot topics around gender investing.
GOLD SPONSOR: Qualcomm Ventures
SILVER SPONSOR: DoWhop
Schedule of events:

7:30 - 8:30 am ~~~ Registration
8:00 - 8:30 am ~~~ Light Refreshments & Light Breakfast
8:30 - 9:00 am ~~~ Welcome
9:00 - 9:30 am ~~~ Morning Keynote: It's the Decade of Women!
Erica Baker - Tech entrepreneur and Diversity Advocate - See bio here

TEDx talk : TechCrunch | Include: Building A Diverse Corporate Culture

#FFFFFF Diversity article & involved in these projects: Barbie, Project Include and Girl Develop It
9:30 - 10:15 am ~~~ Panel I :: Team Up to Dream Up - The Rise of the Female Investor & Fabulous Founder
10:15 - 11:00 am ~~~ STARTUP ECOSYSTEM SHOWCASE
HOSTED by Female-founded DoWhop
11:00 am - 12:00 pm ~~~ Panel II :: Fierce Gender Lens Investors - After #MeToo & #TimesUp, #GenderLensInvesting has its moment
12:00 - 1:00 pm ~~~ Lunch & Startup Ecosystem Showcase
Lunch on the patio with new connections, VCs, angel investors and entrepreneurs

Enjoy music from a female artist!

Connect with resources for female entrepreneurs and investors at the showcase
1:00 - 1:30 pm ~~~ Afternoon Keynote: Women Go Global!
1:30 - 2:15 pm ~~~ Panel III :: Can't Hold us Back: Going Global Calibaja and the Global Investing Climate
2:15 - 2:30 pm ~~~ Short Break

2:30 - 3:15 pm ~~~ Pitch Session: Local & National Hera Fast Pitch Top Winners Pitch for Prize Money & Gifts in Kind
PITCHING FEMALE FOUNDERS:
3:15 - 3:45 pm ~~~ Interactive Due Diligence Session & Allocation of "Funds"

GAMIFICATION of the due diligence process typical to angel groups, investment groups and some early stage VCs:
Audience will be broken up into various VC groupings (6-8 people each)

Each group is given a $1M fund of monopoly money, a small due diligence package with checklist to review for each pitching startup

Audience has 30 minutes to decide how to allocated the $1M fund

The startup with the most amount of money, wins the Hera Venture Summit pitch competition (winner announced at end of the day)
MODERATORS: (VCs and Angels with experience in due diligence)
3:45 - 4:00 pm ~~~ COFFEE NETWORKING BREAK

NEXT 2 PANELS:
[ 2 TRACKS: Angel Investors (a) & Entrepreneurs (e) ]
4:00 - 4:30 pm ~~~ Panel IV (a) :: Protect Your ASSets: Red Flags & Due Diligence
4:30 - 5:00 pm ~~~ Panel IV (e) :: Own Your Power: Building Your Confidence in Funding Appeal
5:00 - 5:30 pm ~~~ Panel V (a) :: Profit with Purpose: From social impact investing to university alumni angel networks, doing good does mean good business
5:30 - 6:00 pm ~~~ Panel V (e) :: Entrepreneurs turned Investors
6:00 - 6:15 pm ~~~ Closing Keynote
"Fail Forward, Think Small & Win Big: Success in Unexpected Moments"

Maresa Friedman: Google & TEDx Speaker, Forbes Council, Facilitator, Strategist, Business Travel Influencer, & Executive Cat Herder
6:15 - 6:30 pm ~~~ FINAL REMARKS
Announcement of Winning HVS pitching startup

Announcement of HVS Awards

Ending: REACH FOR THE STARS, as investors and entrepreneurs :: Silvia Mah, founder of She Invests, Hera Labs and Hera Angels, will challenge you to not only pick a star and go for it, but reach farther and wider with a constellation of investors, advocates and entrepreneurs shining with you.
6:30 - 7:15 pm ~~~ Happy Hour: Wine, Women, & Wisdom
Enjoy light hors d'oeuvres as the sun sets on beautiful San Diego bay from the patio

Be empowered by the strength & beauty of female-focused music/performance

Share wisdom learned throughout the day with a couple more amazing women over wine.
THANK YOU TO OUR SPONSORS: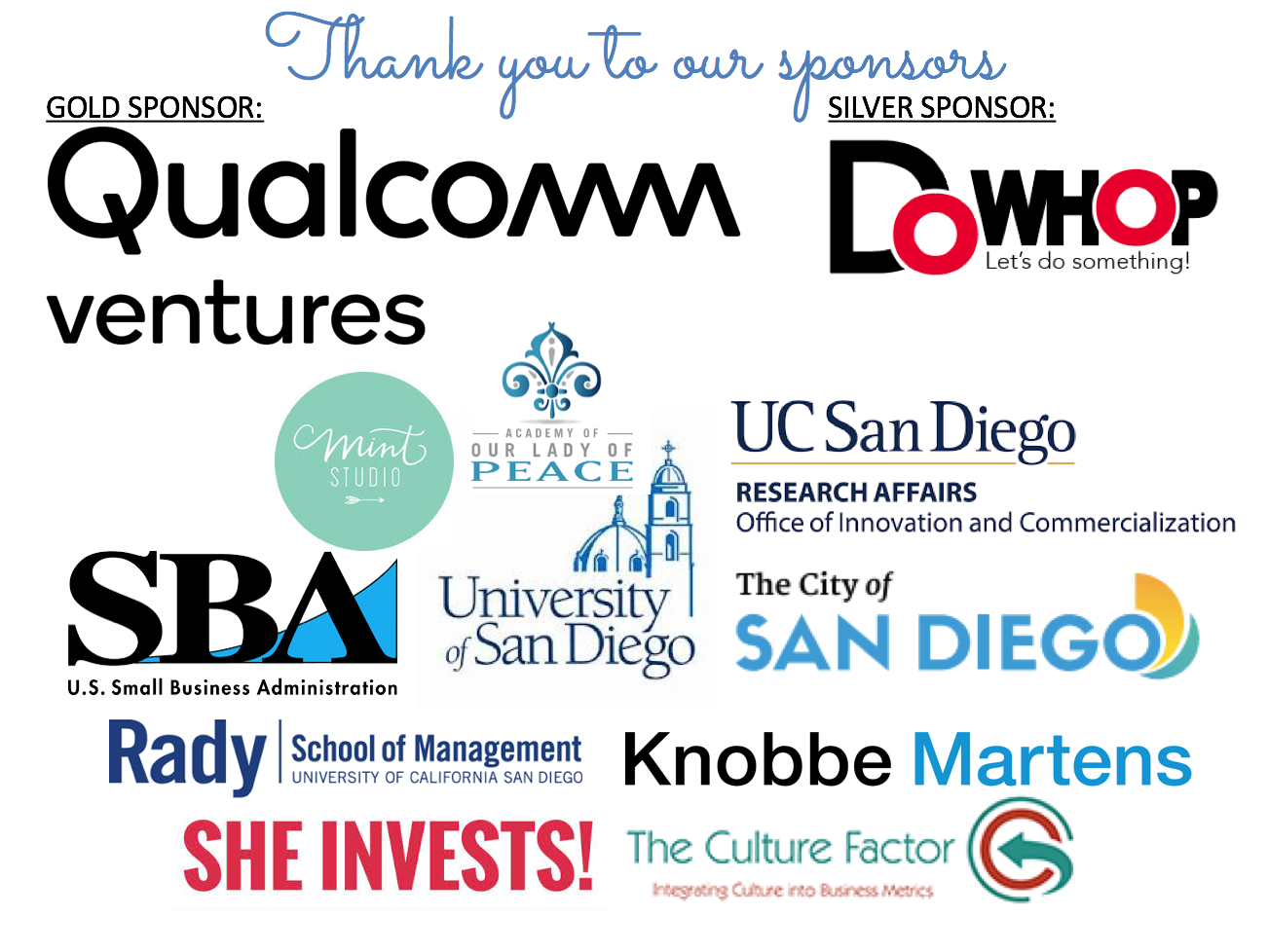 GIFT IN KIND SPONSORS - gift baskes for Social Media challenge winners & pitching female founders:
DonationMatch
KIND Bars
SDCCU
Mission Federal Credit Union
Curves
Genworth
Office of Awesome
WordPop PR
Laurie Itkin, The Options Lady
H. Linwood Insurance
Vandermedia Design & Marketing
Executive Cat Herder
KSB Online Marketing
Leakakos Law
Teuscher Chocolate
Felena Hanson
Picaboo
Stronghold Jiu Jitsu
LOCATION & PARKING:
University of San Diego Schoo of Leadership and Education Sciences University of San Diego
5998 Alcalá Park, San Diego, CA 92110
School of Leadership and Education Sciences

The SoLES building, as it is known, is on the west end of campus
If you enter the west entrance it's the first large building, at the top of the hill, on your left. (Across from the Peace & Justice Institute)
As you enter the campus you will NOT NEED ANY PARKING PERMIT as the event is on Saturday.
Underground parking can be found by turning left at the stop sign and circling around the backside of the building (coming from East Entrance gate). Coming from any other place on campus, undergradound parking is accessed through North Side of building.
*** Important: only park in the unreserved spots around the perimeter of the underground parking lot ****
If this lot is full you may park around the perimeter spaces under the Peace & Justice building (across the way) or in the outdoor lots below (as you head back down the hill)
DRIVING DIRECTIONS
Please arrive early to allow time to walk to the venue
From the North (Los Angeles, La Jolla)
• Use I-5 (South) exit at Sea World Drive and Tecolote Road
• Turn Left on Tecolote Road.
• Right on Morena Blvd.
• Left on Napa Street to Linda Vista Road.
• Make a left at the 1st stoplight on Linda Vista Road onto Marian Way, USD's West entrance.
• Stop at the entry kiosk to obtain a free guest parking permit.
From the South (Downtown, Convention Center)
• Use I-5 (North) to I-8 (East) and exit at the first exit, Morena Blvd.
• Follow Morena Blvd, and bear right onto Linda Vista Road.
• Make a left at the 1st stoplight on Linda Vista Road onto Marian Way, USD's West entrance.
• Entry Kiosk is not open on weekends, so plese just enter the campus
From the East
• Use I-8 (West), exit at Morena Blvd.
• Bear right onto Linda Vista Road.
• Make a left at the 2nd stoplight on Linda Vista Road onto Marian Way, USD's West entrance.
• Entry Kiosk is not open on weekends, so plese just enter the campus
FAQs
What are my transportation/parking options for getting to and from the event?
The event is at USD. You can either park UNDER the SOLES (Mother Rosalia Hall) building or under the Peace & Justice building.
How can I contact the organizer with any questions?
Please email sarah@heralabs.com, our Event Coordinator, for any questions. Day of questions, please TEXT 858.603.2677