Her Texas travels to Houston for a weekend of networking, new connections & supporting local, woman-owned businesses
About this event
Her Texas is hitting the road this summer for the ultimate road trip!
Join us Saturday, July 24 - Sunday, July 25 as we shine a bright light on Houston, Texas and the women that make the city one of the top in the country.
Whether you live in Houston or you're traveling from a different city, join Her Texas for the entire weekend or pop in for one of the group activities.
Check out our official event lineup below.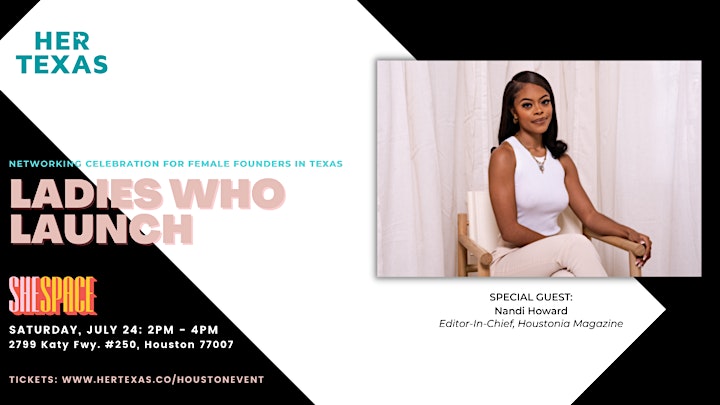 THE HERTINERARY:
SATURDAY 7/24
LADIES WHO LAUNCH Female Founder Netowrking & Fireside Chat feat. Nandi Howard, Editor-in-Chief, Houstonia Magazine (ticket required)
Shop/Support woman-owned shops & brands (RSVP for accurate headcount: hello@hertexas.co)
Dinner - Rosie Cannonball (Limited Seating. RSVP required: hello@hertexas.co)
SUNDAY 7/25
Brunch (Limited Seating. RSVP required: hello@hertexas.co)
Museum Visit: Contemporary Arts Museum of Houston (RSVP for accurate headcount: hello@hertexas.co)
Mural District Tour & Photo Shoot w/ Angela Barrs, Twenty Five Smiles Blog (Bring your friends! RSVP for accurate headcount: hello@hertexas.co)