Her Power Moves Presents #UnNetworkingJax - September 2019
Description
JUST ADDED!!!
Can't make it to our #unnetworkingjax event in person?! Well, we've got an option for you! As all of our events have a workshop giving you valuable skills/tactics/resources, for the first time ever we are recording the teaching and YOU can enjoy and learn from the comfort of wherever you are!
Just choose the "Stream to Me" option at checkout! Sales end the day of the event, so don't miss out! Reserve your workshop experience TODAY!
---
Finally, a networking event that doesn't feel like a networking event!
Her Power Moves is here to serve the women entrepreneur community of Jacksonville! Originally created in South Florida, #UnNetworking is proven and successful method of helping busy, overwhelmed women get exactly what they need to succeed in business:
More connections.
More collaborations.
More cash flow.

#UnNetworking is not about taking or handing out our business cards like playing cards.
It is about sharing and growing and making connections. Because when we do this... #weallwin. And we all can truly win because there's MORE THAN ENOUGH success to go around!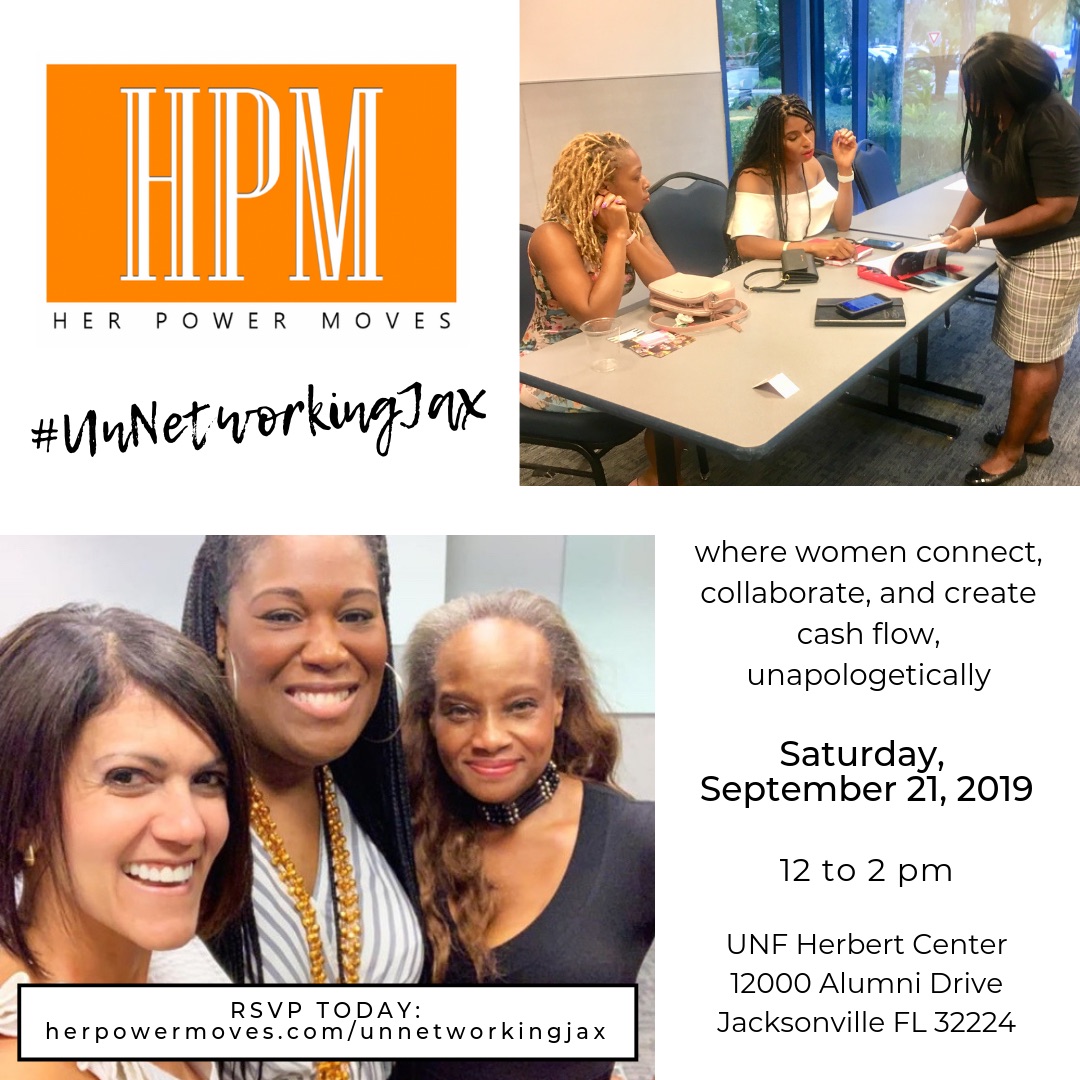 #UnNetworking means that when mixing and mingling begin, you will know EXACTLY who you need to make a beeline to for a critical connection to help grow your business. And everyone knows where to find YOU to utilize your products or services.

Networking our way allows busy women to get the connections and collaborations they need to help grow their businesses. Forget traditional networking events where you jump from one conversation to the next, collect business cards, and leave without valuable resources or connections.

Did I also mention that we'll be hosting raffles and free giveaways for our attendees to celebrate this growing, vibrant community of women entrepreneurs?
You will definitely want to be in the building! Light refreshments will be served. Space is limited, so make sure to RSVP to reserve your spot today!