Description
Friends stay tuned for a new date!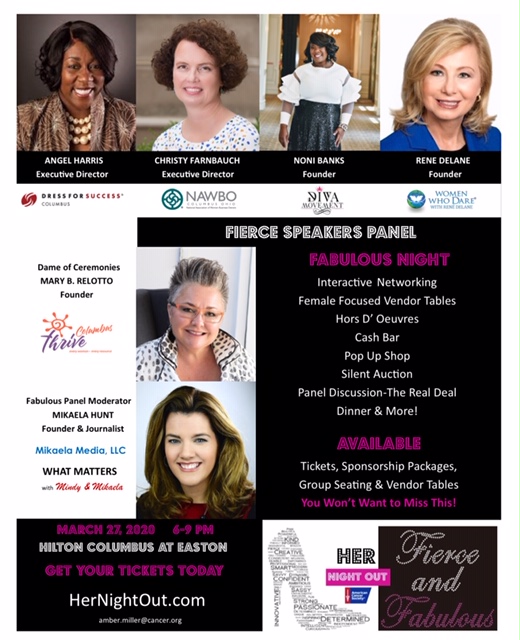 www.hernightout.com

In one room, just for you during HER Night Out...we have gathered four vivacious leadership panelists who will share how they became the fierce and fabulous, female leaders of today. They overcame many barriers; what halts you from being your best, fierce and fabulous self? Their wisdom, experience and vast knowledge in various industries and situations shed light on how to elevate your presence and purpose.

Your Amazing Panel of Fierce Women:
Our Dame of Ceremonies:
Mary B. Relotto, Founder of Thrive Columbus and Dames Bond
Fierce & Fabulous Panel Moderator:
Mikaela Hunt, Storyteller and Host of What Matters with Mindy & Mikaela
Angel Harris: Executive Director, Dress For Success
Christy Farnbauch: Executive Director, NAWBO
Noni Banks: President, The Diva Movement Inc.
Rene Delane: Founder, Women Who Dare

Get your tickets today! Need a table of 8 or even a table of 6? Would you rather get your tickets inside of a fabulous sponsrship package with merchandise vouchers and wine? Contact amber.miller@cancer.org or 614.726.4469 to get yours today!
Networking: You'll get fantastic contacts with the best female minds in Greater Columbus while enjoying passed hors d' oeurves as you check out the silent auction, pop up shop and female focused vendor tables. Cash bar and dinner await you. All proceeds benefit the American Cancer Society. You don't want to miss out on the attendees, panel discussion or FUN!
VENDORS: The Diva Movement, Women Who Dare, Thrive Columbus, NAWBO, Dress For Success, American Cancer Society ResearcHERS, EnVision Me Planning, Jane's Beauty Clothing, Discovery Shop, My Bookworm Box, Solis Mammography, OrangeTheory Clintonville...
Early Bird Pricing period ended March 5, 2020.