Description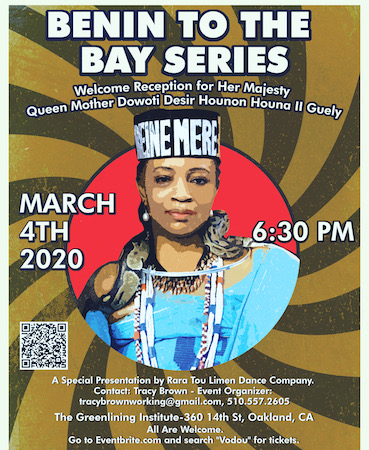 (Claim Your Limited Edition Poster Print with registration)
Come One Come All
This is a joyous gathering dedicated to welcoming Her Majesty Queen Mother Dowoti Desir Hounon Houna II Guely. This is the kickoff for a week of events in honor of her majesty's visit and of the beauty of the African Traditionalist Community in the Bay Area. This social gathering will allow the Bay Area to extend a warm welcome to the Queen Mother as well as give people the opportunity to mingle with her and the other luminaries who are participating in the events of the week. Be sure your Ile and/or your community is represented at this event. All are welcome. Come out to enjoy good people and good energy in a loving and welcoming environment.
About Her Majesty the Queen Mother
Aside from being the Kpodjito of the Royal Palace of DaDa Daagbo Hounon Houna in the Republic of Benin, she is an independent scholar, human rights activist, author, photographer, and faith leader of African Religious Traditions. She is the Founder of the AfroAtlantic Theologies & Treaties Institute, and the Chairperson of the NGO Committee for the Elimination of Racism, Afrophobia & Colorism located at the United Nations.
Special Presentation By: Rara Tou Limen Dance Company - Haitian Vodou + Ritual Theater
Learn More at www.raratoulimen.com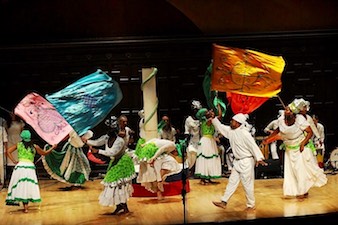 Featured Invitees: Her Royal Majesty, Baba Wade Nobles, Iya Nedra T. Willins, Yeye Luisa Teish, Iya Susheel Bibbs
Major Donors: The Greenlining Institute, Miss Ollies, Wo'se Community & Charles Brown Sound
The Greenlining Institute
Founded in 1993, The Greenlining Institute is a policy, research, organizing, and leadership institute working for racial and economic justice. They work on a variety of major policy issues, from the economy to environmental policy, health care and many others, because economic opportunity has many parts, and they all connect. The Greenlining Institute doesn't see these issues as being in separate silos, but as interconnected threads in a web of opportunity.
Driving everything they do is a vision of equity in which opportunity is truly within reach of all. For our nation to succeed, communities of color must succeed, and they are determined to make that happen. https://greenlining.org/about/our-mission-history/
---
Miss Ollie's
Chef Sarah Kirnon made a splash with fresh takes on Caribbean flavors. Miss Ollie's, draws from the same palette of flavors that informed her earlier work. For the Barbados-born chef it's personal: Her first restaurant as both chef and owner is named for her grandmother. Kirnon's influences are the women-run restaurants that fused the national cuisines of the West Indies, mirroring the fluidity and movement of island populations. (excerpt from dishblogger.com) Plan your visit to Miss Ollies here: http://www.realmissolliesoakland.com/