Recording! 22 leading Jewish feminist music composers made Herstory performing original works being honored for advancing gender-inclusion
About this Event
Donate here to support our efforts to document Jewish feminist music herstory while advancing gender-inclusion in Jewish music. Donors at this link will receive a recording of the herstoric HER HOLY NAMES concert that was such a powerful success when held on November 15, 2020. This was second live Zoom concert in the Adding Our Voices: The Torah of Jewish Women in Song series.
HER HOLY NAMES: A Groundbreaking Concert of Jewish Music is possibly the first concert on this divine theme ever. Over 63 divine feminine and other alternative divine names are among the songs and prayers from 22 composers/performers across 4 decades and 50 years of Jewish feminist music!
Featuring Leading Composer/Performing Artists: Matia Rania Angelou, Alan Scott Bachman, Marilyn Bronstein, Yofiyah Susan Deikman, Batya Diamond, Diane Elliot, Shefa Gold, Kirtan Rabbi, Katie Kaplan, Yael Kanarek, Latifa Kropf, Marc Labowitz, Shlomit Levi, Shoshana Litman, Lisa L. Levine, Eliana Light, Taya Ma Shere, Daphna Rosenberg, Susan Rothbaum, Hanna Tiferet Siegel, and Shawn Israel Zevit
Co-hosts: Goldie Milgram, Geela Rayzel, Sarah Ross
The Adding Our Voices Initiative collects, documents, celebrates, and makes accessible works from Jewish musical Herstory that expand the range of gender in Jewish song, musical liturgy, and musical midrash. Adding Our Voices: The Torah of Jewish Women in Song is an initiative of the Reclaiming Judaism non-profit dedicated to creating needed new resources for Jewish living.
Learn more about this initiative on our website: http://reclaimingjudaism.org/node/742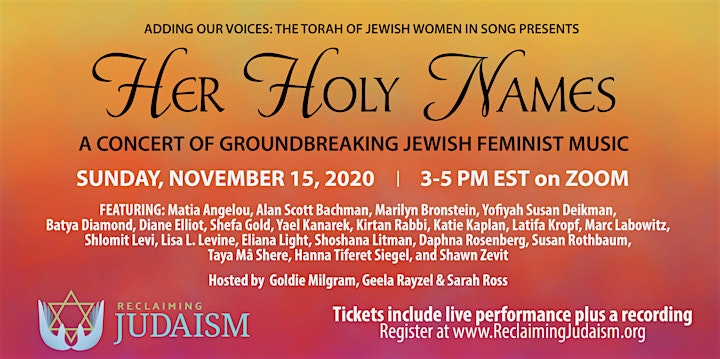 Date and Time
Location
Refund Policy