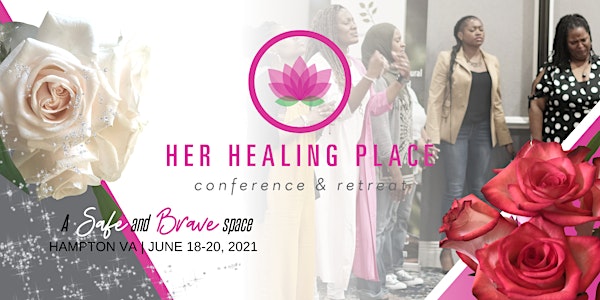 Her Healing Place Conference and Retreat
Our 2nd Annual Healing Conference & Retreat Awaits You! *Visit HerHealingPlace.com for Tickets*
By Megan Jenifer-Harris for The NIA Project, Inc.
Refund Policy
Contact the organizer to request a refund.
About this event

Her Healing Place Conference and Retreat returns for year two with more love!
For details surrounding this evening, visit HerHealingPlace.com
We have moved the event off of Eventbrite since this platform no longer integrates with Facebook and Instagram.
This is a hybrid event. Conference attendees will be virtual. Platinum attendees are limited to 10 and will be in person for the retreat activities for the weekend.
Ticket sales are available now through June 11th, 2021 to allow enough time for shipping your Conference Kit, which comes with each ticket purchase.
This event IS accepting a limited number of vendors. Vendor applications can be found at https://herhealingplace.com/vendors
Ad space is also available in our official publication.
Thank you for your consideration and I look forward to connecting with you over at HerHealingPlace.com for more details!
About the organizer
What started as a possible solution for her own challenges with handling the ups and downs of life, Megan was given the vision of Her Healing Place Conference and Retreat.
Megan is a lover of all-things-healing-arts. She recognizes the importance of relationships and looks for ways to foster healthy partnerships in life and business. Her Healing Place was created to collaborate with skilled healing professionals and create safe spaces for community and personal growth.
Her business, The NIA Project, Inc., is a wellness company that teaches self-development through books, workshops and habit strategy coaching.
She's skilled in and passionate about teaching and using the violin to nurture self-awareness and mastery as well as moving energy.
Although she's a self-published author and has degrees in Music Engineering Technology (BS), Business Administration (MBA) and Internet Marketing (IMMS), Megan is most proud of her family. She's a wife and mom to two children and three pups.