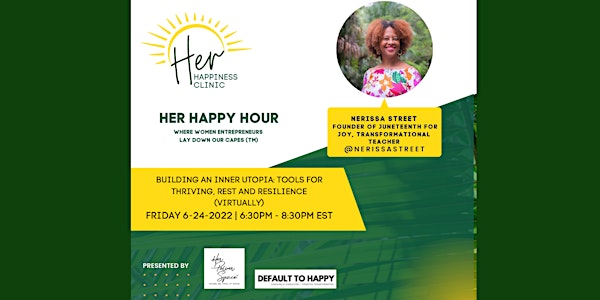 Her Happiness Clinic - Thriving, Rest & Resilience with Nerissa Street
Tap into powerful and uncommon tools to help you break through professional plateaus and hidden ceilings.
About this event
If you're searching for a safe space to just BE, well, you've found it! You may not have even known you were looking for it!
For almost a decade Michelle has worked with women entrepreneurs, solopreneurs and side hustlers connecting them with resources to power their business success.
However, the women aren't only entrepreneurs. They are moms, daughters, lovers, sisters, aunties, homegirls and they are exhausted.
In late 2021, after years of speaking on stages together and generally being in one another's worlds, Michelle reached out to Dr. Lavita aka Dr. Vee and mental health therapist, Jacqueline M. Dawson aka Jackie O'Nappy for the 3 of them to co-curate a safe space each month where women entrepreneurs could come together online and in-person to not only share about matters impacting their mental wellness, but to also learn and grow with activities.
Dr. Vee has transformed the field of professional coaching by offering uniquely personalized, holistic + therapeutic apothecary options to clients. She is a transformational professional growth coach specializing in personal, family, leadership, organization, and education development. Dr. Vee is certified through the International Coach Federation (ICF) and holds a specialized certification in Social + Emotional Intelligence (EQ).
Jackie is a mental health therapist based in South Florida.
This is where women entrepreneurs come to lay down our capes (tm).
We meet (virtually) on the last Friday of the Month for Her Happy Hour 6:30pm - 8:30 pm EST.
You may have heard that your body keeps the score of whatever experiences you have, good or bad. Tap into some powerful and uncommon tools to help you break through professional plateaus and hidden ceilings preventing you from experiencing the ease and grace you're made for. Come as you are.
And of course, Dr. Vee will share the science of happy behind it all!
Nerissa Street is a multiple award-winning transformational teacher who has completed advanced training with the Center for Mind-Body Medicine. Her annual festival, Juneteenth for Joy, was recently acknowledged by the Broward County Cultural Division and the Community Foundation of Broward for its project, Building Black Utopias. She owns Be Your Own Answer, LLC, a multidisciplinary media agency that combines practical tools with experiential storytelling to create powerful, sustainable change.
Register today
NOTE: This is a sacred women-only space. Additionally, our meetings are not recorded for public viewing. We are not providing mental wellness or any type of therapy or counseling services. Rather this is a hosted safe space of healing and sharing to enhance our mental wellness.