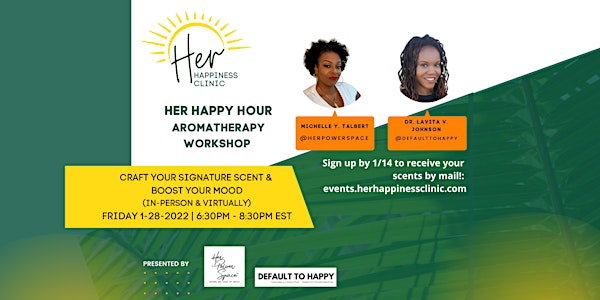 Her Happiness Clinic - Aromatherapy Workshop
Come create your signature scent & learn how we can craft our moods with scent at our January Her Happiness Clinic Aromatherapy Workshop
About this event
If you're searching for a safe space to just BE, well, you've found it! You may not have even known you were looking for it!
For almost a decade Michelle has worked with women entrepreneurs, solopreneurs and side hustlers connecting them with resources to power their business success.
However, the women aren't only entrepreneurs. They are moms, daughters, lovers, sisters, aunties, homegirls and they are exhausted.
In late 2021, after years of speaking on stages together and generally being in one another's worlds, Michelle reached out to Dr. Lavita aka Dr. Vee for them to co-curate a safe space each month where women entrepreneurs could come together online and in-person to not only share about matters impacting their mental wellness, but to also learn and grow with activities.
Dr. Vee has transformed the field of professional coaching by offering uniquely personalized, holistic + therapeutic apothecary options to clients. She is a transformational professional growth coach specializing in personal, family, leadership, organization, and education development. Dr. Vee is certified through the International Coach Federation (ICF) and holds a specialized certification in Social + Emotional Intelligence (EQ).
Our December kickoff was a virtual Her Happy Hour Cocktail Party, where Dr. Vee walked us through making a signature Blue Blitzen (see recipe below). Some sipped wine, others water and others crafted the blue concoction. BUT all shared and connected and determined that we should definitely move forward with our monthly meetings.
One of the best comments of the night 😂:
ima join from my computer so I can turn my camera on. I feel a lil better about us all being introverts 😂
Each month, beginning January 28th, 2022 we will meet (virtually and in-person--dependent on health matters) on the last Friday of the Month for Her Happy Hour. And this January we are kicking off with a hands-on aromatherapy workshop.
We will eat, drink and mix up some lovely smelling potions, while Dr. Vee walks us through the ways our mental and emotional state can benefit from scent.
So, don't delay! Save your space by January 14th!!!
Register today so you can ensure that your oils arrive in the mail in time for you to fully participate on the 28th!
NOTE: This is a sacred women-only space. Additionally, our meetings are not recorded for public viewing.