Description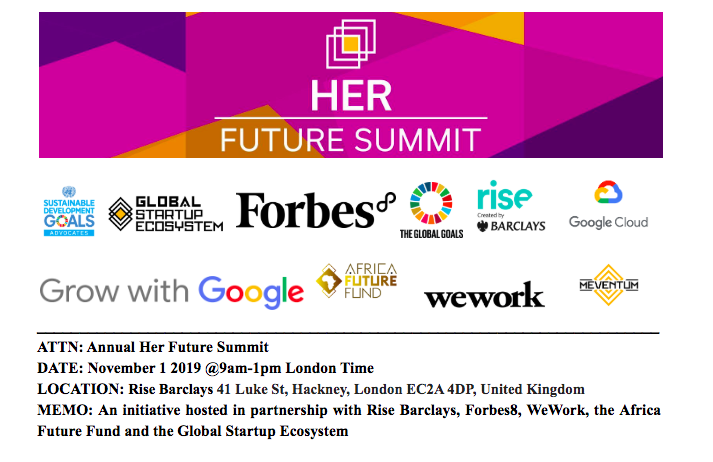 ATTN: Annual Her Future Summit
DATE: November 1 2019 @9am-1pm London Time
LOCATION: Rise Barclays 41 Luke St, Hackney, London EC2A 4DP, United Kingdom
MEMO: An initiative hosted in partnership with Rise Barclays, Forbes8, WeWork, the Africa Future Fund and the Global Startup Ecosystem
To Invited Delegates:
It is with great pleasure that we invite you to the Her Future Summit program on November , 2019 at the Rise Barclays Center.
To Accelerate Humanity's success with #5 of the Sustainable Development Goals- Gender Equality, Her Future Summit Launches with a Line up of 100 Global Speakers and Partners.
Her Future Summit is the world's most exclusive event featuring tech investors, entrepreneurs and influencers creating or leveraging platforms to advance women.
The summit also serves to teach fundamentals of future technology and leading social impact applications of Ai, VR, Nanotechnology, space, and blockchain technologies.
For more information on tickets, sponsorships and partnerships, please email the team at info@herfuturesummit.org.
Best,
Her Future Summit Team