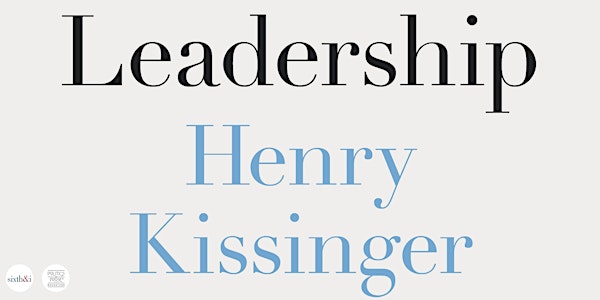 Henry Kissinger
Sixth & I + Politics and Prose
Performers
Henry Kissinger
Andrea Mitchell
Henry Kissinger in conversation with Andrea Mitchell at Sixth & I
About this event
This program will now be held virtually, instead of in-person at Sixth & I. We know that this is a significant change of plans and understand that many of you were looking forward to seeing Mr. Kissinger in person—we sincerely apologize for any disappointment. Additional information has been sent to all ticket buyers, and all in-person tickets will be honored as virtual tickets. Mr. Kissinger sends his deepest apologies that he cannot appear in person but he hopes that you'll still be interested in watching his conversation with Andrea Mitchell online. With questions, please contact us by emailing info@sixthandi.org.
In Leadership: Six Studies in World Strategy, Henry Kissinger—former National Security Advisor and Secretary of State under Presidents Nixon and Ford—examines the strategies of six twentieth-century leaders through the distinctive strategies of statecraft and brings to life a unifying theory of leadership and diplomacy.
with Politics and Prose
This program will run approximately 1 hour.
Virtual attendees will receive the event access link 3 hours, 1 hours, and 10 minutes before the event begins.