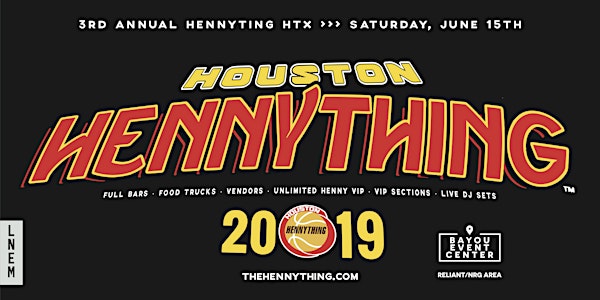 Hennything HTX- Event Tickets
When and where
Location
Bayou City Event Center 9401 Knight Rd Houston, TX 77051
Description
HENNYTHING HTX
June 15th, 2019 // 3PM - 10PM
Bayou Event Center
9401 Knight Rd, Houston, Tx 77045
www.TheHennything.com
Henny Bar | Food | Vendors | Live Music
Join us at "Hennything HTX", a celebration of the worlds most popular cognac, food, culture, and entertainment. Giving you a new way to celebrate Hennessy! Come thirsty with friends and the fam to a Henny function for the books. Enjoy live entertainment including local bands, DJ's, vendors, and interactive games. We'll be pouring up beer, spirits, and of course, all your favorite Henny concoctions!
www.TheHennything.com
Time: 3pm - 10pm
Entertainment/Interactive include:
Henny Bar

Henny Karaoke

Food Vendors

Main Concert Stage with Live Performances

Photo Booths

DJ's and more!
Email us at HennythingFest@gmail.com for more information on volunteers, vendors, or performance opportunities.
FAQ's about Hennything Thing Fest!
Prices go up for General Admission every two weeks.
Prices For Sections / Unlimited Drinks will increase based on availability and demand.
What time is the event?
3:00 p.m. – 10:00 p.m., June 15th at Bayou Event Center
Do you accept credit cards?
Yes. We accept credit cards, debit cards, and cash at the Admission Booths and Bars.
Do you have ATMs on-site?
Yes. There will be ATMs throughout the festival.
Are there any additional costs other than the admission fee?
All stage performances and entertainment are included with admission. There are separate vendors and bars that you can purchase items from.
What comes with the general admission ticket?
General admission ticket only gets you in to the event. There are seperate bars, vendors, and food trucks that you will be able to purchase items from.
Can I leave The Festival and re-enter without paying?
There is no re-entry into The Festival. Re-entry will cost a fee.
What is the difference between ticket types?
The general admission ticket just gets you entrance to the event. The VIP unlimited Henny ticket gets you access to a VIP Area with a open bar which is separate from the VIP section area. The VIP section is placed in the VIP section area which is separate from the VIP unlimited area, sections come with the packages listed above.
How old do you have to be to get in?
You must be 21 years or over to purchase and alcoholic beverage. Hennything bar staff reserves the right to restrict service for anybody not in compliance with TABC laws and rules.
Can we bring pets?
Sorry, the Mayor's Office of Special Events regulations prohibit pets at Bayou City Event Center (including dogs, amphibians, reptiles and snakes) from attending. Assistance dogs are allowed.
Any rules we should know about?
To ensure a safe, enjoyable event, the following items should be left at home: beverages, food, alcoholic beverages, glass bottles, ice chests/coolers, in-line skates, skate boards, grills, weapons, fireworks, umbrellas and laser pointers.
Do you issue rain checks?
No rain checks or refunds are given. We are open rain or shine, and all acts will be performed as scheduled.
How do I pay for Market Vendor purchases?
There are a number of Market Vendors throughout the festival selling fun, quality merchandise. Festival coupons are NOT accepted for market purchases. Each market vendor determines what form of payment they will accept and how much their products are.
For More Info or Tickets:
Vendors Please E Mail - HennythingFest@gmail.com
E - Mail: HennythingFest@gmail.com
Website: www.TheHennything.com
Phone: 713.364.5214