HENINGTON HOUSE & GARDENS presents Fall Ladies Day "A HOME for HARVEST"
Description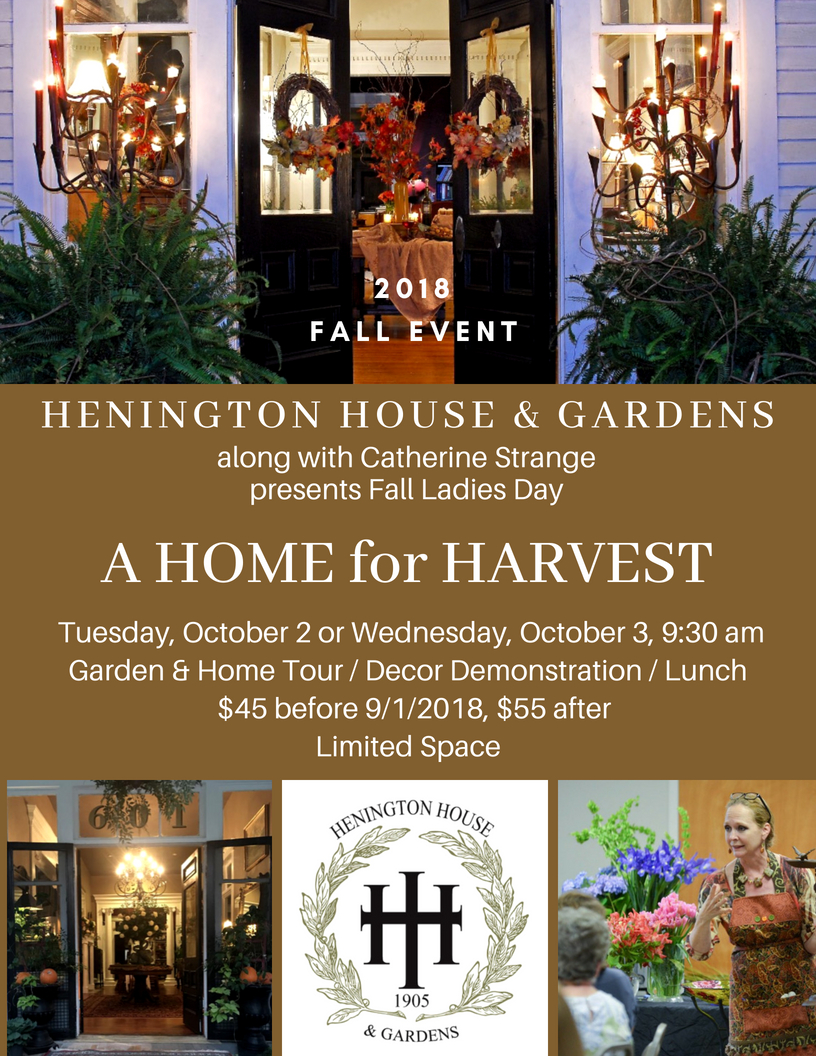 Hi Ladies,
gather your friends and Home & Garden Clubs and meet us at the Henington House for a day of everything Home, Garden & Decor!
Join us at 9:30am to register, enjoy coffee, baked delights and visiting as well as checking out some of our favorite and hard to find plants, seeds and other items that will be available to purchase.
After we have all gathered, we will stroll the HH Gardens along with some of my very knowledgeable plant loving friends as we share what works and what doesn't work in our Southern Gardens, how to create "Garden Rooms" and discuss what to plant in order to assure a bountiful harvest year round for your own floral arrangements and decor.
During the seated Fall Decorating Demonstration, we will cover how to use what you may already have in your home and yard to easily create a warm comforting and joyous fall decor in your own home. These often unexpected ideas will take you all the way through Thanksgiving and can easily be transitioned into Christmas and Holiday. Within this demonstration, We will also share simple Holiday Entertaining ideas and traditions that have worked well for our family for years.
Moving then into touring the circa 1905 Henington House, you will view much of what was discussed on the garden tour and during the demonstration. Played out in full for fall, you will see exactly how using these materials so easily found in simple ways can make such a BIG impact!!
Lunch will follow on the HH wrap around porches and lawns if it is warm, and around the fireplaces inside if it is cold. Either way, it will be a comforting closing to an enjoyable, fun and information filled day. Copies of the recipes for all that was served during your day at the Henington House will be sent home with anyone who would like them.
We are so looking forward to fall, but astatic about spending the day with you and your friends here at the Henington House. It is days like these that create Memories.
We will see you then!
Joyfully,
Catherine