#HempHack: A Workshop for Budding Hemp Farmers & Entrepreneurs
About this Event
Day 1- $65 | Day 2- $130 | Special for Both Days! - $175
*Scholarships are available for both days! Apply here
With the recent change in regulations opening up a burgeoning market, small acreage farmers have an opportunity to add a new source of revenue: growing hemp. What's more, utilizing regenerative practices that build soil and sequester carbon results in the highest quality hemp, giving you a competitive advantage in the marketplace.
But this opportunity is not handed to you on a platter. There is little to no off-season- you have to be an entrepreneur following harvest. It can take several years for a value-added enterprise to show a positive revenue stream. Evolving regulations and a gold-rush mentality for CBD hemp flower means that you constantly have to stay on your toes.
This class and workshop will cover every part of the process by which a small acreage, organic farmer and entrepreneur can develop a successful enterprise, including the following:
Building soil
Applying for permits
Acquiring genetics
Planting
Harvesting
Processing
Storage
Packaging
Labeling
Marketing
Become a part of the hemp revolution!
Schedule
Day 1 #HempHack: Open Sessions - $65
Seats still available!
9:00-9:30 Welcome & Introduction
9:30-10:30 Moderated open discussion
10:45-11:45 Presentation by Doug Fine
11:45-1:00 Lunch
1:00-1:15 Submission of audience topics of concern
1:15-2:30 Presentation by Doug Fine on topics of concern
2:45-3:45 Follow-up Q&A session
4:00-6:00 Local field visit
6:00-7:00 Social Hour
Day 2 #HempHack: Business Planning Clinic - $130
Limited to 15 seats- SOLD OUT
Don't miss this rare opportunity to work directly with Doug Fine to address your most pressing hemp farming and business challenges and brainstorm with a small group of your peers.
The morning session will be used to identify common challenges shared amongst the group. In the afternoon, Doug will guide the group in a brainstorming session to develop custom solutions to the challenges identified in the morning.
The Hemp Business Planning Clinic will run from 9:00am-4:00pm, with a break for lunch from 11:45-1:00pm.
Both Days- $175- SOLD OUT
*Scholarships are available for both days! Apply here
If you are granted a scholarship, you will be provided with a discount code to access your tickets.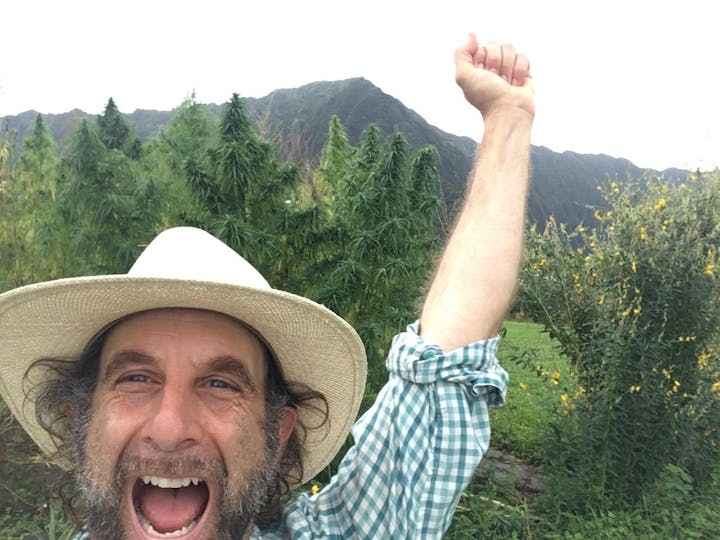 Doug Fine is regenerative hemp farmer, goat herder, and bestselling author. He cultivates hemp in four states including Vermont, where he grows markets an Organic farm-to-table hemp product. He has been a hemp seed development researcher with the University of Hawaii, and a consultant to farmers and Tribes.
In addition to his hemp work, Doug is an award-winning culture and climate correspondent on five continents (for NPR, the New York Times, and the Washington Post), and a repeat Conan and Tonight Show guest. His books include Hemp Bound, Too High to Fail, Farewell, My Subaru, Not Really An Alaskan Mountain Man, and, most recently, First Legal Harvest, which was printed on hemp paper. Willie Nelson calls Doug's work "a blueprint for the America of the future." The Washington Post says, "Fine is a storyteller in the mold of Douglas Adams." Doug homeschools his children, has testified before the United Nations on cannabis legalization, and has spoken of the importance of Digital Age Goatherding in a TED Talk. Info: http://dougfine.com/media-appearances/ Instagram/Twitter: @organiccowboy