Event Information
Location
Free Ceramics
650 Logan Street
Helena, MT 59601
Description
Celebrate the debut album release from Hemispheres, featuring Montana-inspired original, instrumental music by guitarist Kate Plummer and cellist Maren Haynes Marchesini.
Join Kate & Maren with special guests David Casey, bouzouki, and Joshua Loveland, percussion, as they share an intimate performance of their new album The Corners of Mountains in the glowing artspace of the Free Ceramics gallery. Folk duo (and sisters) Annie Tommerup and Erin Wolfe will open the night with their gorgeous harmonies. Doors open at 6.30pm and music starts at 7 pm.
There are 3 ways to show your support for this project...
1) Buy an event ticket
2) Buy an event ticket and the album
3) Donate to this self-funded project and receive a digital album if you contribute $10 or more
Thank you immensely for caring about and supporting original, creative music! We're excited to share this project with you all!
- Kate and Maren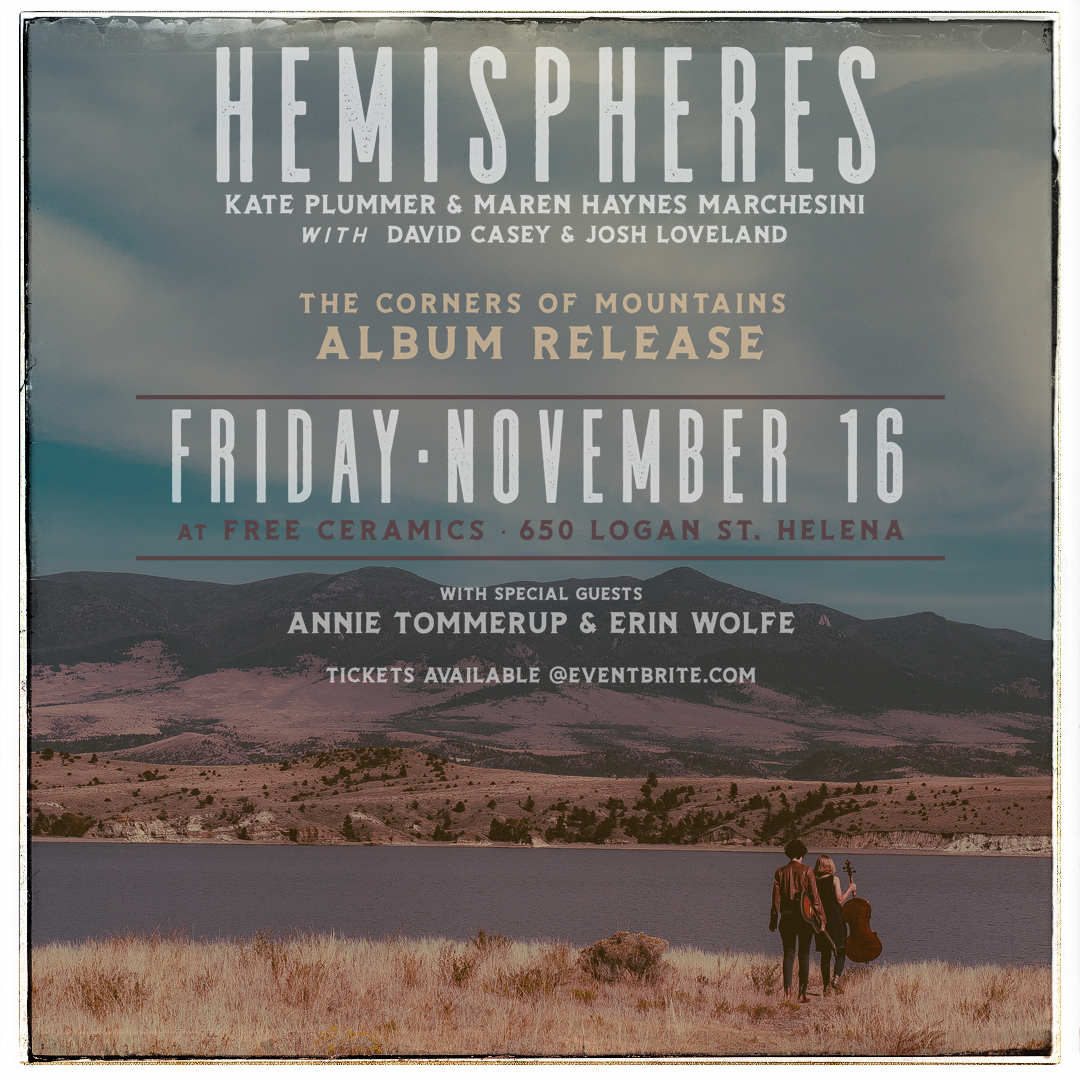 About the band...
Hemispheres draws together two musicians, Kate Plummer (guitar) and Maren Haynes Marchesini (cello), from the distant regions of Oceania and North America. Kate, originally from Australia, grew up in urban Sydney, playing in the city's international jazz, blues, and rock scene, and traveled the world as a performer. Kate honed her eclectic playing style in the country and blues band The Margharitas and later collaborated with esteemed producer Jim Moginie (Midnight Oil) on a series of solo albums. Maren, born and raised in a small college town in Montana, earned a Doctorate in ethnomusicology studying with master musicians from Ireland, Ghana, Indonesia, Puerto Rico, Tanzania, and elsewhere, while playing in indie rock bands in Seattle and San Francisco. Kate initially invited Maren to write a cello part for one track, and the collaboration blossomed into a sonically rich, emotionally dense full-length album.
Hemispheres formed in the rural hillside town of Helena, Montana, an uneasy and unlikely home for both Kate and Maren, accustomed to the artistic havens of urban cities. Inspired by guitarist James Taylor's collaboration with cellist Yo Yo Ma, the album celebrates acoustic space and simplicity, conjuring Montana's mountains, rivers, lakes, and vast open terrain. The album, built on Kate's tender, instrumental songwriting, weaves this evocative scenic spaciousness into the writer's emotionally complex life season. The album processes unforeseen grief, loss, migration, and nostalgia—and celebrates the havens of joy, discovery, and faith.
Date and Time
Location
Free Ceramics
650 Logan Street
Helena, MT 59601
Refund Policy