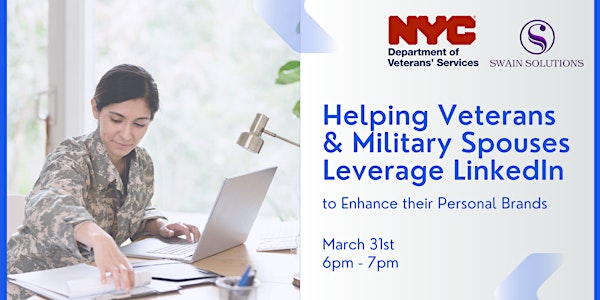 Helping Veterans & Military Spouses Use LinkedIn to Enhance Their Brand
Helping Veterans & Military Spouses Leverage LinkedIn to Enhance their Personal Brands
About this event
The New York City Department of Veterans' Services and Swain Solutions have partnered to present an online workshop to teach NYC-based veterans and military spouses how to use LinkedIn to enhance their personal brand and advance their careers. The workshop will instruct attendees on how to develop a personal profile that can attract the interest of potential employers and industry peers. The workshop will also focus on effective job search strategies and how to discover networking opportunities on the LinkedIn platform.
This event will be facilitated by Tiara Swain, of Swain Solutions.
To join, visit this Eventbrite page at the time of the event or copy/paste the following event link into your browser:
https://linkedin.zoom.us/j/97349179469?pwd=U3BBTFBNcHlpZnhKZ0JHMHlNNVdmUT09
Event open to NYC veterans and military spouses.