Savage Society Axe throwing is hosting a fundraising tournament to help our friend Dean Cooper! 100% of all proceeds go to Dean Cooper!
About this event
In December 2020, Dean was rushed to the ER unable to breathe due to fluid build-up in his lungs. He was told by doctors that a heart attack was imminent had he not come to the hospital when he did. After a week in the hospital, his condition stabilized and he began taking medication.
In February 2021, Dean was diagnosed with combined systolic and diastolic (congestive) heart failure. Fluid in his lungs continues to cause breathing problems. He has severe left ventricular dysfunction and a severely increased left atrial diameter.
Within the next few weeks, Dean will have surgery to implant a dual chambered ICD in his chest to 'zap' him when his heart fails to pump properly and to slow and pace his heart rate when it gets out of sync.
Dean's future plans are uncertain due to ongoing care and recovery after this procedure. He is in cardiac rehabilitation three times per week and is currently unable to work at all due to an increased chance of heart attack and constant rehab. He will also have to wait for the doctor to clear him at a level where he can work and then figure out what type of work he can safely do.
All this to say, Dean and Steph are struggling financially with these countless medical procedures, ongoing rehabilitation and medication, and Dean's inability to work currently. If you can help, please do.
HELPING THE HEART OF TEXAS
Located in Amherst Ohio.
Standard Hatchet Double Elimination: 64 Spots Sunday May 23 $100
ALL PROCEEDS GO TO DEAN COOPER
Check In and Warm Up Throws. 12PM
Tournament Starts at 1PM
ALL SPONSORSHIP AND DONATION INQUIRIES CONTACT: DREW@SAVAGEAXECLE.COM
LINK TO DEANS GOFUNDME: https://gofund.me/8326f4e6
raffle tickets $10https://www.titanium-design.com/heart-of-texas/heart-of-texas-raffle-ticket?fbclid=IwAR0bHSJYQQGsDgQRqXWAkS8iGW63IsiUO2OGrZ1_BarsSI3Egrm7sB-Npaw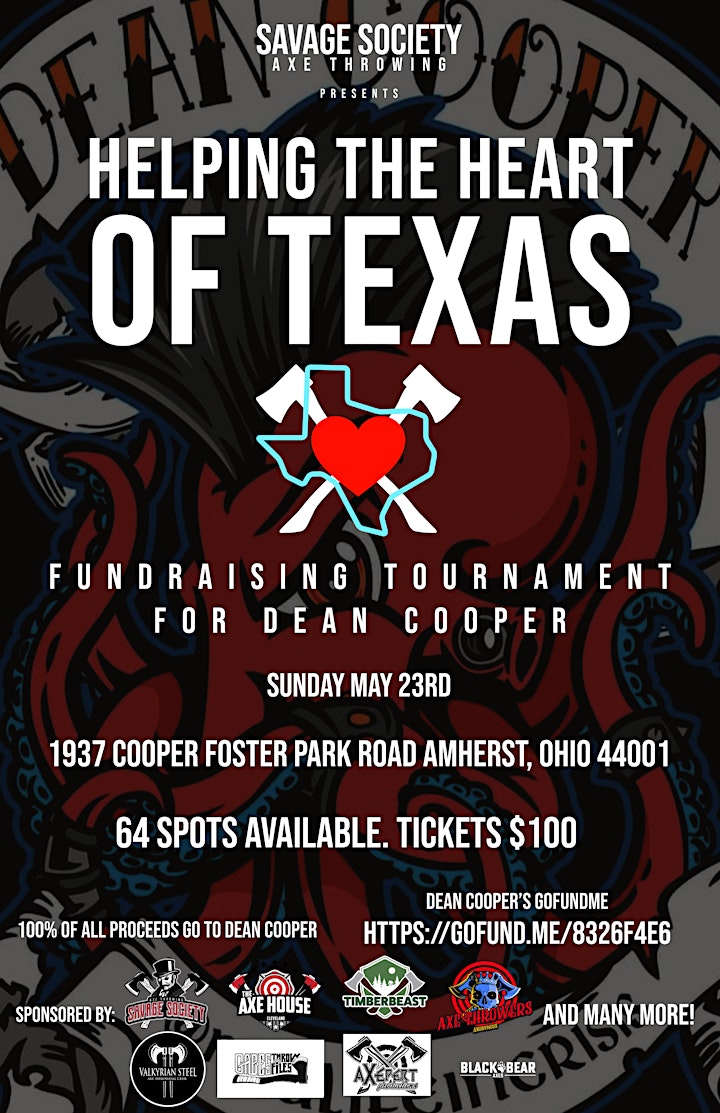 Organizer of Helping The Heart Of Texas a Fundraising Tournament For Dean Cooper