Actions and Detail Panel
Helping Students Use Assistive Technology to Achieve Academic Success
Thu, February 9, 2017, 7:00 PM – 8:30 PM EST
Description
Helping Students Use Assistive Technology to Achieve Academic Success
Join us for a presentation focused on assistive technology solutions for students with
learning differences (LD)!

Liz Persaud and Sam Peters from Tools for Life, Georgia's Assistive Technology Act Program under AMAC Accessibility Solutions and Research Center at Georgia Tech will share some of the basic difficulties individuals with learning disabilities encounter in their daily lives. Sharing personal and professional experiences, Liz and Sam will illustrate the challenges of living and working with ADHD, dyslexia, and other learning disabilities. Don't miss this opportunity to learn about how assistive technology (AT) devices and services are creating innovative solutions. Demonstrations of AT will be given as well as time for Q&A.
This DNF / IDA-GA / DDGA Outreach Event is free and open to the public. Check-in will begin at 6:45 p.m. Program will start at 7:00 p.m. Please let others know about this event.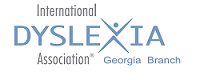 This event is brought to you by Dyslexia Network of Forsyth, Decoding Dyslexia-GA, and the International Dyslexia Association - GA. Outreach events are free and open to the public.
Dyslexia Network of Forsyth (DNF) provides resources and support to parents and educators of students with reading, writing and spelling difficulties in and around Forsyth County. Visit www.dyslexiaforsyth.com.
Decoding Dyslexia GA is part of a network of parent-led grassroots movements across the country concerned with the limited access to educational interventions for dyslexia within the public education system. Visit www.decodingdyslexiaga.com.
International Dyslexia Association - Georgia Branch (IDA-GA) is a non-profit, scientific, and educational organization formed to increase public awareness of dyslexia. IDA-GA is a resource and support system for parents, individuals with dyslexia, educators, therapists, psychologists, and other professionals. Visit www.idaga.org or dyslexiaida.org.