How can scientists engage and advise legislative lawmakers in Sacramento? Join Ben Young Landis and friends for a new interactive workshop!
About this event
There is a role for science to inform public policymaking. But how can researchers and technical experts best translate their expertise into policy advice or policy proposals? What nuances and processes must researchers understand to best communicate and engage with policymaker audiences?
Led by instructors with federal and state government experience, this interactive workshop is tailored for anyone new to policy engagement. Focusing on California legislative policymaking, participants will get a primer on how ideas become law in the State of California, and how legislators seek out technical advice.
Learn about relevant committees, deadlines, and briefing formats, along with pitfalls to avoid and keys to successful engagement. Focus is placed on understanding the difference between advice versus advocacy — a nuance critical to successful policy engagement. The workshop will culminate in a "Pitch Your Bill" activity to put lessons learned into practice.
This is the perfect professional development course for anyone who needs a primer or refresher on policy communications and the legislative world of the California State Capitol. So bring your ideas to our #SciPolComm workshop, and leave with a deeper awareness on how to translate your expertise to inform public policy!
Seating is limited — our workshops focus on a small-group learning environment. Reserve your spot early!
Tweet this event link with the hashtag #SciPolComm and @cr8xt to receive a discount code to this workshop.
This material has been presented for programs such as UC Davis FUTURE, UC Santa Cruz Coastal Science & Policy, and the CCST Science Translators Showcase. Past participants include graduate students, postdocs, and K-12 STEM educators.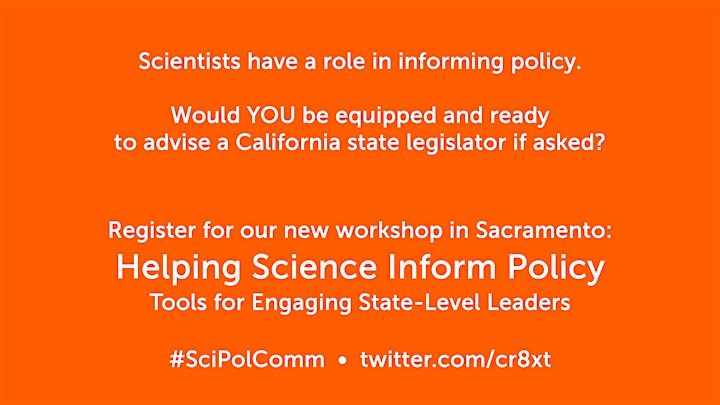 Organizer of Helping Science Inform Policy: Tools for Engaging State-Level Leaders
Ben Young Landis (@younglandis) is a writer, creative consultant, and trainer. He has led scicomm workshops for researchers and students with UC Davis, UC Santa Cruz, Duke University, SETAC North America, and Sigma Xi: The Scientific Research Honor Society, and his work has served institutions such as CCST, USGS, the World Conference of Science Journalists, and the Burroughs Wellcome Fund.
Ben is a graduate of the AAAS Mass Media Fellowship Program, and he is the founder of the Capital Science Communicators (CapSciComm) professional network in the Sacramento region.