Helping New Ventures Accelerate Revenue Growth and Market Dominance: Michae...
Description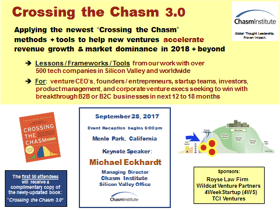 Whether you're an Entrepreneur or a Venture CEO, a Product or Engineering Leader, an Investor or a Corporate Venture Executive, you need a plan for "Crossing the Chasm" to the mainstream market.
Michael Eckhardt will show you how to overcome the challenge all entrepreneurs & leaders face - accelerating growth for their technology-based products and services across every segment.
FREE: First 50 Attendees will receive a complimentary copy of "Crossing the Chasm 3.0"!
AGENDA
6:00pm:

Refreshments

/ Sandwiches

6:30pm: Welcome & Intro
7:00pm: "Crossing the Chasm 3.0" - Keynote with Q&A - Michael Eckhardt of Chasm Institute
8:30pm: Wrap-up
---
"Crossing the Chasm"
Inc Magazine's Top 10 Marketing Books of All Time!
Over 3,000,000 copies sold worldwide!
"The bible for bringing cutting-edge products to larger markets—now revised and updated with new insights into the realities of high-tech marketing"
---
Crossing the Chasm shows that in the Technology Adoption Life Cycle—which begins with innovators and moves to early adopters, early majority, late majority, and laggards—there is a vast chasm between the early adopters and the early majority. While early adopters are willing to sacrifice for the advantage of being first, the early majority waits until they know that the technology actually offers improvements in productivity.
The challenge for innovators and marketers is to narrow this chasm and ultimately accelerate adoption across every segment.
Michael Eckhardt is a Managing Director and Senior Workshop Leader at Chasm Institute. He is a veteran of Price Waterhouse (PwC), Harbridge Consulting, Hewlett-Packard, and Pepsico. An MBA graduate of Harvard Business School and a Wall Street Journal Award winner, Eckhardt is a recognized expert in leading 1-day and 2-day Market Strategy workshops aimed at one specific client outcome:
Accelerating growth for their technology-based products and services in the next 12-24 months.
Clients include: Google, Nest, Salesforce, Adobe, Spotify, Samsung, HotChalk, Logitech, HP 3D Printing, and many midsize & new venture startups.
In his words:
"I help smart teams - typically marketing teams responsible for high-tech products - win in tough markets ... with tools that drive the right actions at the right time...while also avoiding major market mistakes. We still see too many tech companies out there committing market errors - often in one of these 3 areas:
Which segments or markets to target
How to define a truly 100% whole product
Decisions on channel, price, or message
The good news is that Chasm Institute's predictive tools can help minimize these risks."
With more than 20 years of industry and consulting experience, Eckhardt has worked with over 90 technology-based businesses, many on an ongoing basis. He provides strategy workshops to tech companies throughout Silicon Valley, the US, Europe and Asia Pacific.