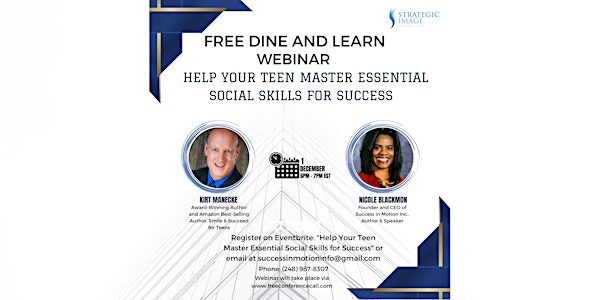 Help Your Teen Master Essential Social Skills For Success
This is a Dine and Learn Webinar to help your teen learn the Top Social Skills that will catapult them to the next level in their life.
About this event
Nicole Blackmon is the CEO of Strategic Image Consulting where she provides Leadership Programs for children and adults. She is also an Author, Transformational Speaker, Mentor and Workforce Development Consultant.
Nicole is passionate about the growth and development of the youth so they become the best version of themselves so they represent themselves in a polished and astute manner. She takes pride in her Effective Communication and Leadership Development courses that help her clients Make Their First Impression a Lasting Impression. Learn more by visiting www.strategicimagestrategies.com
Kirt Manecke is the author of the award-winning book and online course, Smile & Succeed for Teens: Must-Know People Skills for Today's Wired World. Winner of the Teachers' Choice Award, and Mom's Choice Gold Award, Smile & Succeed for Teens is a crash course in social and job skills to help teens and young adults succeed in school, work and life. Kirt is also the author of the award-winning book, SMILE: Sell More with Amazing Customer Service-The Essential 60-Minute Crash Course. Learn more at www.SmiletheBook.com