Description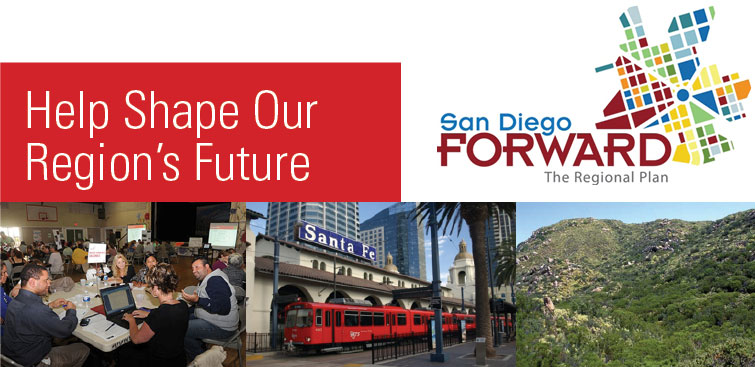 Join Us!
Workshop Tackling Important Issues Facing the Region

Bring your ideas to the table on the biggest issues facing our community and the San Diego region between now and 2050 – issues like the economy, the environment, transportation, public health, and social equity. Get involved in the on-going conversation about how best to tackle our challenges today, and preserve our quality of life for the future.

Now is the time to make your voice heard! Reserve your space today!
About San Diego Forward: The Regional Plan

The San Diego Association of Governments (SANDAG) and its partners have embarked on creating San Diego Forward: The Regional Plan. It will build upon local planning efforts and incorporate emerging issues and innovative concepts, to form an overall vision for the region's future, including specific actions aimed at turning that vision into reality.


Organizer of Help Shape Our Region's Future
The Jacobs Center for Neighborhood Innovation was founded in 1995 by Dr. Joe and Vi Jacobs, founders of Jacobs Engineering Group in Pasadena, California. As creative catalyst and incubator, we work to revitalize 60 acres in Southeastern San Diego's Diamond Neighborhoods and focus on developing the community into a vibrant and economically sustainable destination. Our work is deeply rooted in community engagement and creative placemaking. The vision for the community was created in partnership with residents and local community organizations.
The Jacobs Center partners with residents, local leaders and organizations, and regional and national investors to revitalize Southeastern San Diego, a culturally-diverse yet underserved area that is prime for investment and transformation. Our commitment is to the residents, to create a vibrant Diamond District through three areas of focus: Physical Redevelopment, Education to Careers, and Local Economy.
Learn more at www.jacobscenter.org and follow us on Facebook and Twitter.