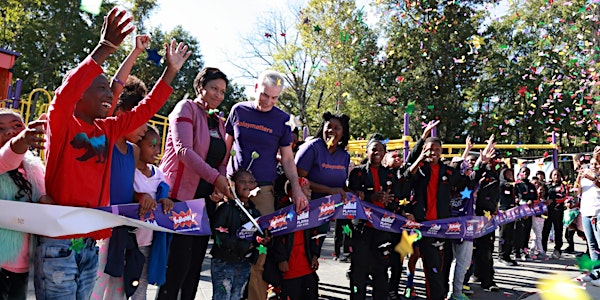 Help build a playground at the Boys & Girls Clubs of the Colorado River!
Help the BGC Colorado River build a playground in partnership with KABOOM!, Fiesta Bowl and the BHHS Legacy Foundation!
When and where
Location
Build - Fiesta Events, Inc. - Fort Mohave, AZ - 2022-03-19 Boys & Girls Clubs of the Colorado River 4765 La Riqueza Road Fort Mohave, AZ 86426
About this event
Project Information
Who: A total of approximately 150 volunteers from Fiesta Bowl Charities, Boys & Girls Clubs of the Colorado River, and KABOOM!
Work is available for volunteers of all levels of skill and ability.
**Please note - All youth under the legal working age for this state will be welcome to participate in youth activities but will not be able to participate in building in the construction areas.**
When: Thursday October 20, 2022 - Saturday October 22, 2022
Where: 4765 La Riqueza Rd Fort Mohave, AZ 86426
What's Provided: Breakfast, lunch and water will be provided. Gloves and other safety materials will be provided for the projects that require them.
What to Wear: The playground build will happen rain or shine. Please come dressed for the weather. Closed-toe shoes are required; sneakers or work boots that you don't mind getting dirty are advisable. Please leave valuables at home as secure storage is not available on site.
Build Site Rules: All participants must comply with the following practices. These rules have been established and agreed upon to ensure the safety, comfort and respect for all involved. Failure to comply will result in immediate dismissal from the project.
• Work together, treat everyone with respect and use family-friendly, inclusive language
• Report any unsafe or inappropriate behavior to on-site staff
• Please comply with all requests from on-site staff
• Follow all safety guidelines
• Only pre-approved power tools are permitted
• Closed-toe shoes are required
• Youth may not participate in areas of active construction
• No smoking, alcohol or drugs
• The use or carry of firearms is prohibited *with the exception of certified, active officers
Build Week Schedule
Prep Day 1:Thursday October 20, 2022
• 8:00 AM - Volunteers arrive and register
• 3:00 PM - All work completed
Build Day 2: Friday, October 21, 2022
• 8:00 AM - Volunteers arrive and register
• 3:00 PM - All prep work completed
Build Day: Saturday, October 22, 2022
• 8:00 AM - Volunteers arrive and register
• 2:30 PM All work completed/Ribbon-Cutting Ceremony