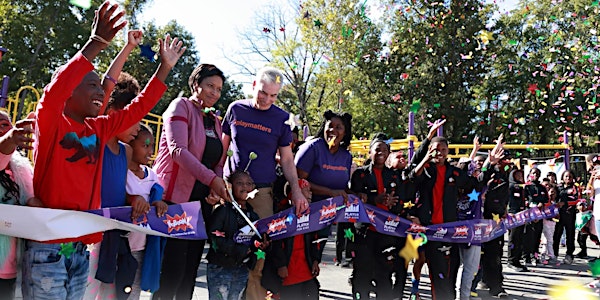 Help build a new playspace and outdoor classroom at Global Family School!
Build a new playground, sport court, garden and outdoor classroom in partnership with OUSD, Eat.Learn.Play. Foundation & KABOOM!.
When and where
Location
Global Family Elementary School 2035 40th Ave Oakland, CA 94601
About this event
**Leer informacion en espanol abajo**
Project Information
Who: A total of approximately 210 volunteers from the Eat.Learn.Play. Foundation, KABOOM!, and the Oakland community. Volunteers will be supervised by professional playground installers.
Work is available for volunteers of all levels of skill and ability. Sample activities include: assembling play equipment, mixing concrete, and moving mulch.
Sign up to volunteer for just one day or join us for all three!
Spanish speaking volunteers especially needed.
**Please note - All youth under the legal working age for this state will not be able to participate.**
When: Wednesday, December 14 - Friday December 16, 9:00AM-4:00PM
Where: 2035 40th Ave Oakland, CA 94601
What's Provided: Lunch, snacks, and bottled water will be provided. Gloves and other safety materials will be provided for the projects that require them.
What to Wear: The project will happen rain or shine. Please come dressed for the weather. Closed-toe shoes are required; sneakers or work boots that you don't mind getting dirty are advisable. Please leave valuables at home as secure storage is not available on site.
Build Week Schedule
Build Week will run for 3 days from December 14-December 16. Each day will run on the following schedule:
• 9:00 AM - Volunteer shift begins
• 4:00 PM - Volunteer shift completed
Build Site Rules:
All participants must comply with the following practices. These rules have been established and agreed upon to ensure the safety, comfort and respect for all involved. Failure to comply will result in immediate dismissal from the project.
• Work together, treat everyone with respect and use family-friendly, inclusive language
• Report any unsafe or inappropriate behavior to on-site staff
• Please comply with all requests from on-site staff
• Follow all safety guidelines
• Only pre-approved power tools are permitted
• Closed-toe shoes are required
• Youth may not participate in areas of active construction
• No smoking, alcohol or drugs
• The use or carry of firearms is prohibited
Ribbon Cutting Ceremony:
Build Week will culminate with a ribbon-cutting ceremony to celebrate the completion of a job well done. This ceremony will be held on Friday, December 16 at 2:30 PM and last approximately 20 minutes. Ribbon cutting time may be subject to change based on project completion.
Food and beverages for Build Week will be provided.
KABOOM! PLAYSPACE PROJECT - VOLUNTEER WAIVER AND RELEASE
This form must be signed by or on behalf of each volunteer who will participate in or otherwise be involved with the construction of the Oakland Unified School District, Global Family Elementary School, Eat Learn. Play. Foundation, and KABOOM! Playspace Build (the "Playspace Build" or the "Project"), or will be on the construction site of the Playspace Build, occurring December 14-16, 2022, in Oakland, CA. If you are unable to read this print, please speak with the person handling volunteer registration for assistance.
The KABOOM! project and activities will include the playspace construction, side projects and play enhancement projects on and in the periphery of the playspace construction site including, without limitation, building interiors at or near the site. The "playspace construction site" is the physical space where the playspace is being installed; the playspace construction projects are any activities directly related to the installation and placement of the playspace equipment, the mixing of concrete, and/or moving safety surfacing onto the playspace site. Volunteers under age 18 (or under 19 in AL and NE) may not work on the "playspace construction site", as defined above. Volunteers under 18 but who meet this state's minimum age for employment may work on the side projects, such as beautification and play enhancement projects, and other non-playspace construction site projects and may help with preparation for the build day only if they have received and delivered KABOOM! written approval from a parent or legal guardian for participation. Any children under state's minimum age for employment will not be supervised by KABOOM! in any way or be allowed to participate in playspace or non-playspace construction projects managed by KABOOM!; however KABOOM! will work with the community partner to procure supplies for use by these children and to help them plan projects that are occurring on a site that is distinctly separated from the playspace construction site. No children under this state's legal working age should be on the playspace construction site.
I understand that I will be spending the day(s) as a volunteer for the Project and will be participating at my own risk. I acknowledge that my participation is voluntary and does not constitute a condition or requirement of employment. I further acknowledge that the Project will occur at a construction site and that the construction site will be a potentially dangerous place. I attest that I am physically fit and prepared for this event and these activities.
I will not create an unsafe situation for other individuals or myself nor will I use any tool or engage in any task with which I am not completely comfortable. I will abide by all applicable federal, state and local laws, as well as the rules and directions of the sponsors and coordinators. If I see any situation that I feel is unsafe, I will immediately call it to the attention of KABOOM! or a safety coordinator. If I bring any children or young adults with me to participate in the Project, I will be solely responsible for providing for their safety and will keep them under close supervision at all times. FOR EACH PARTICIPANT UNDER 18 (19 in AL and NE), THE PARENT OR GUARDIAN MUST FILL OUT A SEPARATE WAIVER. I understand that a volunteer may be at the Project to provide medical treatment in the event of an injury, and if necessary to assist in arranging transportation to medical facilities, but acknowledge that neither KABOOM! nor any other of the Released Parties (as defined below) are in any way responsible for providing such medical volunteer or treatment.
Participation includes possible exposure to and illness from infectious diseases and biological outbreaks, including but not limited to MRSA, influenza, and COVID-19. While particular rules and personal discipline may reduce this risk, the risk of serious illness and death does exist; and, I knowingly and freely assume all such risks, both known and unknown, even if arising from the negligence of the releases or others, and assume full responsibility for my participation; and, I willingly agree to comply with the stated and customary terms and conditions for participation as regards protection against infectious diseases. If, however, I observe any unusual or significant hazard, or if I experience any COVID-19 symptoms during my presence or participation, I will remove myself from participation and bring such to the attention of the nearest official immediately .
On behalf of myself, as well as my heirs, executors, administrators and assigns, I hereby forever release, discharge, waive and agree to indemnify and hold harmless KABOOM!, Oakland Unified School District, Global Family Elementary School, and Eat Learn. Play. Foundation, and any additional sponsors of the Project, along with their respective officers, directors, agents, employees, contractors, successors and assigns, and any volunteers to whom I give my consent to provide medical treatment to me or to any children or young adults under my supervision ("Released Parties"), from and against any and all claims, demands, actions, causes of action, obligations, liabilities, suits, losses, damages, costs, expenses, and fees, including, without limitation, court costs and attorneys' fees, of any and every nature of character, including, without limitation, for death, personal injury and/or loss of property, whether anticipated or unanticipated, directly or indirectly, whether caused, in whole or in part, by the sole or concurrent negligence or wrongdoings, strict liability or fault of the Released Parties or otherwise, arising out of or connected in any way with my participation in the Project or any side projects in connection with the Project.
I acknowledge that I have read the foregoing paragraph and know and understand the full contents and effects of it. I hereby grant KABOOM!, Oakland Unified School District, Global Family Elementary School, and Eat.Learn.Play. Foundation, full and complete permission to use my name and likeness, including any photographs, videography and interview footage and quotations from me obtained in connection with the Project (whether or not at the Project Build or otherwise) in legitimate promotions of the Project and to further the mission and vision of KABOOM!. in any and all media now known or hereinafter developed without restriction or compensation.
I understand that I have given up substantial rights by signing this Waiver and have signed it freely and voluntarily without any inducement, assurance or guarantee being made to me and I INTEND MY SIGNATURE TO BE A COMPLETE AND UNCONDITIONAL RELEASE of all liability of Released Parties to the greatest extent allowed by law.
Información acerca del proyecto
¿Quiénes?: Alrededor de 210 participantes de Eat.Learn.Play. Foundation, KABOOM!, y la comunidad local de Oakland, CA. Los voluntarios serán supervisados ​​por instaladores profesionales de parques infantiles.
El proyecto es para voluntarios con todo tipo de habilidad. Ejemplos de actividades incluyen: ensamblar equipo de juego, mezclar concreto, y mover mantillo.
Regístrese para ser voluntario por solo un día o únase a nosotros para los tres!
Necesitamos especialmente voluntarios que hablen español.
** Importante : Todos los participantes necesitan tener edad legal para trabajar o más. **
¿Cuándo?: 14-16 de Octubre, 9:00AM-4:00 PM
Dirección: 2035 40th Ave Oakland, CA 94601
¿Qué se proporcionará?: Se proporcionarán aperitivos y agua. Para los proyectos que lo requieran, se facilitaran guantes y otros materiales. Todos los voluntarios recibirán una playera para usarse durante la construcción del proyecto.
¿Cómo vestirse?: Favor de vestirse de acuerdo al clima, continuaremos construyendo aún si llueve. Es obligatorio el uso de zapatos cerrados, de preferencia tenis o botas que no le importe si se ensucian. Favor de dejar objetos de valor en casa.
Reglas del sitio de construcción:
Todos los participantes deberán cumplir con las siguientes prácticas. Estas normas han sido establecidas y acordadas para asegurar la seguridad, la comodidad y el respeto de todos los involucrados. No cumplir dará como resultado el despido inmediato del proyecto.
Trabajen juntos, traten a todos con respeto y usen un lenguaje amigable y familiar
Reporte cualquier comportamiento inapropiado o peligroso al personal del lugar
Favor de cumplir con todas las instrucciones de los encargados del lugar
Sigua todas las instrucciones de seguridad
Sólo son permitidas las herramientas que ya fueron pre aprobadas
Sólo se permiten zapatos cerrados
No se permite tabaco, drogas ni alcohol
El uso o portación de armas de fuego está prohibido
Horario del Semana de Construcción
La Semana de Construcción comenzará a 14 de Deciembre y terminará a 16 de Deciembre. Todos los días tendrán el mismo horario:
Turno de Trabajo:
• 9:00 AM - Comienza el turno de trabajo
• 4:00 PM - Finaliza el turno de trabajo
Ceremonia de Corte de Cinta:
La Semana de la Construcción culminará con una ceremonia de inauguración para celebrar la finalización de un trabajo . Esta ceremonia se llevará a cabo el 16 de Deciembre a 2:30PM y durará aproximadamente 20 minutos. El tiempo de corte de la cinta puede estar sujeto a cambios según la finalización del proyecto.
PROYECTO DE ESPACIO DE JUEGO DE KABOOM - EXENCIÓN Y LIBERACIÓN DE RESPONSABILIDAD DE VOLUNTARIOS
Este formulario debe ser firmado por o en nombre de cada uno de los participantes que participarán en la construcción del Eat.Learn.Play Foundation, Oakland Unified School District, Global Elementary School, y KABOOM! Playspace Build (el "Playspace Build" o el "Proyecto") o participará en la obra de construcción de Playspace Build, que tendrá lugar en 14-16 de Deciembre 2022 en Oakland, CA. Si no puede leer esta letra, hable con la persona encargada de la inscripción de participantes para que le ayude.
El proyecto y las actividades de KABOOM! incluirán la construcción del espacio de juego, los proyectos paralelos y los proyectos de mejora del juego en el lugar de construcción del espacio de juego y en su periferia, incluso los interiores de los edificios en el lugar o en sus proximidades. El "lugar de construcción del espacio de juego" es el espacio físico en el que se está instalando el espacio de juego; los proyectos de construcción son cualquier actividad directamente relacionada con la instalación y colocación del equipo del espacio de juego, la colada de hormigón o el traslado del revestimiento de seguridad al espacio de juego. Los participantes menores de 18 años (o menores de 19 años en Alabama y Nebraska) no pueden trabajar en el "lugar de construcción del espacio de juego", tal y como se ha definido anteriormente. Los participantes menores de 18 años, pero que cumplen la edad mínima para trabajar en este estado, pueden trabajar en los proyectos paralelos, como los de embellecimiento y mejora de los juegos, y en otros proyectos de construcción de espacios no lúdicos. Además, pueden ayudar en la preparación del día de construcción únicamente si han recibido y entregado a KABOOM! la aprobación por escrito de su padre, madre o tutor legal para participar. Los niños que no tengan la edad mínima para trabajar que dispone el estado no serán supervisados por KABOOM! de ninguna manera ni se les permitirá participar en los proyectos de construcción de espacios de juego o no lúdicos gestionados por KABOOM!. Sin embargo, KABOOM!, se aliará con el socio comunitario para adquirir suministros para que los utilicen estos niños y para ayudarles a planificar los proyectos que se lleven a cabo en un lugar aparte del lugar de construcción del espacio de juego. En el lugar de construcción del espacio de juego no debe haber niños menores de la edad legal para trabajar en este estado.
Entiendo que pasaré el/los día(s) como participante del Proyecto y que participaré bajo mi propio riesgo. Reconozco que mi participación es voluntaria y no constituye ninguna condición ni requisito de empleo. Además, reconozco que el Proyecto se llevará a cabo en un lugar de construcción potencialmente peligroso. Doy fe de que estoy físicamente apto y preparado para este evento y estas actividades.
No crearé ninguna situación insegura para otras personas o para mí, como tampoco utilizaré ninguna herramienta ni realizaré ninguna tarea con la que no me sienta completamente cómodo. Acataré todas las leyes federales, estatales y locales aplicables, así como las normas e indicaciones de los patrocinadores y coordinadores. Si veo alguna situación que considere insegura, lo pondré inmediatamente en conocimiento de KABOOM! o de un coordinador de seguridad. Si traigo a niños o jóvenes conmigo para participar en el Proyecto, seré el único responsable de velar por su seguridad y los mantendré bajo estrecha supervisión en todo momento. PARA CADA PARTICIPANTE MENOR DE 18 AÑOS (menor de 19 años en Alabama y Nebraska), EL PADRE, LA MADRE O EL TUTOR DEBERÁ LLENAR UNA EXENCIÓN DE RESPONSABILIDAD POR SEPARADO. Entiendo que un participante puede estar en el Proyecto para prestar tratamiento médico en caso de una lesión, y si es necesario para ayudar a organizar el transporte a las instalaciones médicas. No obstante, reconozco que ni KABOOM! ni ninguna de las Partes Exoneradas (como se define a continuación) son de ninguna manera responsables por proveer dicho participante o tratamiento médico.
La participación incluye la posible exposición a enfermedades infecciosas y brotes biológicos, incluso el Staphylococcus aureus resistente a la meticilina (SARM), la gripe y la COVID-19. Si bien las normas particulares y la disciplina personal pueden reducir este riesgo, existe la posibilidad de enfermedad grave y muerte, por lo que asumo consciente y libremente todos esos riesgos, tanto conocidos como desconocidos, incluso aquellos derivados de la negligencia o de otras personas. Además, asumo la plena responsabilidad por mi participación y acepto voluntariamente cumplir con los términos y condiciones establecidos y habituales para la participación en cuanto a la protección contra las enfermedades infecciosas. Sin embargo, si observo cualquier peligro inusual o significativo, o si experimento cualquier síntoma de COVID-19 durante mi presencia o participación, me retiraré y lo haré saber al funcionario más cercano inmediatamente.
¡En mi nombre, así como en el de mis herederos, albaceas, administradores y cesionarios, por la presente libero, absuelvo, exonero y acepto indemnizar y eximir de responsabilidad a KABOOM!, Eat.Learn.Play. Foundation, Oakland Unified School District, Global Elementary School, Landscape Structures Inc., y cualquier otro patrocinador del Proyecto, junto con sus respectivos funcionarios, directores, agentes, empleados, contratistas, sucesores y cesionarios, y cualquier participante al que dé mi consentimiento para que me preste tratamiento médico a mí o a cualquier niño o adulto joven bajo mi supervisión (las "Partes Exoneradas"), de y contra cualquier reclamación, demanda, acción, motivos que justifiquen una acción judicial, obligación, responsabilidad, pleitos, pérdidas, daños, costos, gastos y honorarios, incluso los costos judiciales y los honorarios de abogados, de cualquier naturaleza y carácter, incluso muerte, lesiones personales o pérdida de bienes, ya sea anticipada o no, directa o indirectamente, sea causada, en su totalidad o en parte, por la negligencia única o concurrente o las malas acciones, la responsabilidad objetiva o la falta de las Partes Exoneradas o de otra manera, que surja de o se vincule de cualquier manera con mi participación en el Proyecto o cualquier proyecto paralelo.
Reconozco que leí el párrafo anterior y que conozco y comprendo todo su contenido y efectos. Por la presente concedo a KABOOM!, Eat.Learn.Play. Foundation, Oakland Unified School District, Global Elementary School, permiso total y completo para utilizar mi nombre y mi imagen, incluidas las fotografías, videografías y filmaciones de entrevistas y citas mías obtenidas en relación con el Proyecto (sea o no en la Construcción del Proyecto o de otra manera) en promociones legítimas del Proyecto y para promover la misión y la visión de KABOOM! en todos y cada uno de los medios de comunicación conocidos actualmente o que se desarrollen de aquí en adelante, sin restricción ni compensación.
Entiendo que, con la firma de esta Exención, renuncio a derechos sustanciales y que la he firmado libre y voluntariamente, sin que se me haya ofrecido ningún tipo de incentivo, promesa ni garantía. Además, ENTIENDO QUE MI FIRMA CONSTITUYE LA EXENCIÓN COMPLETA E INCONDICIONAL de toda responsabilidad de las Partes Exoneradas hasta donde lo permita la ley.