Description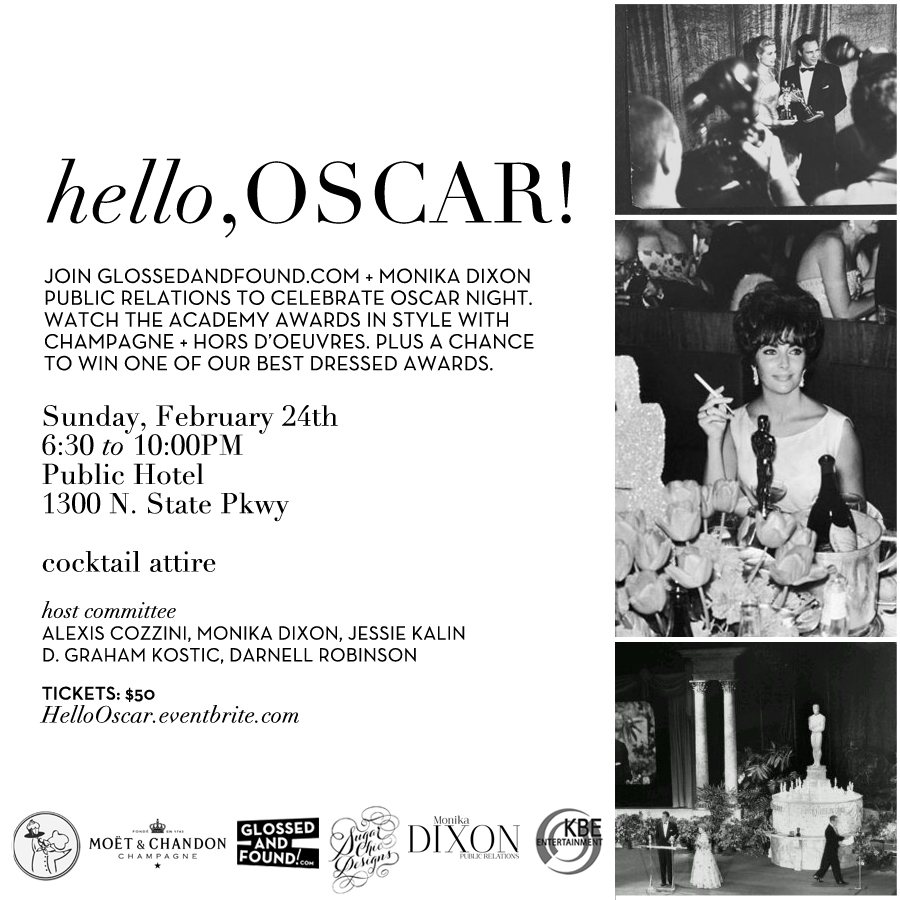 hello, OSCAR!
Chicago's glamorous and beautiful will take over Public Hotel for a special Oscars screening party on Sunday, February 24th. Hosted by Monika Dixon of Monika Dixon PR & D.Graham Kostic of GlossedandFound.com with Alexis Cozzini, Jessie Kalin and Darnell Robinson, the night is expected to be nothing short of Hollywood glam!
The evening will begin at 6:30pm, just in time for guests to catch some celebrity fashion on the E! Live from the Red Carpet show before the Oscars kick-off at 7:00.
hello, OSCAR! will entertain 150 fashionable guests dressed in their best cocktail attire with drinks and hors d'oeuvres by Public Hotel. In addition to Public's elegant screening room, extra screens will be set up in order to provide guests with the most enjoyable Oscars viewing experience.
An extravagant Oscars-inspired Sugar Hills Bakery cake will be sure to steal the show. Amy DiTomasso of Sugar Chic Designs will put her signature touch on hello, OSCAR! by creating her staple sweet tables of themed candy and desserts, and will also festively adorn miniature champagne bottles provided by Moet & Chandon for each attendee.
Guests should dress to win in their best cocktail attire, as there will be best a dressed guest competition conducted through ballot voting. There will also be a live social media contest to choose the most fabulous red carpet look of the evening.
Ticket Price: $50
Facebook Event: hello, OSCAR!
Event Hashtag: #helloOSCAR