Description
Hello, My Name is KING, Inc. invites you to participate in the 4th annual Black Male Excellence Celebration, Hello, My Name is KING Day!
Hosted by poet Victoria Allen, the event will take place on October 16, 2017, from 7:00-9:00 pm at TILA Studios (2835 Church Street).
The evening will include our signature balloon release; a host of amazing performances, art, a thought-provoking panel discussion, and much more!
The panel is an array of Black men from all walks of life, who are actively changing the narrative, and who are making a global impact. Including,

Devan Dmarcus, the Founder of Black Men Smile;

Suresh May, Entrepreneur & Founder of Wealth Weekly, which supports upcoming business owners;

Benjamin Puckett, Motivational Speaker for the WIN Strategy;

Kedrick Williams, Continuing Education & Health Careers Coordinator for Atlanta AHEC;

D'Anthony Davis, Morehouse Student & Founder of B.S.S. (Building Success Stories);

Bryan Real, Founder of the Village Mentors, and

Jan D'Aguiar, APS Educator, 2nd Vice District Representative for his district, who is currently running for City Council.
Participants will not only experience the power of the movement but enjoy light bites and entertainment.
Be sure to join us for a night of Black male excellence, it will be an event that you do not want to miss!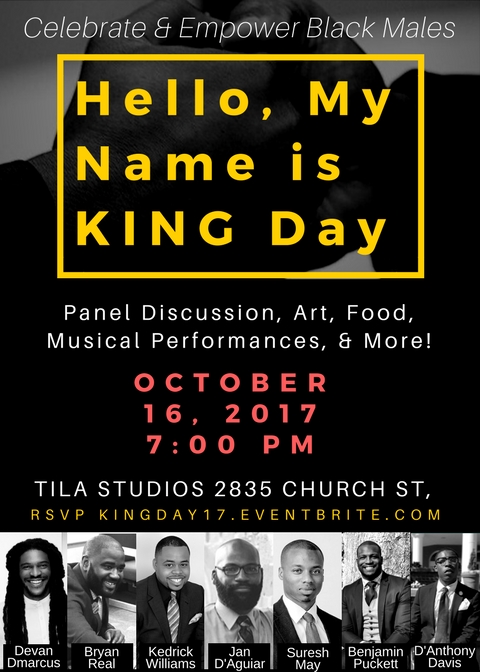 Contact Whitney Stovall at whitneys@ohstovall.com for further information.
Hello, My Name is KING Day is an international celebration of Black male excellence. Participants pledge one selfless act and wear the Hello, My Name is King Button to symbolize support.
Date and Time
Location
Refund Policy