Hello My Name is B.E.A.U.T.I.F.U.L by Loretta A. Morman

Saturday, August 23, 2014 from 1:00 PM to 4:00 PM (EDT)
Event Details
Workshop & Book Launch Event for Tween
& Teen Girls in Royal Oak at Pink Pump!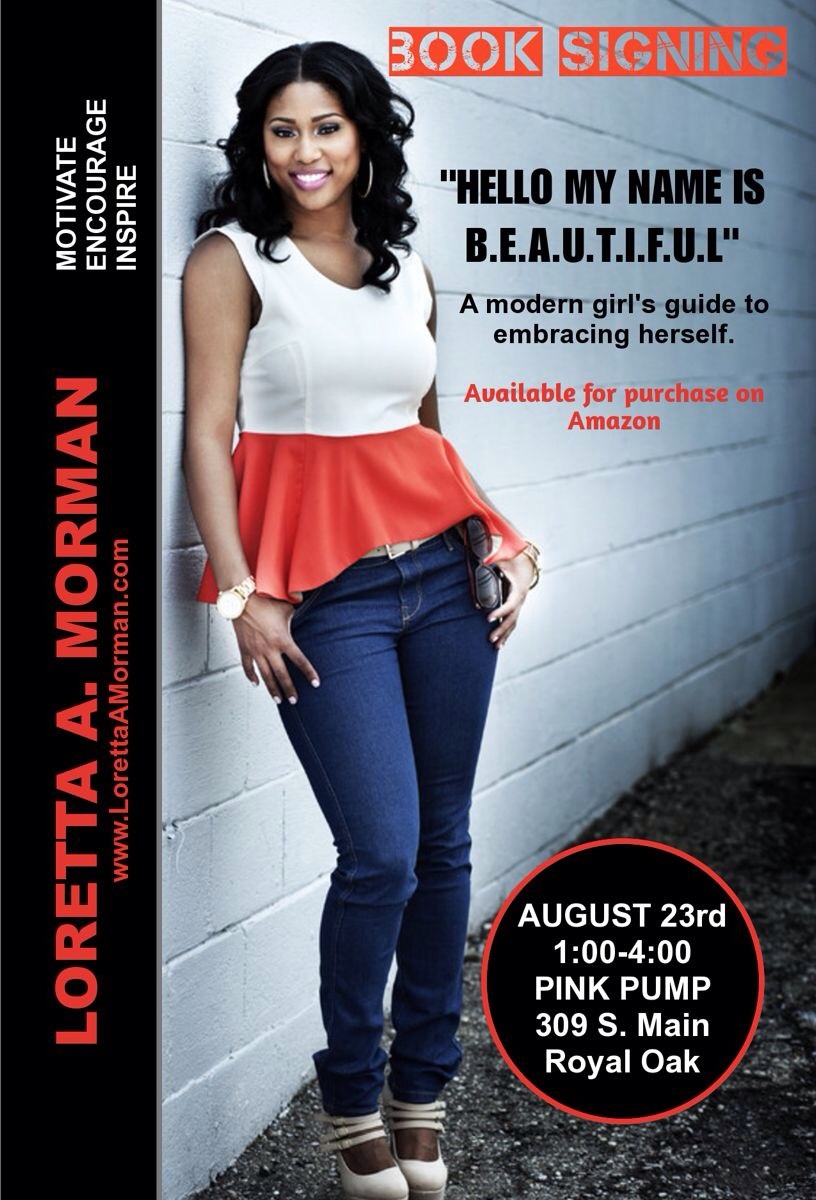 August means back-to-school time but many aren't looking forward to going back. Middle school and high school can be tough times for tweens and teens – especially girls who feel like they have to look like the next Kim Kardashian or Beyonce' in order to get noticed. "Social media has put added pressure on girls to look like a superstar all the time and this makes them feel very insecure about their own looks. Girls look at their Instagram or Facebook accounts and begin to feel bad about their hair, weight, complexion or whatever. This constant comparison of their looks with other girls is causing many psychological and emotional problems – at alarming rates.  No one is perfect and the real issue is not what a person looks like on the outside, but how they feel about themselves inside," said Loretta A. Morman, a Southfield-based licensed therapist who counsels teenagers and pre-teens. 

 "Hello: My Name Is Beautiful" ($11.99, paperback, 9781629524856; $5.99, e-book, 9781629524863) is the new book by Morman, who is passionate and adamant about helping girls feel beautiful inside and out.  Morman will deliver material from the book at Pink Pump, the popular boutique located on 309 S. Main Street in Royal Oak. The event will take place on Saturday, August 23 from 1 to 4pm.  Any girl from 10 to 18 and their parents can register for this free workshop at http://lorettaamorman.eventbrite.com and have an opportunity to purchase the book, get it signed, plus get the new Hello My Name is Beautiful journals and T-shirts. There will be pink cupcakes and sparkling pink lemonade for all.

"I remember what it was like trying to fit in and especially how awkward I felt in middle school.  I think it's especially important that girls of color feel good about their weight, hair and not get hung up on buying designer labels that may be out of the family budget. Those things can really damage self-esteem and self-worth," said Morman, 27, who graduated in 2005 from Mercy High School, a high school for girls in Farmington Hills. She now holds a bachelor's degree in pyschology from Michigan State University and a Master's degree in Social Work (MSW) from The University of Chicago.

Morman is planning this to be an interactive workshop with games, prizes and a "pink carpet" photo session with the girls – complete with fashion and makeup tips. "My main goal is to inspire the girls and address any issues that they may face but are often afraid to talk about," said Morman.  "I want our next generation of girls, especially girls of color, to live a life beyond the norm, and become the women that God wants them to be," she said.
For more information on this free workshop, Morman's book or schedule an interview or speaking engagement with Morman, go to www.LorettaAMorman.com or call (248) 690-6810.
Hello My Name is B.E.A.U.T.I.F.U.L.
For all that we talk about self-confidence and self-acceptance, insecurity never really seems to go away, does it? Well, it can. In this book therapist and etiquette teacher Loretta A. Morman shares with you her insight on how to overcome misconceptions many girls of color have about their own selves. Various messages reach us from marketing and advertising companies, through different forms of entertainment, mainstream culture and even our own family and friends. However, those messages aren't always true or right. There are ways to take care of yourself with love and devotion, habits and perspectives that will take you to new places of validation and esteem, ones you never thought you would reach. Morman will tell you what God's word says about beauty and give you practical advice on how to be the best version of yourself—which is the most beautiful thing of all.
- By Loretta A. Morman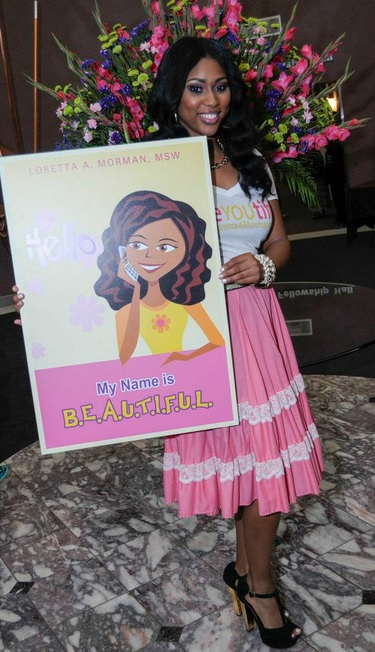 When & Where

Pink Pump
309 S Main St
Royal Oak, MI 48067


Saturday, August 23, 2014 from 1:00 PM to 4:00 PM (EDT)
Add to my calendar
Organizer
Ministry Marketing Solutions Inc., founded in 2000, is an online branding and social media agency that provides services for best-selling authors, nonprofit organizations and entrepreneurs. For more information, www.ministrymarketingsolutions.com.
- About Pam Perry -
Pam Perry, who won a national contest as the Savviest in the Social Media in 2010, was featured in an article on social media in BlackEnterprise.com and is one Detroit's top 100 Tweeters. She is a "social media evangelist" determined to convert others into "believers" in blogging, podcasting, tweeting and online branding. Her hub online is: www.PamPerryPR.com. Find out more at Pam Perry Social Media Marketing Maven Sites