Hello Herman the Movie

Daily Event - Monday through Friday: 8:00 PM to 8:00 PM (PST)
Event Details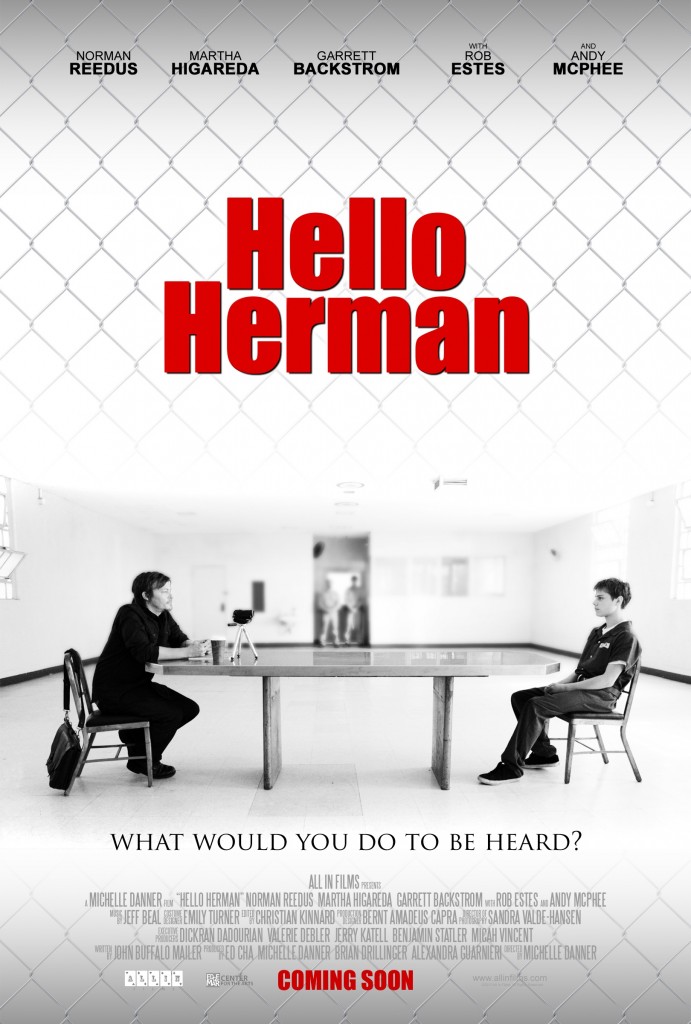 "Hello Herman", the new feature film directed by Michelle Danner and starring Norman Reedus, Martha
Higareda, and newcomer Garrett Backstrom, will be playing at Laemmle No Ho in Los Angeles.
The story involves Herman Howards, a high school student who has been a bully magnet. Taunted and
tormented, he armed himself and took revenge by shooting dozens in a bloody fury. Now incarcerated, a
national debate springs up around him as to whether or not to execute him. He'll tell his story to the world
through one journalist, Lax Morales, an award-winning reporter who is haunted by his own past.
The events raise the question, to what extent do the participation of mass media and its audience contributes
to the spiraling of violence in American culture?
Norman Reedus stars as Lax. Reedus is best known for his work in The Boondock Saints movies and the hit
show The Walking Dead as well as Lady Gaga's video Judas. His love interest is played by Martha Higareda,
an acclaimed star in her native Mexico who starred with Keanu Reeves in Street Kings. Rob Estes from 90210
is playing Chet Clarkson, a political pundit. Andy McPhee from Sons of Anarchy plays Sean Gall, the leader of
a white supremacist group. The film also stars newcomer Garrett Backstrom as the teenage shooter Herman
Howards.
Where

Laemmle
5240 Lankershim Blvd.
North Hollywood, CA 91601


Daily Event - Monday through Friday: 8:00 PM to 8:00 PM (PST)
Add to my calendar
Organizer
Michelle Danner Los Angeles Acting School
Michelle Danner Los Angeles Acting School
* The Actor's Golden Box: With Michelle Danner
* Audition for Film & Television: On-Camera Cold Reading
* Scene Study, Beginning/Intermediate/Advanced
* Improv Workout
* Casting Director Workshop
* Voice intensives level 1 & level 2
*Brad Garrett the Emmy Award winning star of Everybody
Loves Raymond Teaching a sitcom/comedy intensive
*3, 6 & 12 month WELL ROUNDED ACTOR INTENSIVES AVAILABLE 
DON'T MISS THE FREE INFORMATIONAL SESSION TO LEARN ABOUT ALL THE CLASSES 
& MEET WITH MICHELLE DANNER CALL (310)392-0815
OR E-MAIL INFO@EDGEMAR.ORG
Michelle Danner is an actress and acting coach. Her student list include Catherine Bell, Gerard Butler, Common,Penelope Cruz, Justin Chatwin, Marcia Cross, Zooey Deschanel, Rob Estes, Isla Fisher, Rick Fox, James Franco,Salma Hayek, Sally Kellerman, Jamie-Lynn Sigler, Christian Slater, Gabrielle Union, Justine Waddell and numerous others. She teaches internationally in Europe, Toronto, Vancouver, Dubai, Los Angeles and New York. MICHELLE DANNER'S techniques emcompasses Meisner, Lee Strasberg, Adler, Uta Hagen, Chekov, & the Stanislavsky Technique.