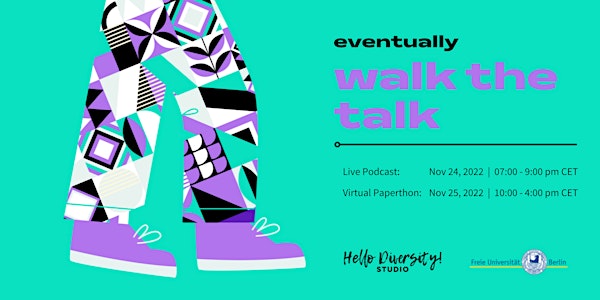 Hello Diversity! Live Podcast and Paperthon
For researchers, entrepreneurs and practitioners to tackle challenges and opportunities of entrepreneurship and diversity.
About this event
What challenges and opportunities do women entrepreneurs face through digital innovation during their journey? And how can research in this field continue the discussion? The Hello Diversity! Podcast Series, concludes with a live Podcast recording on Nov 24, followed by a Paperthon Event on Nov 25 that aims to grasp answers and develop new research ideas.
We are thrilled to invite you to both events:
Nov 24, 7:00 pm at Einstein Center Digital Future (and online stream): Live Podcast Recoding and Networking Event with Catering & Drinks
Nov 25, 10-4:00pm CET: Virtual Paperthon to tackle challenges and new paper ideas in the field of entrepreneurship and diversity
These events are for you, if you are a researcher, working at the intersection of digital entrepreneurship, diversity and innovation, or if you are a practitioner, interested in supporting research in this field. What to expect during the events?
Live Podcast & Networking on Nov 24, 19:00:
19.00 Arriving & Welcome Drinks
19:15 Welcome from hosts Dr. Janina Sundermeier, Dr. Pauline Weritz and Franziska Schmitt
19:20 Keynote Founder Story with Isabella Steiner, founder nüchtern.berlin
19.30 Live Podcast Recording with Researcher Prof. Dr. Maura McAdam and Emilia Theye, co- founder clare&me
20.15 Closing Words Prof. Dr. Janina Sundermeier
20.30 Networking, Catering & Open End
Virtual Paperthon on Nov 25, 10:00am-16:00 CET:
10.00 Welcome
10.15 Keynote by Prof. Dr. Maura McAdam
11.00 Design Session 1: Ideation. Design your purpose & challenge to tackle
12.30 Lunch Break
13.15 Design Session 2: Specify. Design your methodology & approach
14.30 Design Session 3: Focus on originality & practical implications. Create your abstract
15.30 Abstract Presentation
16.00 Closing Words
Join us to:
Discuss the intersection of digital entrepreneurship, diversity, and innovation
Work with fellow researchers to create new paper ideas
Develop long-lasting, fruitful connections in the field of information systems and entrepreneurship
Learn the newest and novel insights in the field of entrepreneurship research
To get inspiried, please follow us on Instagram, LinkedIn and listen in our Hello! Diversity Eventually Walk the Talk Podcast series.
We look forward to spending the day with you virtually! If you have any questions, please reach out to us: fraenziska.schmitt@gmail.com
Warmly,
Janina, Franziska and Pauline
PS: The Paperthon event will be held online. You will receive the link to join one week prior. The live Podcast will be streamed. You will receive the live link one week prior.