Hello 2018! Dream, Create and Manifest!

Friday, February 9, 2018 from 7:00 PM to 10:00 PM (EST)
Event Details
DESCRIPTION
Join us for an intimate and interactive journey of self discovery with a small group of people, who like you…want to live the life of their dreams!
WORKSHOP OVERVIEW
Welcome

Points of You® workshop




Play Points of You: The Coaching Game to gain insights about our lives, to take a look at the year that has passed and create inspiration and in depth observation for the new year that lies ahead, what we want 2018 to bring into our lives!

Break

Dream Board creation


You are invited to create your own dream board, board of what makes you feel good, a board of your dreams, your desires, your vision. Materials for Dream Board will be provided.

Sharing and Closure
Limited space available.
"As soon as you commit to making something happen, the how will reveal itself." - Tony Robbins
POINTS OF YOU® METHOD
We use innovative, fun methods and tools to facilitate meaningful discussions, lessen conflicts and build bridges between people. A cornerstone of the Points of You® method is the interaction between the right brain, the intuitive and emotional half of the brain, and the left brain, focused on logic and analysis. This occurs when we look at a photograph and a word at the same time.

The photograph stimulates our right, creative, brain while the word activates the left, analytical, brain. The simultaneous stimulation of the two brain hemispheres creates a struggle between the emotional and the rational, momentarily "shorting out" the vigilant defense mechanisms of our mind. This "deliberate confusion" gives the mind a short respite from our preconceived ideas on how things "should" or "ought" to be, and allows our mind to open up to new places inside ourselves, shifting our point of view.Our games are based on associative links between photograph, theme and the issue we have chosen. Each photograph depicted on the Points of You® cards was selected out of thousands of available photographs to achieve this one purpose: introducing a theme through visual stimulus that has no direct or obvious connection to it, thus stimulating our entire rational and emotional system. Doing that, we purposefully leave a space wide enough for personal interpretation, a personal inter-space. This unique inner motion creates a new response, resulting in emotions and insights that are new to our mind and heart.The method is designed like a sine wave. At its starting point we are wide open and exposed to many points of view regarding our theme of choice: relationships, parenting, career, health or any other issue. After expanding our points of view, it's time to focus. The focusing process involves being precise and selecting the most significant insight for our specific issue. In the last stage we take our insights into the practical world – tachles, and outline actions to achieve our goal.
When & Where

Hub 925
7594 West Sand Lake Road
Orlando, FL 32819


Friday, February 9, 2018 from 7:00 PM to 10:00 PM (EST)
Add to my calendar
Organizer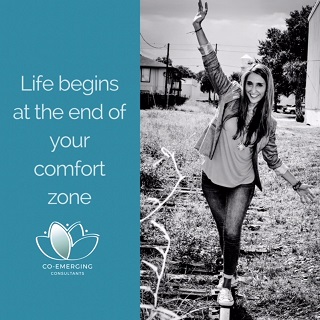 Life/Empowerment Coach, Organizational Psychologist, Certified Points of You® Trainer & Global Facilitator. 
Having formally trained in Organizational Psychology, Lelu has worked in the Human Resources field for over 13 years.  
In 2016 she attended a Points of You® training in Colorado and fell in love with Coaching.  Points of You® incorporates photo therapy, coaching, envisioning, creativity and fun to open up new perspectives on oneself and the world. She soon became a Certified Points of You®  Trainer and an Ontological Coach and has led many workshops around the world.
Lelu is passionate about creating sacred spaces where individuals and organizations can explore their true essence. Lelu loves crafting personalized experiences to embrace creativity and innovation through communication, empathy, and mindfulness.  Her workshops invite participants to feel empowered and inspired to step out of their comfort zone and live with renewed passion. 
Co-emerging.com
lelu@co-emerging.net