Event Information
Location
Art Sanctuary
1433 South Shelby Street
Louisville, KY 40217
Presale period is over, but tickets will be available at the door! Remember to bring proof of vaccination or a negative covid test!
About this event
COVID & Health Safety Policy:
All attendees, guests, and staff are required to have proof of vaccination, or if you have a valid medical exemption from vaccination, a negative covid test within 48 hours of the event. No exceptions.
Masks are required indoors during the event, no matter your vaccine status.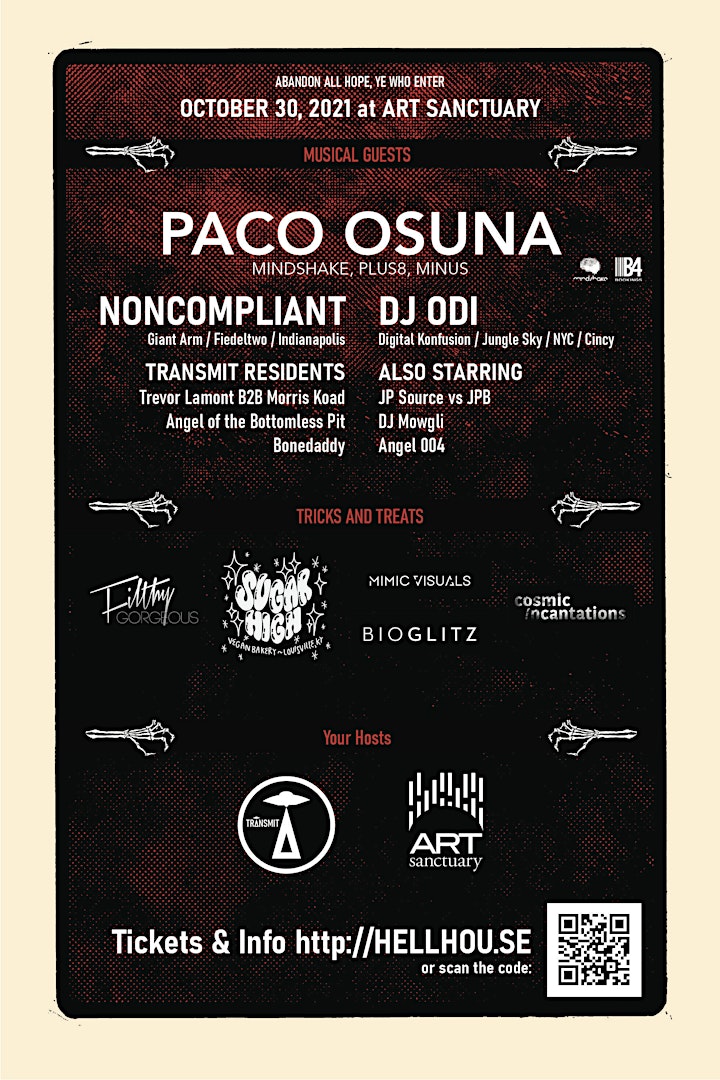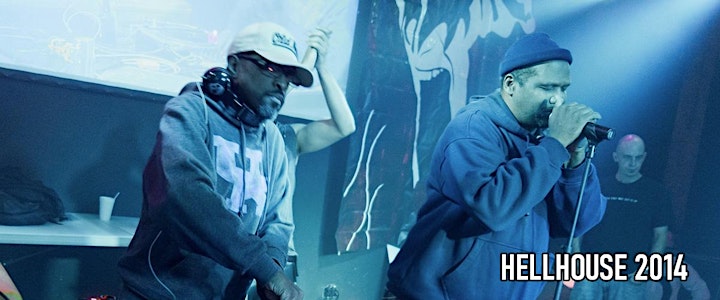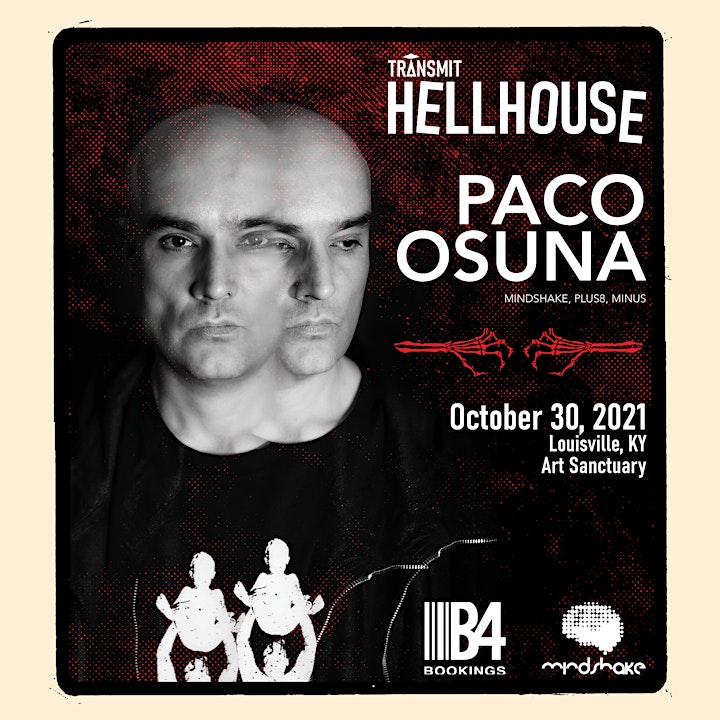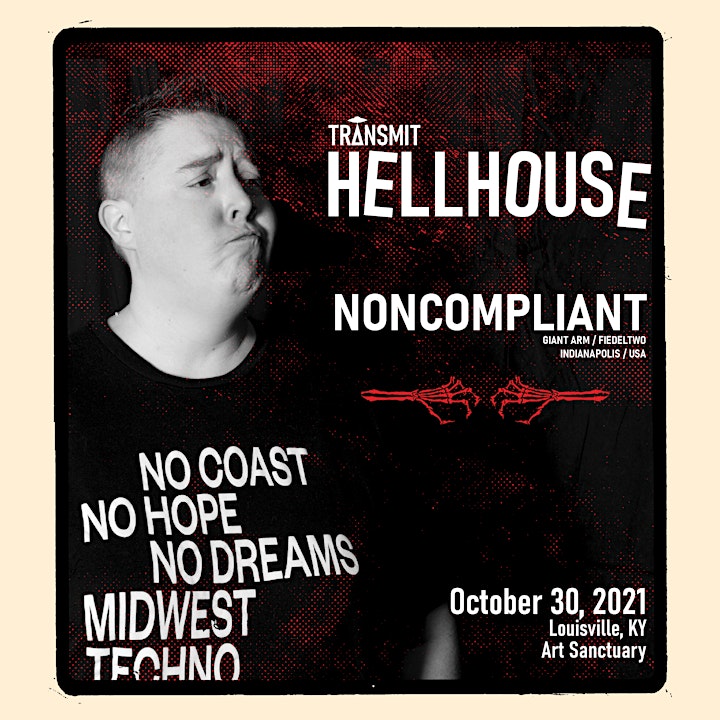 HEADLINERS
Paco Osuna
MINDSHAKE, PLUS8, MINUS
With a career spanning more than 20 years, Paco Osuna is one of the most renowned artists in the industry. His creativity, courage and relentless search for new forms of expression are some of his principal and consistent virtues when it comes to making music. On the dance floor, he is lively, intelligent and sophisticated, with a deep awareness for sound aesthetics.
He has devoted his career to growth, while simultaneously nurturing Spain's electronic music scene. He is co-founder of Club4, one of the most emblematic clubs in Barcelona, creative head and owner of Mindshake Records and its events concept, and a partner in one of the most important bookings agency in Europe.
Throughout his career Paco has performed at clubs, parties and festivals of great prestige. The list is endless, from Fabric London to WOMB Tokyo, passing through Space NYC & Miami, Watergate Berlin, Movement Detroit, Awakenings, Ultra Miami, Sónar Barcelona and Tomorrowland. From 2012 to 2014 he was resident for Richie Hawtin's ENTER. In 2015 Paco Osuna became part of Music On, joining Marco Carola in residencies at Ibiza, Miami and NYC. In 2016 he was selected to be ambassador of PLAYdifferently MODEL1. 2017 was also an important year for the Mindshake showcases, in which Paco participated alongside the label producers with tours taking in European and American stages.
In the studio, Paco's use of technology and the constant search for innovation has led to the development of his own musical trademark, coating the purest techno sounds with his most characteristic fibres: deep, dark and imaginative beats, always accentuated by his creativity.
NONCOMPLIANT
"As her moniker implies, she takes no prisoners, channelling the fury instilled by worldly injustices into blistering, defiant sets." - Mixmag 2017
Raised in small town Indiana on a musical diet of 80s synth pop and punk rock, Noncompliant soon found barnyard raves and warehouse techno parties and (as DJ Shiva) quickly became a fixture of the fabled 90s Midwest USA rave scene.
Two decades and a name change later, she is at the top of her techno game. Mixmag named her one of 2017's Top 20 Breakthrough DJs. She owned a packed and sweaty Boiler Room during Movement Detroit, turned in mindblowing mixes for Slam Radio, Discwoman, and Resident Advisor, and quaked some of the world's most respected dance floors like Smartbar Chicago, Amsterdam's DeSchool, Concrete in Paris, and Berlin's legendary Berghain. Her festival appearances include Unsound, Red Bull Music Festival Paris, Movement Detroit, and Whole United Queer Festival.
As a producer, her releases and remixes on labels like Valence, Argot, Flash, and Dark Entries have pounded sound systems worldwide, with her tune "Women's Work" landing on Fiedel's official Berghain 08 mix and on his label Fiedeltwo.
At her core, she is a die-hard techno fan with a deep love for music and a drive to continue honing her craft as a DJ and producer in order to share her favorite music with people on dance floors everywhere.
Musical Guests
PACO OSUNA
NONCOMPLIANT
DJ ODI
DJ MOWGLI
TRANSMIT RESIDENTS:
TREVOR LAMONT, MORRIS KOAD, ANGEL OF THE BOTTOMLESS PIT, BONEDADDY
JP SOURCE vs JPB
ANGEL 004
Tricks and Treats
BIOGLITZ
PROJECTIONS BY MIMIC VISUALS
FILTHY GORGEOUS
COSMIC INCANTATIONS
SUGAR HIGH VEGAN BAKERY
HELLHOUSE History
Six years ago Hellhouse was hosted under the Second Street Bridge with Mix Master Mike. Then we took a long break, because the Hellhouse magic works best when the worlds of the living and the dead are blurred. Hellhouse has been a Louisville tradition, marrying the old and new of the electronic dance scene for the last two decades, and serving it up with a side of Dionysian excess, costumes, and celebration.
We had big plans for 2020, as it was the first weekend in a long time that Halloween was on a weekend. Obviously plans changed, and a new production team was born: TRANSMIT.
As with every year, HELLHOUSE makes every effort possible to bring you the very best in electronic music from both a historical and modern perspective. We've been honored to host such amazing talent as Mix Master Mike, DJ QBert, Matthew Dear, DJ Hyperactive, Derek Plaslaiko and more. This year is no different. We will release the lineup very soon!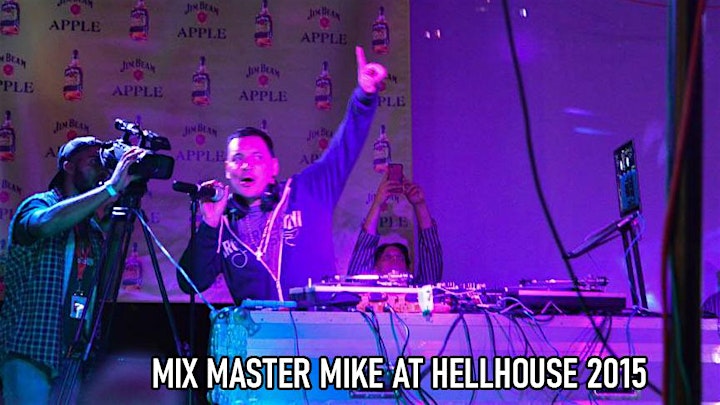 TRANSMIT was founded by Trevor Lamont, Morris Koad, Bonedaddy, and Jason Clark (Angel of the Bottomless Pit, SKL, etc). We created a space for DJ's and VJ's to perform for a live-streamed international audience. In the last years we've hosted regional stars like DJ Mowgli, DJ Odi, SYIMONE, Whistleface, DJ Sam-me, Angel 004, Headknockah, Wild Bill, JP Source, Neosporin, Kunundrum, Aaron Leitner, Lady Carol, and more!
HELLHOUSE was founded by a group of established artists, promoters, and friends, including Hushabye House (Marea Stamper, Kim Clark, et al), JJ Haws of Untranslatable Concept, Jason Clark (SKL), and many, many more. It has always been a labor of love and a gift to the Louisville dance community. The first Hellhouse in 2002 celebrated Hushabye House's one year Anniversary, this year's Hellhouse celebrates TRANSMIT's one year anniversary.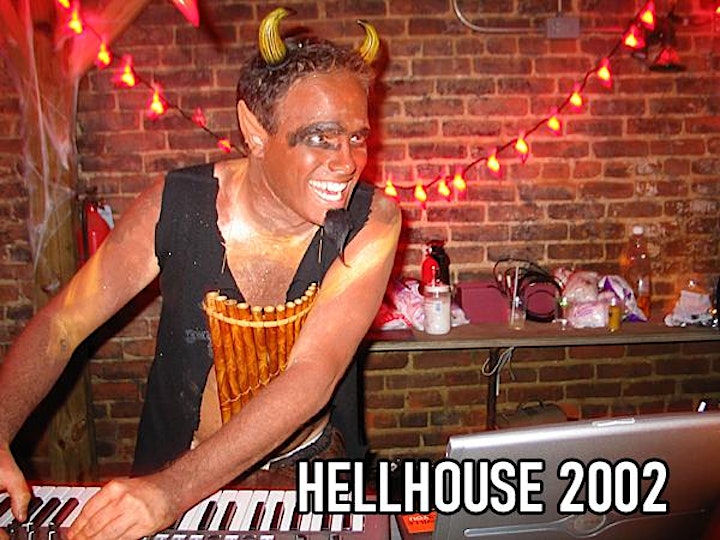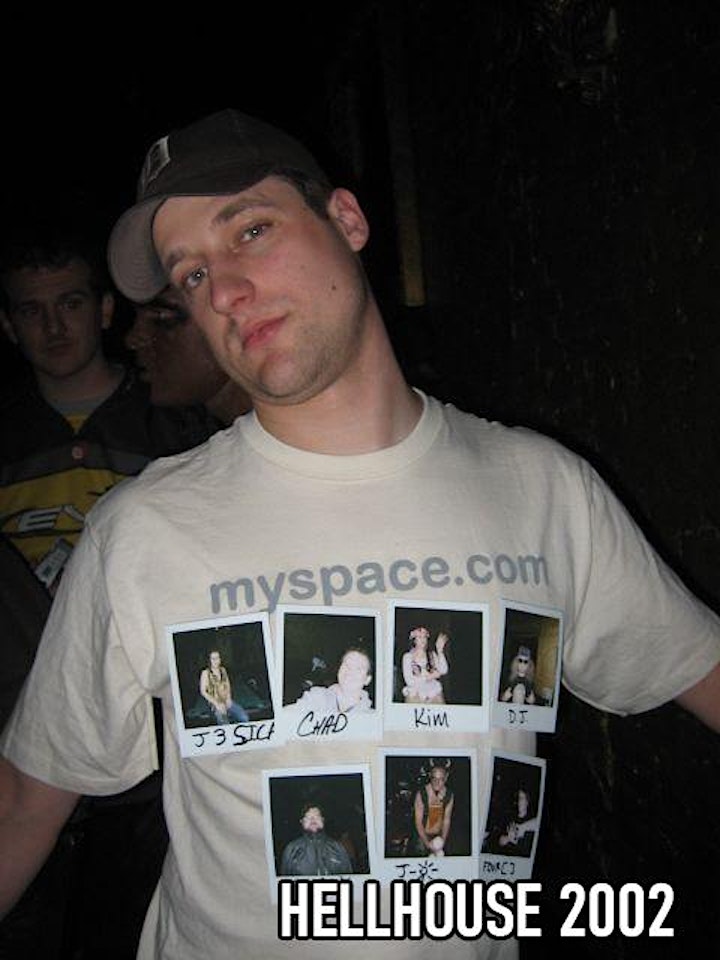 Halloween's origins date back to the ancient Celtic festival of Samhain. The day marked the end of the harvest and the beginning of the dark, cold winter, a time of year that was often associated with death. Celts believed that on the night before the new year, the boundary between the worlds of the living and the dead became blurred. On the night of October 31 they celebrated Samhain, when it was believed that the ghosts of the dead returned to earth.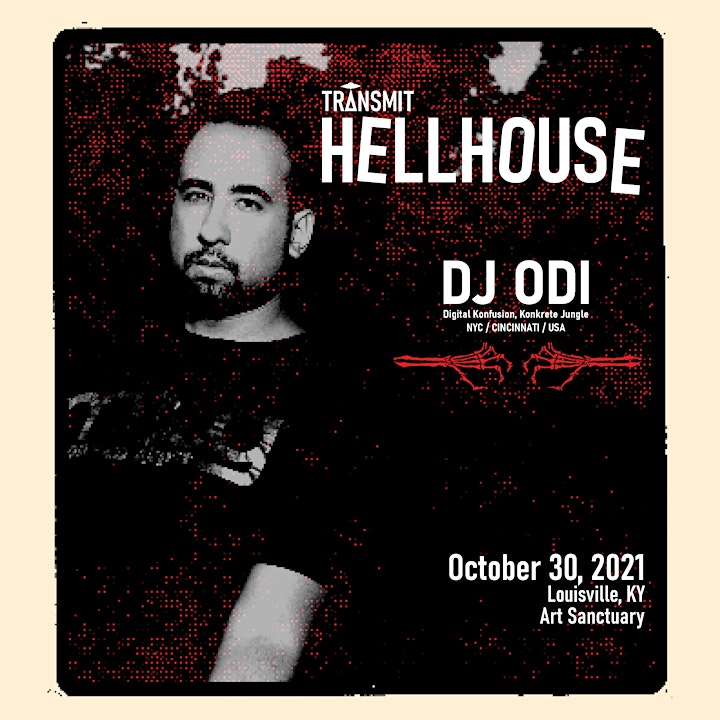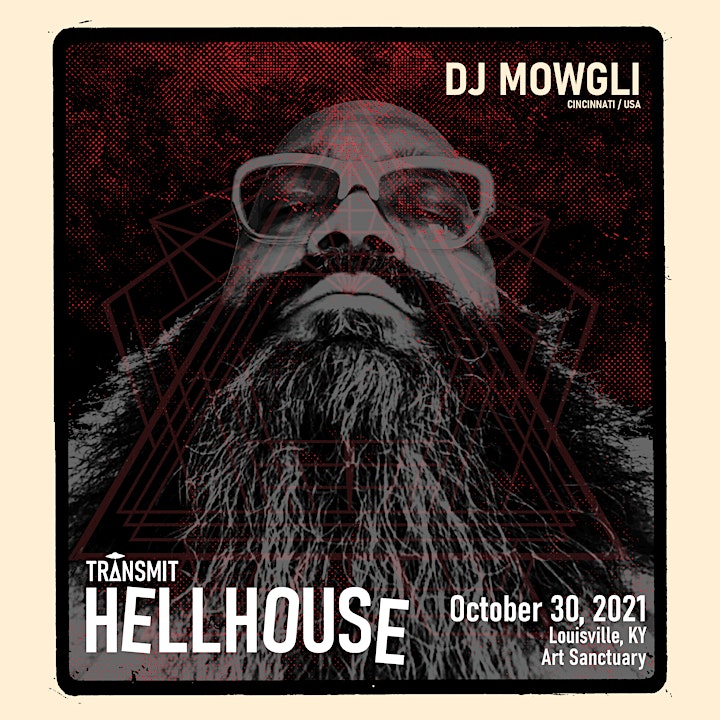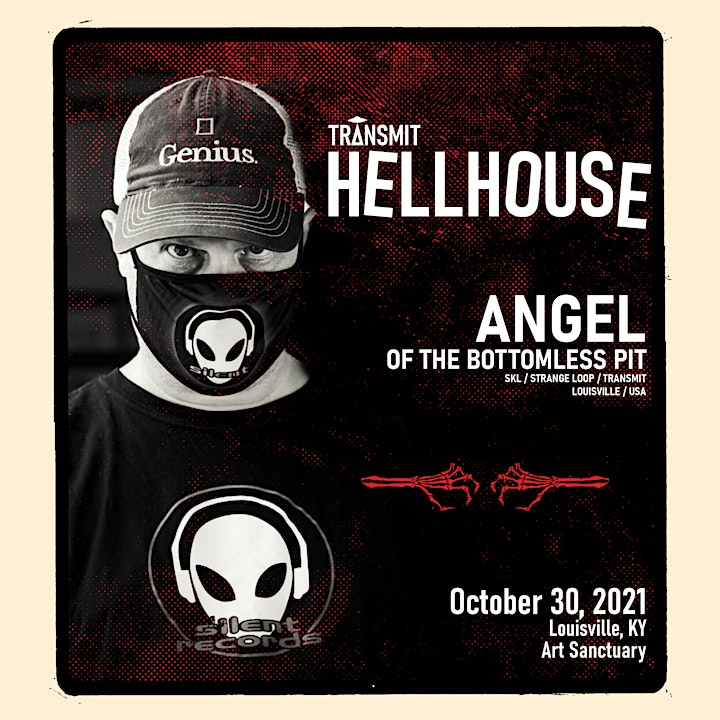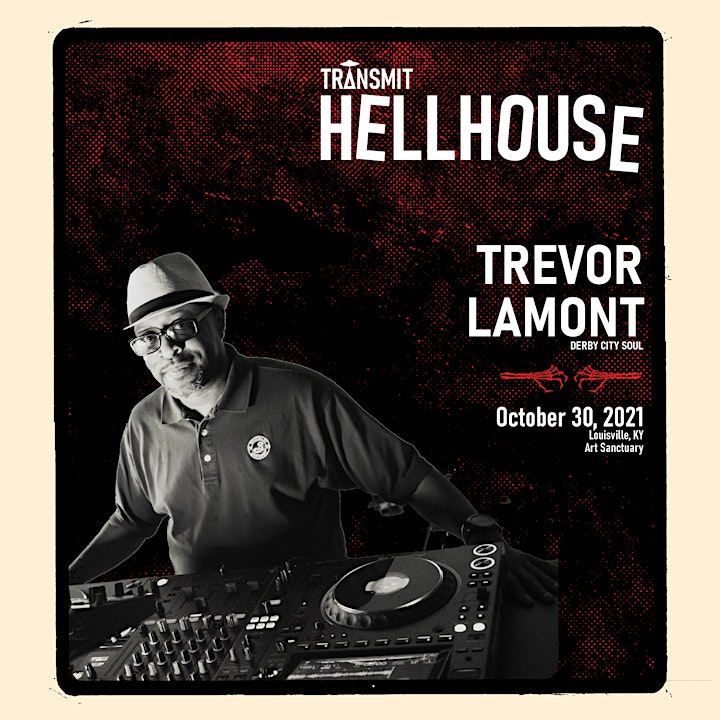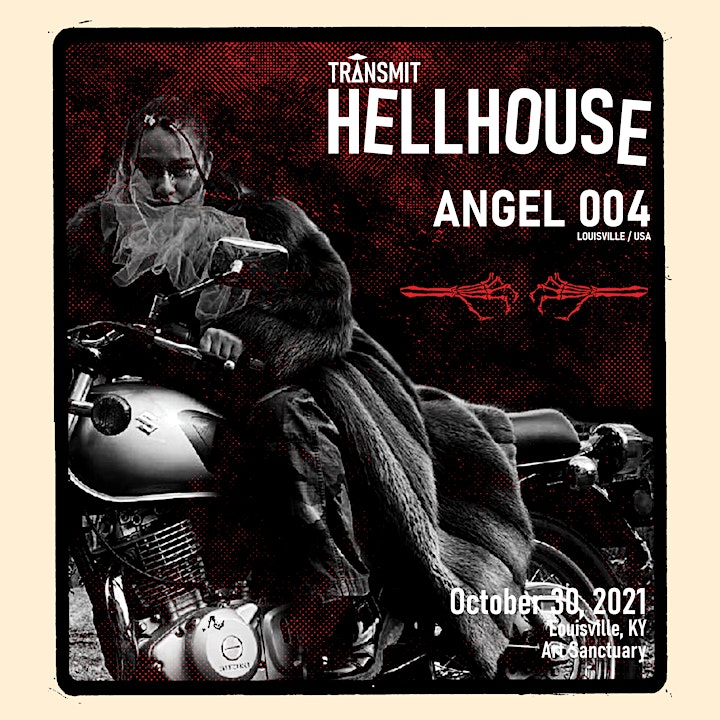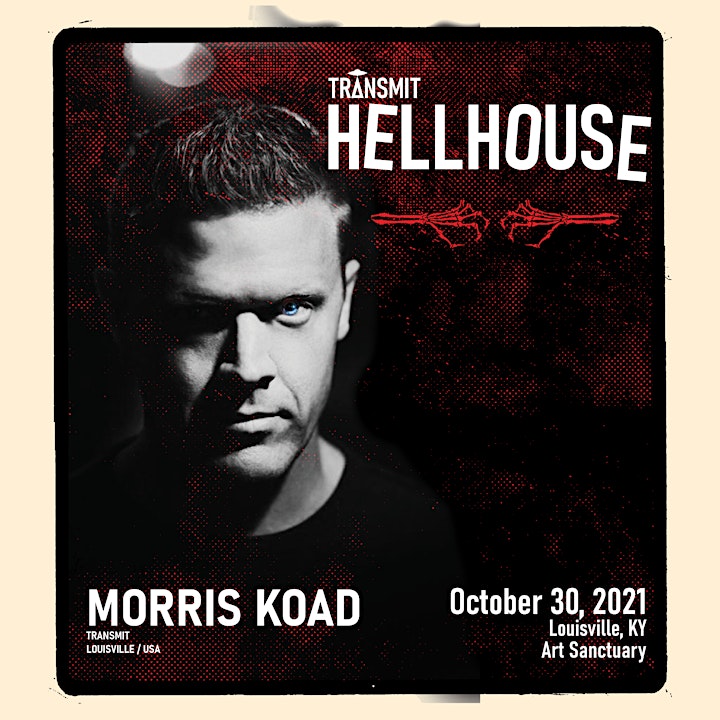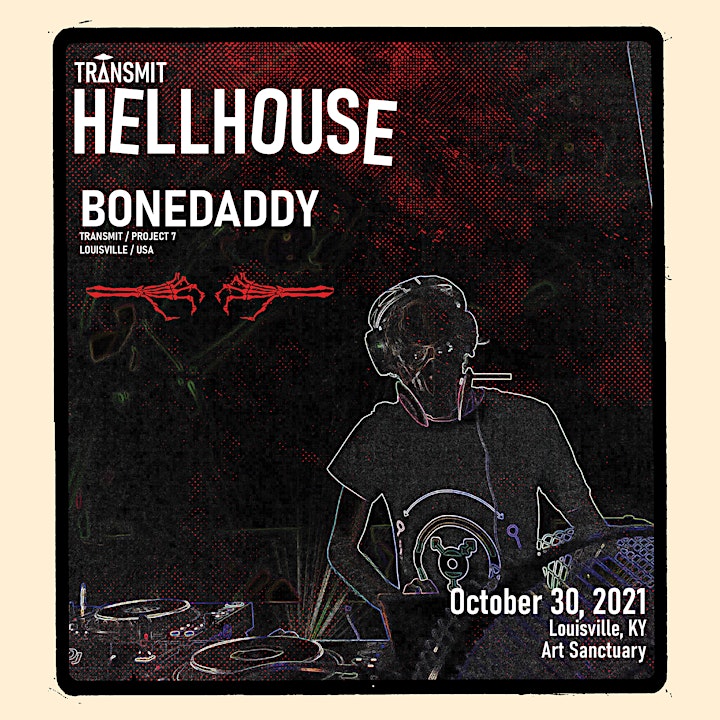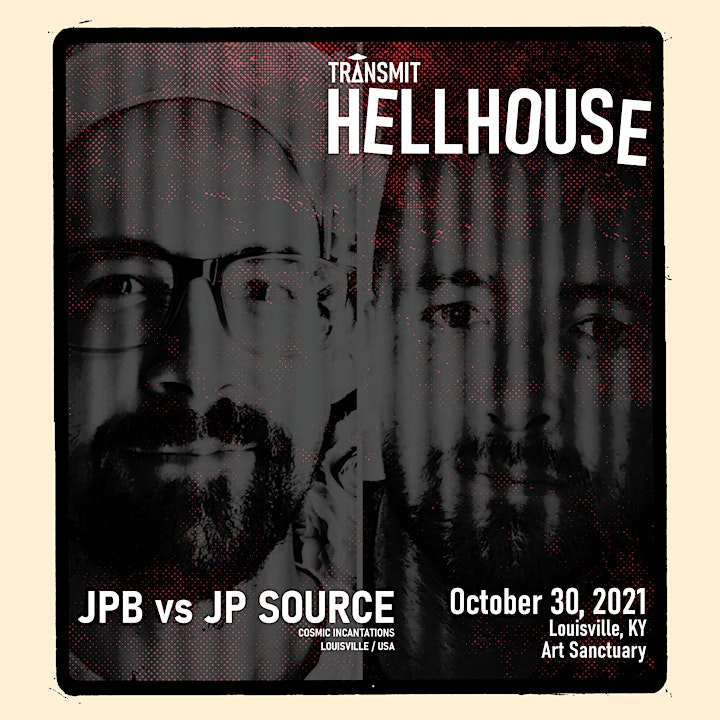 Date and time
Location
Art Sanctuary
1433 South Shelby Street
Louisville, KY 40217