Secret pop-up (socially-distant)outdoor comedy show at a retro Tiki bar in SF
About this Event
Get ready for the first "HellaSecret" comedy shows. A brand new series of pop-up (and socially distant) live outdoor comedy shows at unique spots all across the bay. We'll take over a venue and you'll get notified of the secret location.
WE ARE BACK! / FIRST SHOWS of 2021 - The Shelter-in-Place order in San Francisco has been lifted, so outdoor dining can resume.
// EVERY SATURDAY // February + March 2021
This HellaSecret comedy show takes place at an awesome Tiki bar in San Francisco that's a retro-oasis filled with dreamy decor and colorful assortment of decorative exotica.
It's a 70+ minute show with 4-5 comics on the bill with credits like Cobbs, Punchline, SF Sketchfest, ABC and NBC.
Show is outdoors with socially-distant seating - Limited to 40 people per show.
Masks required when not eating/drinking
TROPICAL DRINKS: Drinks Menu has lots of fun tiki-inspired drinks like Mai Tais, Hurricanes and Mango Banana Coladas plus draft beer.
KOREAN FOOD POP-UP: Serving dishes like crazy spicy Korean ramen, bibimbap, veggie fried rice and Korean deep fried chicken
To help support local bars and restaurants, there is a two drink minimum per person (Like all bars/restaurants, a food purchase is required in order to drink alcohol)
21+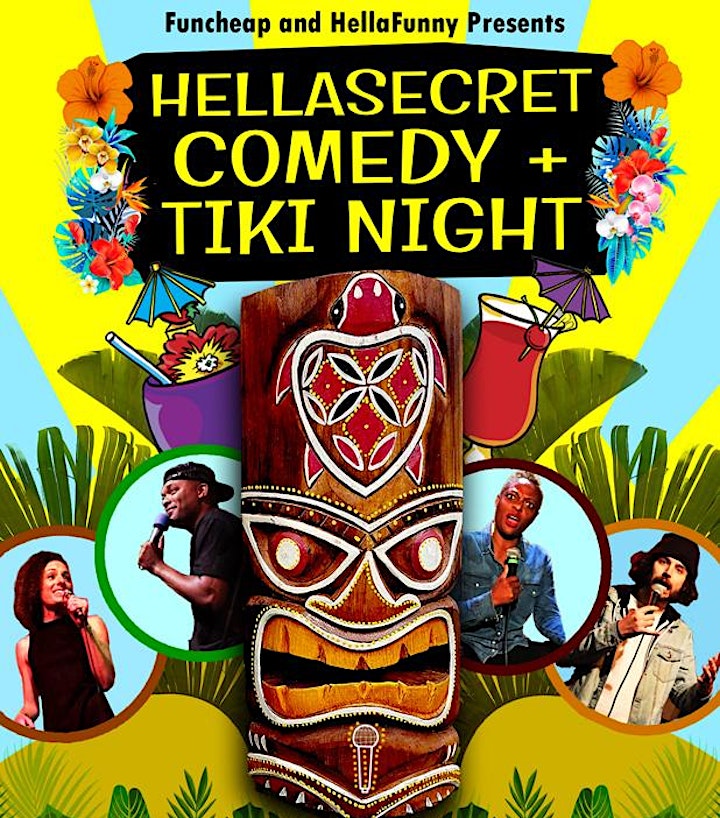 Location
Secret Location / San Francisco
Secret Address
IGNORE MAP - Scroll Down to see the "Additional Information" section of this email. Location revealed to ticket holders. You'll see the location in "Additional Information" section of your confirmation email.
San Francisco, CA 94122
Refund Policy