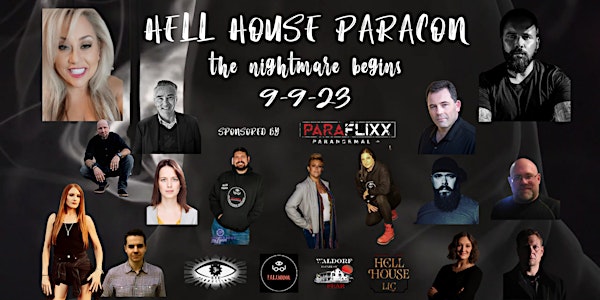 HELL HOUSE PARACON 2023
HELL HOUSE PARACON 2023- A Para-Horror Fusion Masterpiece
When and where
Location
Waldorf Estate of Fear 6325 Interchange Road Lehighton, PA 18235
About this event
Third Eye Event Productions and Waldorf Entertainment are honored to present the first ever annual HELL HOUSE PARACON. The event, which will be held rain or shine, is a marriage of classic horror and paranormal themes celebrated at the set of the occult movie classic HELL HOUSE, LLC. This PARACON is being held at the film set of the OFFICIAL HELL HOUSE, LLC MOVIES!
Join some of the cast of the movie, the director, special guest speakers and numerous vendors as we celebrate ALL things para-horror! Special appearances and lectures by April Busset, NJ Psychic medium and Sam Baltrusis, author and paranormal personality in addition to SO many others!
Special guest appearances by Shane Pittman (Holzer Files), Daryl Marston (Ghost Hunters), Jereme Leonard (28 Days Haunted) and many, many more!
Special Guest Speakers will be added throughout the year. Stay tuned for added speakers and tickets in the coming months!
*Please note-Lecture seating is limited and not guaranteed, entry is on a first come first serve basis. After each lecture all viewers must exit and get back in line to regain entry.*