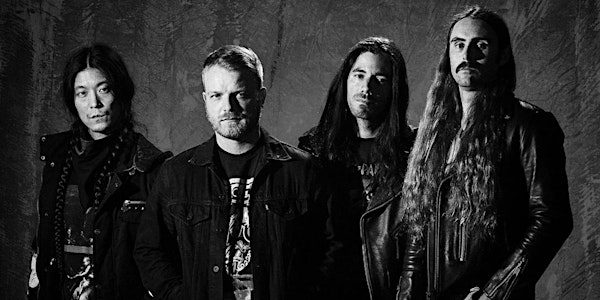 HELL FIRE |GLITTER WIZARD| NITE |DJ BLEEDING PRIEST (WILL FROM DEATH ANGEL)
Event Information
Performers
Hell Fire
Glitter Wizard, Nite
Location
The Great Northern
119 Utah St.
San Francisco, CA 94103
Hell Fire's triumphant return to San Francisco w/ Glitter Wizard, Nite and Death Angel's own Will Carroll on the wheels of steel!
About this event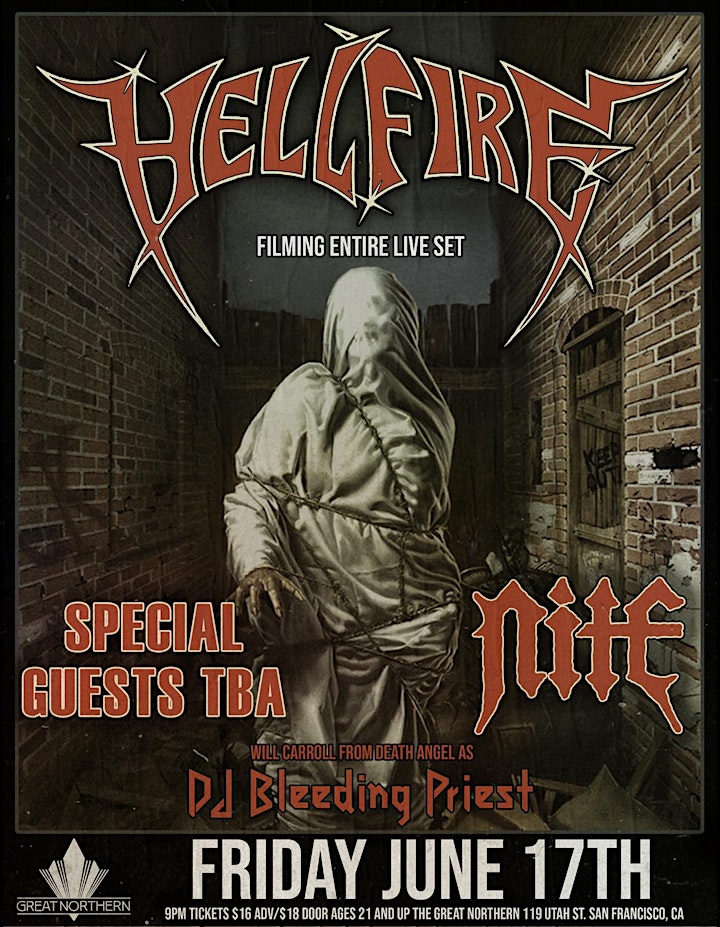 Hell Fire:
From San Francisco, California. Hell Fire pulls influences like the twin guitars and soaring vocals of New Wave of British Heavy Metal movement of the late 1970s combined with the speed and intensity of the early 1980s Thrash Metal Scene
Glitter Wizard:
Glitter Wizard plays a unique brand of freak rock that Julian Cope once described as "unashamedly glamorous hard rock," and he's not wrong. These San Francisco longhairs from another dimension were raised on punk and mix screaming riffs with a high- octane stage show full of sequins, headbanging and a sonic attack that'll leave you dazed and ready for the next hit. Imagine the Stooges stole the outifts from the Spiders from Mars, synth man Dik Mik from Hawkwind and hit the stage on a speed bender.
http://glitterwizard.bandcamp.com
Nite:
The San Francisco Bay Area has a history steeped in forward-thinking, technically dazzling metal, and NITE carries that torch with pride. Founded in 2018, their blackened heavy metal barrels towards the peril of an unknown future, while keeping one eye on the days when blistering leads once ruled the land. Guitarists Van Labrakis (Satan's Wrath, Mencea) and Scott Hoffman (Dawnbringer, High Spirits) let loose galloping riffs and harmonies that evoke the classic sounds of the N.W.O.B.H.M., with Labrakis' grizzled voice driving their dark, melodic metal into the modern era.
With Avinash Mittur (Wild Hunt) replacing founding bassist Bryan Coons in early 2021, he and drummer Patrick Crawford (Serpents of Dawn, Older Sun) make up a rhythm section that's fierce yet breathlessly precise: a freewheel pounding reminiscent of the early days of heavy metal, with a Rickenbacker-powered roar fueling the low end. NITE's debut full-length Darkness Silence Mirror Flame, released in March 2020 by Creator-Destructor Records, earned widespread praise. It showcased their fist-raising classic heavy metal that nearly every fan of the genre once fell in love with, but with a twisted and shadowy edge that the titans of old could never imagine. NITE is the flame of the past illuminating the darkness of tomorrow.
NITE went on to sign with the legendary Season of Mist Records in 2021 and to release their sophomore album, Voices of the Kronian Moon, on the label in March 2022.
DJ BLEEDING PRIEST (Will from Death Angel)
Performers
Hell Fire
Glitter Wizard, Nite
Date and time
Location
The Great Northern
119 Utah St.
San Francisco, CA 94103
Refund policy