Helen Dorado Alessi to be inducted into the "2013 Class of Long Island's Top 25 Advocates for Latino Empowerment" presented by The Hispanic Network on May 7th, Westbury Manor and sponsored by Briarcliffe College!

Friday, May 31, 2013 from 6:00 PM to 8:00 PM (EDT)
Event Details
2nd Annual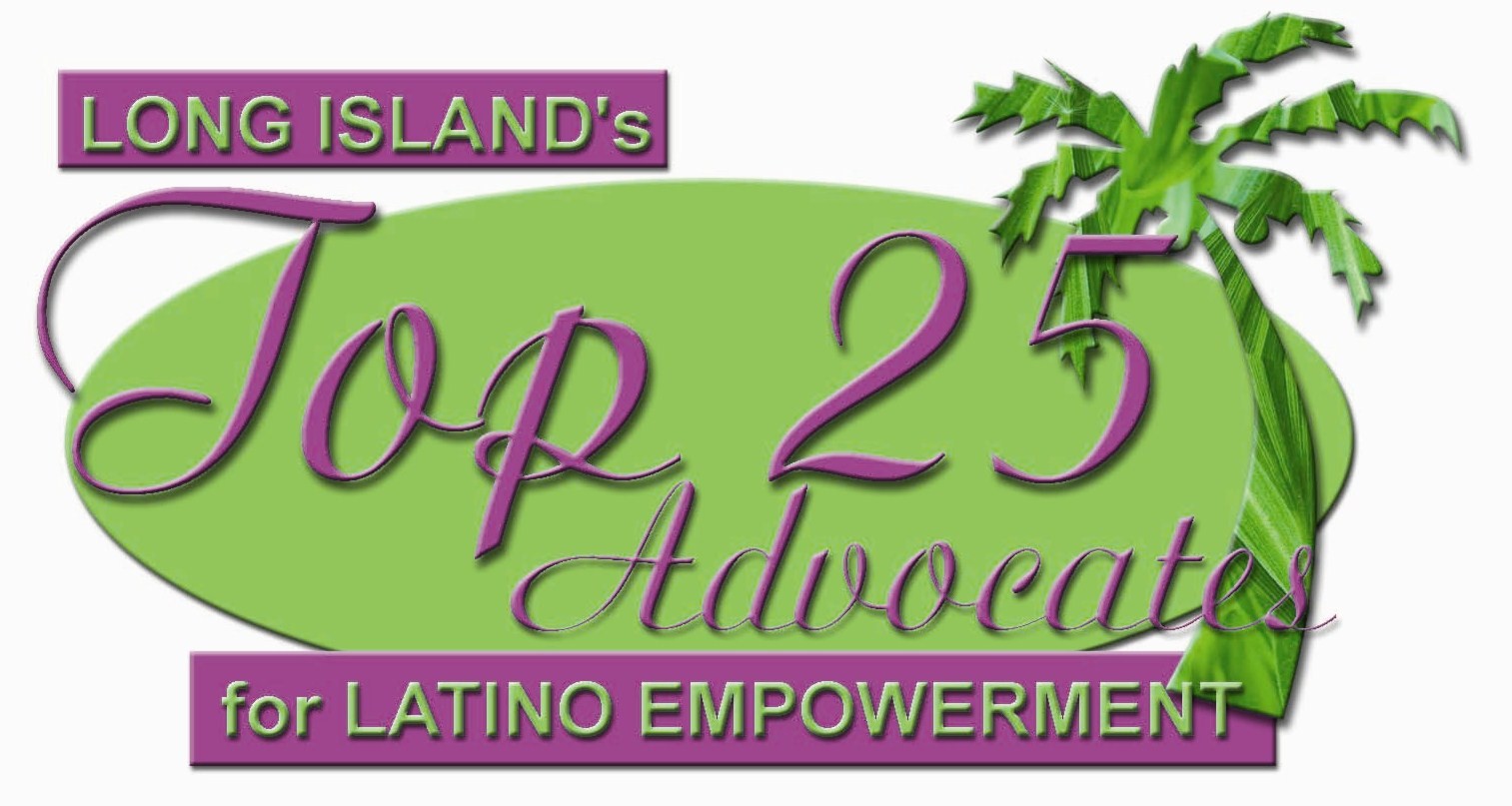 HELEN DORADO ALESSI
to be inducted as a member of the
"2013 Class of Long Island's Top 25 Advocates for Latino Empowerment"
She will be honored by the The Hispanic Network LLC
in partnership with Legendary Events 
and its benefactor

 along with other deserving individuals on  
Tuesday, May 7th from 6-8pm 
Westbury Manor
1100 Jericho Turnpike in Westbury
To register or for more information, call Tracey Gittere at (516) 222-0550 or TGittere@LegendaryEvents.net
Presented by 

Sponsored by 

Below is a brief summary of Helen's outstanding accomplishments:
For more than 25 years Helen Dorado Alessi has dedicated her life's work to social justice concerns and their impact on communities of color through the business, philanthropic and nonprofit sectors.  
In her role as Senior Vice President of The Early Years Institute Helen oversees the equity in school readiness program, coalition building efforts, organizational cultural competency and resource development for the organization. As Senior Vice President of The Early Years Institute (EYI) she attended the Witness for Peace "Roots of Migration" experience to Mexico to explore the cause of migration from Central America and Mexico to Long Island and the U.S.  Helen presents what she learned to school officials while ensuring that EYI's 50 partner organizations understand the U.S. policies influencing migration. She encourages them to help make Long Island a more welcoming place to immigrants for the good of all. 
Her leadership regarding Super Storm Sandy and its impact on children and families on the South Shore of Long Island has garnered much needed resources, programs, events and information to better serve the communities most affected.Helen, a longtime resident of Long Beach, focused on helping children and families after Hurricane Sandy.  As Vice President of the Long Beach Latino Civic Association, she organized 30 organizations to provide supplies, food, books, and toys to children and families. She recruited 50 volunteers to host a dinner for 300 people on Thanksgiving Day including Circulo de la Hispanidad. This was while her family was displaced from their home. Helenrecently sat on a Hofstra University panel discussion concentrating on the immediate and longer term needs of children and families that have faced the trauma of catastrophic events such as "Sandy".
She is the former Corporate Manager for Philanthropy for Toyota Motor North America, and earlier was Vice President of the Edwin Gould Foundation. Helen is a leading Latina in the philanthropic community and has been an active member of Hispanics in Philanthropy, the Association of Black Foundation Executives, and Asian American Pacific Islanders in Philanthropy. Helen led the effort to diversify and engage young people in the field through the Sponsors for Educational Opportunity's Internship in Philanthropy program. Ms. Dorado Alessi has delivered presentations and moderated panels on issues as diverse as career advancement, engaging diverse communities in philanthropy and the effects of transnationalism on grantmaking. Helen was Vice Chairperson-elect of Philanthropy New York and has served as a mentor with Emerging Practioners in Philanthropy. She has also served on the Annual Conference Committee of the Council on Foundations, was chair of the Funders' Collaborative for Strong Latino Communities, and the Long Beach Latino Civic Association. In 2004, Helen was selected as a Fellow of the National Hispana Leadership Institute in Washington, D.C. She holds a master's degree in Public Policy from Baruch College and a bachelor's degree in sociology from St. Francis College, and has completed the Executive Leadership Development and Assessment Program at Harvard University and Center for Creative Leadership.
Helen is proud to have been recently nominated to the City of Long Beach  Ethics Commission and Vice President of the Board of Directors of the Long Beach Latino Civic Association. Most importantly she is dedicated to her loving family… her wonderful husband of 29 years, Vincent and grown children, Andrea and Vinny. 
The "2013 TOP 25 ADVOCATES FOR LATINO EMPOWERMENT" AWARDS RECEPTION takes place on Tuesday, May 7, 2013, 6pm to 8pm, at the Westbury Manor. To register or for more information, call Tracey Gittere at (516) 222-0550 or TGittere@LegendaryEvents.net; or Maria Morales-Prieto at (516)319-9576.
A portion of the proceeds support the Hemsptead Hispanic Civic Association's important programs and services! 
When & Where

Westbury Manor
1100 Jericho Turnpike
Westbury, NY 11590


Friday, May 31, 2013 from 6:00 PM to 8:00 PM (EDT)
Add to my calendar
Organizer
Long Island's Champions for Familes benefits RotaCare!
RotaCare: Free Health Care for People in Need
Founded in 1992 by members of the Mineola‐Garden City Rotary Club, RotaCare was created to serve the needs of the uninsured on Long Island. It began when a group of concerned volunteers met at the Mary Brennan Interfaith Nutrition Network in Hempstead. Many of these volunteers recognized that in addition to food, the medical needs of their clients were not met adequately by the healthcare system. Through the collaborative efforts of the Rotary Club, local healthcare professionals, area residents, and Mercy Hospital, a "MASH" team was formed to operate weekly at the soup kitchen. RotaCare was born. Since its inception, RotaCare has remained a Rotary District project and supported by concerned companies, organizations and individuals to sustain its good works and benefits to the community by providing free health care to people in need. In 2007, RotaCare expanded its scope again, and moved to larger quarters at the A. Holly Patterson Extended Family Care Facility in Uniondale.
RotaCare is a 501(c)(3) non-profit registered with the State of New York.
Federal Tax ID 11-3135331
RotaCare Contact Information
Located on the grounds of the 
A. Holly Patterson Extended Care Facility
875 Jerusalem Avenue
Uniondale, NY 11556
(516) 539-9834
www.rotacareny.org
Helen Dorado Alessi to be inducted into the "2013 Class of Long Island's Top 25 Advocates for Latino Empowerment" presented by The Hispanic Network on May 7th, Westbury Manor and sponsored by Briarcliffe College!