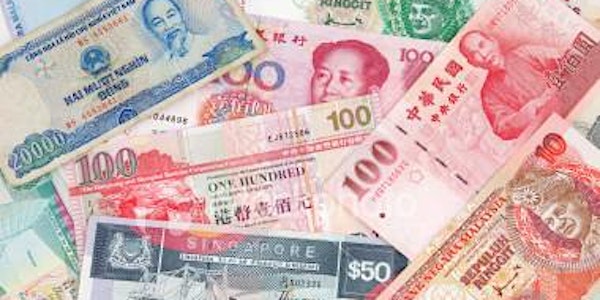 Hedging Political & Currency Risk in Asia
When and where
Location
White & Case LLP 1155 Avenue of the Americas (building entrance: corner of West 44th Street and Avenue of the Americas) New York, NY 10036
Refund Policy
Contact the organizer to request a refund.
Description

presents:
Hedging Political & Currency Risk in Asia
How can investors and organizations manage their exposure to political and currency risk in Asia, and ensure the resilience of their businesses and investments? Growth in China continues to slow as overcapacity is taking its toll. In the region overall, slowing economies are encouraging an increase in nationalist sentiment and protectionism. What are the likely impacts on these countries and their currencies? The prolonged drop in oil prices has impacted producing and consuming countries alike. What is the likely impact as oil prices rise again? We will explore these and many other issues, including New York's new role as the latest offshore RMB clearing and settlement center, and the links with Hong Kong's deep CNH liquidity pool.
Panelists
Anthony Mak '14, Director, New York, Hong Kong Trade Development Council (HKTDC)

Bob Savage, CEO of CCTrack FX Advisory (a CITIC Capital Company)

Daniel Wagner, Managing Director of Risk Solutions at Risk Cooperative

Ernest Patrikis, Partner, White and Case LLP

Moderator: Professor Ronald Schramm, School of Public International Affairs, Columbia University, CEO and founder of China Macro Finance in New York City
Program Schedule
6:00 Registration

6:30 Panel discussion

7:30 Q&A

8:00 Networking reception
Speakers' Bios
Daniel Wagner
is Managing Director of Risk Solutions at Risk Cooperative, a Washington, D.C.-based specialty strategy, risk and capital management firm. He was previously CEO of Country Risk Solutions -- a cross-border risk advisory firm he founded -- and Senior Vice President of Country Risk at GE Energy Financial Services.
Daniel began his career at AIG in New York and subsequently spent five years as Guarantee Officer for the Asia Region at the World Bank Group's Multilateral Investment Guarantee Agency in Washington, D.C. During that time he was responsible for underwriting political risk insurance (PRI) for projects in a dozen Asian countries. After serving as Regional Manager for Political Risks for Southeast Asia and Greater China for AIG in Singapore, Daniel moved to Manila, Philippines where he was Guarantee and Risk Management Advisor, Political Risk Guarantee Specialist, and Senior Guarantees and Syndications Specialist for the Asian Development Bank's Office of Co-financing Operations. Over the course of his career Daniel has also held senior positions in the PRI brokerage business in London, Dallas and Houston.
He has published more than 500 articles on risk management and current affairs and is a regular contributor to the Huffington Post, South China Morning Post and The National Interest, among many others. His editorials have been published in such notable newspapers as the New York Times and Wall Street Journal. Daniel is also the author of three books: "Political Risk Insurance Guide", "Managing Country Risk", and "Global Risk Agility and Decision Making" (co-authored with Risk Cooperative CEO, Dante Disparte).
He holds master's degrees in International Relations from the University of Chicago and in International Management from the American Graduate School of International Management (Thunderbird) in Phoenix. He received his bachelor's degree in Political Science from Richmond College in London.
Robert Savage is a Partner and the Chief Executive Officer of CCTrack Solutions. Prior to forming CCTrack Solutions, he was the COO at FX Concepts. Prior to FX Concepts, Mr. Savage was Managing Director of FX Macro Sales at Goldman Sachs, where began to publish widely-read and insightful research focusing on the FX markets and the macroeconomic environment. Prior to his 23 years with Goldman Sachs, Mr. Savage was the Head of New York Foreign Exchange Trading for Lehman Brothers and a Director of Proprietary Trading at Bank of America Securities. Mr. Savage received a BA in Political Philosophy from Yale University.
Anthony Mak is in charge of HKTDC's operations in New York and Eastern United States, responsible for promoting Hong Kong's world-class service and trading platform. Prior to coming to New York, Mr. Mak was the section head for financial services, responsible for the marketing aspects of IPO fund raising, offshore RMB/yuan business and international M&A for Chinese enterprises. Previously, he served as Marketing Manager of HKTDC in Paris and Moscow. Mr. Mak is an MBA (Global Executive Stream) graduate of Columbia University, University of Hong Kong and London Business School and received his Bachelor's degree from the University of Hong Kong. He is trilingual in Chinese, English and French.
Ernest Patrikis is a partner in the New York office in the firmwide Bank and Insurance Regulatory Practice. He is one of the few lawyers in private practice who has extensive experience in both the banking and insurance industries. He is recognized as an authority on banking law and regulations. He speaks at conferences on these topics on a regular basis and provides testimony on them as an expert witness. He has appeared on Bloomberg, CNBC and Fox Business News television and is widely quoted in the press on banking and financial matters. He is a member of the Council on Foreign Relations and the Economics Club of New York. He has served on the banking, securities regulation, European law and furtures committees and chaired the Y2K Committee of The Association of the Bar of the City of New York, the Executive Committee of the Banking Law Committee of The Federal Bar Association, and the Atlantic Legal Foundation. Ernie is vice chair of the American Bar Association Subcommittee on Securities, Derivatives and Capital Markets.
Professor Ron Schramm has been conducting research related to China since the early 1990s and is on the faculty of the International Business School of Suzhou as an Associate Professor. He is PhD Program Director and also the MSc Economics program Director. He is on XJTLU's Research Steering Committee and is Finance Editor for the International Journal of Emerging Markets. He had been on the faculty of Columbia Business School for over 27 years. He holds a Bachelor's Degree from Harvard University (with honors) and Master of Arts, Master of Philosophy and PhD in Economics from Columbia University.
He was a Fulbright Scholar at the University of International Business and Economics in Beijing (where he taught the first course ever in corporate valuation — 2003) ; a Visiting Scholar at Shanghai Jiao Tong University (2000); and a Visiting Scholar at Hong Kong University of Science and Technology (1997). He is a Visiting Professor at Chinese-European International Business School (CEIBS) in Shanghai 2008-2015. In 2010, Professor Schramm taught the inaugural course in a new Kenyan EMBA program jointly sponsored by Columbia Business School, Goldman-Sachs and USIU. As an Economist at the International Monetary Fund (IMF) in the early 1990s, Professor Schramm worked on debt workouts for heavily indebted countries and was instrumental in the reform of the foreign exchange system of Uganda. He has done consulting work for the World Bank. The course in corporate finance was offered in Nairobi, Kenya. He founded and led the China Business and Economy Group of the Harvard Club of New York City. Ron recently completed a textbook on China and the United States: The Chinese Macroeconomy and Financial System: A US Perspective Routledge/Taylor&Francis/ME Sharpe. He
has taught the widest range of courses of any faculty member at Columbia — having taught the PhD course in econometrics, forecasting, managerial economics, macroeconomics, international business, international financial management, international valuation and corporate finance. He was the first recipient of the prestigious Chazen Institute Award for case writing on an international topic. He has led Columbia's MBA and EMBA course in China for over 13 years. In addition to his research related to China, Professor Schramm specializes in international financial management. As an Economist at the International Monetary Fund (IMF) in the early 1990s, Professor Schramm worked on debt workouts for heavily indebted countries and was instrumental in the reform of the foreign exchange system of Uganda. He has done consulting work for the World Bank. He recently supervised the writing of over 40 business school cases at Kenyatta University in Kenya. He was Associate Director of Columbia's Center for International Business Cycle Research where he wrote and edited numerous publications related to the international economic outlook. He is also CEO and founder of China Macro Finance in New York City.
(No walk in due to venue's security policy; no refund of purchased tickets)
Venue Sponsor: