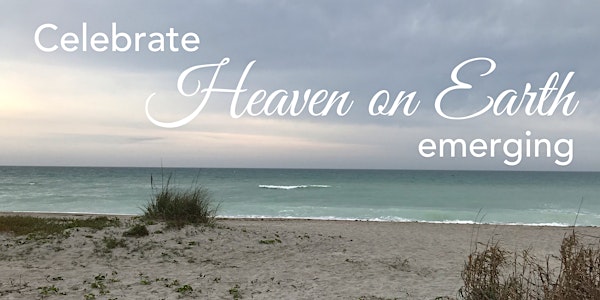 Heaven on Earth Celebration Beach Picnic
Heaven on Earth Anniversary Celebration Beach Picnic
Date and time
Wednesday, March 30, 2022 · 4:30 - 7:45pm EDT
Location
Turtle Beach Turtle Beach Road Sarasota, FL 34242
About this event
Join us to celebrate the 9th anniversary of the official opening of Heaven on Earth on March 30, 2013, with a potluck picnic and sunset at Turtle Beach, Sarasota. We will try to get a spot as close to the entrance at the end of Turtle Beach Road as possible.
This is an opportunity to celebrate and bring more awareness to Heaven on Earth. God is opening a portal to Heaven on Earth for those ready to ascend to it that day.
Most still don't realize it is here nor really understands what it is or how to reach it to capitalize on it so Dr. Joy Pedersen will elaborate on the history and possibilities.
Joy was present at the ceremony and the significant events during Holy week 2013 that preceded Archangel Michael announcing, "Today is the first day of Heaven on Earth" on March 30.
Michelle Marie Angel will lead a Synergized Group Consciousness Heaven on Earth Visioning with meditation for vibrational attunement to help manifest Heaven on Earth.
The plan is to relax and enjoy the company of others at the beach, have a bite and do the formal part around 6 for those who are coming from work.
God has mentioned, "Rome wasn't built in a day and nor is Heaven on Earth".
All are welcome. Bring your beverage and a dish to share. Please RSVP so we can coordinate appropriately.
For more information on the background and/or access tools for those who wish to celebrate this occasion on their own, can visit, http://heavenonearthtoolkit.com.
We also have a Facebook group for those who want to celebrate and experience Heaven on Earth, can go to http://facebook.com/groups/heavenonearthishere.
About the organizer
Dr. Joy Pedersen has worked with thousands helping release their karmic bondage, emotional baggage, limiting beliefs, and hidden internal blocks. She has also released the lower energies of property and upcoming travel and events to improve outcomes. 
Her work focuses on relationships, money, career, business, health and wellbeing helping her clients and their families and businesses create even more success quicker and easier.
International #1 best-selling author, Doctor of Divinity, Licensed Spiritual Healer and Certified Spiritual Health Coach, and Certified Law of Attraction Practitioner, Dr. Joy serves a primarily international business and professional clientele helping them identify and solve the cause of their personal and business issues. 
She is also the author of the channeled book, Wisdom of the Guardian: Treasures from Archangel Michael to Change Your Life, a book AA Michael dictated to her, and Clear Your Past and Change Your Future, which elaborates on her spiritual healing practice that Archangel Michael invited her to partner with him in to help set humanity free.