Heaven Below special guest After the Daylight & Chase Jentz
Heaven Below featuring Pat Kennison (Boyzen Heat/ Union Underground/ Lita Ford)
About this event
Heaven Below featuring Pat Kennison (Boyzen Heat/ Union Underground/ Lita Ford) with special guest After the Daylight & Chase Jentz
Pat returns to his home town of San Antonio with his band "Heaven Below" to blow the roof off Fitzgerald's Bar & Live Music Venue with the bands fierce rock creations and re-crafted covers of some of our favorite tunes. Hailed as "The Next Guns N Roses" by Hardrockhaven.net, Heaven Below brings new venom to old music and creates their own unique masterpieces..
Nikki Stringfield of "The Iron Maidens" is also part of Heaven Below's line-up.
Lending direct support is the original act "After the Daylight". Chase Jentz opens the show with acoustic style tribute to Def Leppard.
Heaven Below's Website: https://www.heavenbelow.com/
HB YouTube: https://www.youtube.com/channel/UCRSJxT6HeMQpiW1hd27Cb_Q
"When Daylight Dies" Unplugged version with Pat & Nikki (Heaven Below/ the Iron Maidens): https://youtu.be/d-S6vOr6HYs
*There will be a $5 MINOR Sur-charge at the door for anyone attending the show who is under the age of 21. This applies without or without a pre-purchased tickets.
*VIP Packages available from Heaven Below's Website.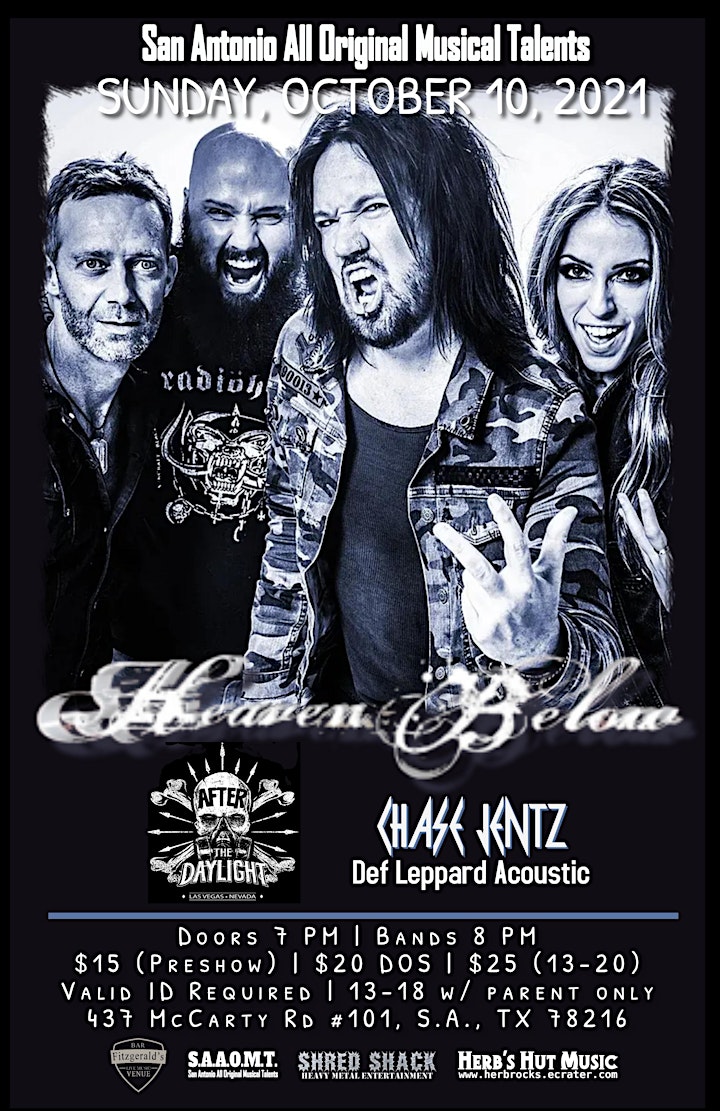 Organizer of Heaven Below special guest After the Daylight & Chase Jentz