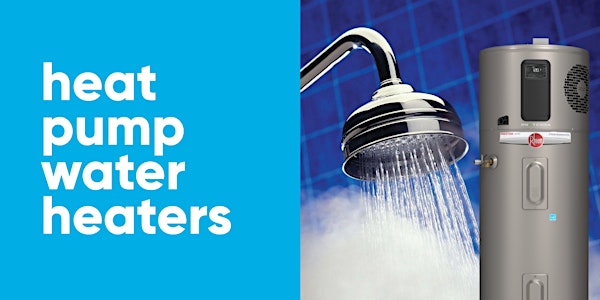 Heat Pump Water Heaters- Builders share their experience
Join the Electrify Coalition as we hear from home builders about their experience installing heat pump water heaters in new homes.
Refund Policy
Contact the organizer to request a refund.
Eventbrite's fee is nonrefundable.
About this event
Direct link to today's webinar
Installing Heat Pump Water Heaters (HPWH) in new homes is one of the easiest and most cost-effective ways to incorporate efficient, reliable, low-cost water heating into buildings. Yet, the vast majority of builders are not familiar with and not using advanced water heating technology.
Join the Advanced Water Heating Initiative (AWHI), EEBA and Electrify Now as we profile three American homebuilders who are installing heat pump water heaters in new homes and loving it. Our discussion will highlight the experiences these builders have had with this important technology and cover the following topics:
Why builders are installing and excited about HPWH
What are the benefits and challenges of installing HPWH in new homes?
Are builders modifying their homes to fit and take advantage of HPWH?
What are homeowner's saying when they buy homes with HPWHs?
Any lessons that can be applied to installing HPWHs in existing homes?
Panelists
Juan Fernandez - Founder & CEO @CVF Homes - Juan founded CVF homes in 2005 focusing on infill development and building energy and water efficient homes with great design. CVF homes is committed to certifying 100% of its homes to the DOE Zero Energy Ready Home Program and is a proud winner of the U.S. Department of Energy's Housing Innovation Award in 2019 and Honorable Mention in 2020. Juan received his Bachelor degree in Mechanical and Electrical Engineering from the Monterrey Institute of Technology (ITESM) in Monterrey Mexico.
Geoff Wickes - Senior Product Manager NEEA - Geoff works closely with utilities and trade allies to help identify and prove out innovative energy-efficient technologies to transform markets. Geoff currently supports heat pump water heaters, connected water heaters and actively scans on other motor driven products and water heating technologies. He holds a B.S. in Geography and Liberal Arts from Oregon State University, and has been a LEED 2.0-accredited professional since 2004.
Leigha Dickens - Green Built Alliance - Leigha Dickens, RESNET HERS Rater, currently works as Green Building Program Manager for the Green Built Alliance, North Carolina's non-profit for advancing sustainability in the built environment, managing their Green Built Homes certification program. She previously worked for 11 years for Deltec Homes as their green building and building science manager, advising on energy efficient design including efficient hot water use. She is a RESNET HERS Rater and has an undergraduate degree in Physics from UNC Asheville.
Amy Tovel - Ichijo - Amy has been working with Ichijo USA for more than ten years in Marketing and Land Acquisition. She has enjoyed bringing awareness of Ichijo's unique building features to the public through marketing their energy efficient building practices, cool in-house contemporary designs as well as unique proprietary products. Prior to working with Ichijo, Amy worked in Real Estate and Marketing for tech companies.
Masaki Narita - Ichijo - Masaki has been working for Ichijo for over 28 years and transferred to Portland from Sapporo in Japan in 2016. Designing homes in the Pacific Northwest is both challenging and enjoyable to him.
Learning objectives of webinar:
Guidelines for how to install HPWHs in new or existing homes and how that differs from gas or electric resistance water heaters
How to communicate with customers on the monetary and energy saving potential of these devices.
How to incorporate heat pump water heaters into new home design and construction
The role water heaters play in the decarbonization and transformation of the electric grid.
Donations:
Please consider making a donation for this webinar to the Electrify Everyone Fund. All proceeds from your donations go towards installing free heat pump water heaters in low income homes through the nonprofit Community Energy Project. Your donation will help reduce carbon emissions and lower utility bills for these families. Thank you!
This webinar brought to you by the Electrify Coalition: