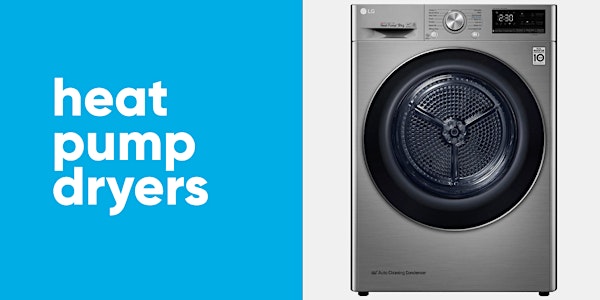 Heat Pump Dryers - Dry Clothes Better
Join the Electrify Coalition as we hear from ENERGY STAR on how heat pump dryers work and save consumers energy and money.
Refund Policy
Contact the organizer to request a refund.
Eventbrite's fee is nonrefundable.
About this event
Heat Pump Dryers are rated ENERGY STAR's most efficient dryers on the market and use one quarter or less energy than a typical electric resistance or gas dryer. They use heat pump technology to move heat rather than create it and with their ventless technology work well in apartments and multi-family units.
But with their longer cycles and small drum sizes, heat pump dryers may not be for everyone.
Join the Electrify Coalition as we talk with ENERGY STAR about:
What is a heat pump dryer and how does it work?
How does ENERGY STAR rate dryers and what are the ENERGY STAR tools that can help me find the efficient dryer for me?
What are the advantages and disadvantages of heat pump dryers?
What are the best use cases for heat pump dyers?
What brands of heat pump dryer are out there?
Can heat pump dryers help get me off of gas dryers?
Panelists
Ga-Young Park - ENERGY STAR Residential Appliances Manager, US EPA - Ga-Young leads the development of the ENERGY STAR specifications for appliances, including refrigerators, dishwashers, laundry, room ACs, room air purifiers, and dehumidifiers at the U.S. Environmental Protection Agency. Prior to her current role, Ga-Young worked for a building performance consulting firm and the ENERGY STAR Residential New Construction program. She has a MEM from the Nicholas School of the Environment at Duke University, and a BA from Tufts University.
Cora Wyent is a Research Associate at Rewiring America, where she is conducting research and analysis to enable rapid electrification of everything in the economy. Prior to Rewiring America, she completed her PhD in Physics at Caltech, where she studied new materials for ultrathin solar cells and performed technoeconomic analysis of new photovoltaic and carbon capture technologies. She got excited about electrification as a cost-effective, job-creating, and equitable climate solution through representing the Sunrise Movement Los Angeles on the SoCal Building Electrification Coalition. Cora received her bachelor's degree in Physics from UNC Chapel Hill. She is from the Bay Area, and currently lives in Los Angeles with her wife and their cat.
Hang Dry Week - Our heat pump dryer webinar corresponds with the 4th annual Hang Dry for Climate Change week! Hang you laundry August 21 - 27, win great prizes and see how the rest of the world uses the original form of solar energy. More information here
Donations:
Please consider making a donation for this webinar to the Electrify Everyone Fund. All proceeds from your donations go towards installing free heat pump water heaters in low income homes through the nonprofit Community Energy Project. Your donation will help reduce carbon emissions and lower utility bills for these families. Thank you!
This webinar brought to you by the Electrify Coalition: