About this Event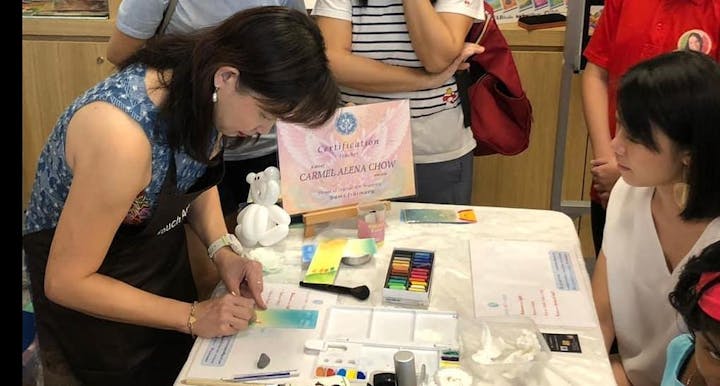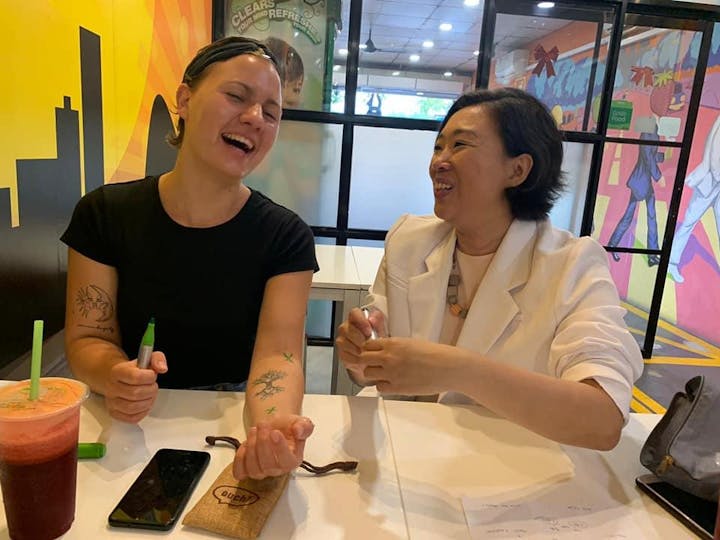 Do you know 1 out of 3 deaths in Singapore is due to heart diseases or stroke?
Our HEART is the king of all our organs.
Our HEART governs our mind.
Come listen and experience the 'Heart sharing' by 2 speakers – Ms Lee Hui Fang, Founder of Ouch Pte Ltd and Ms Alena Chow, Founder of Touch Art Peace. They will share with you simple techniques to care for our heart through self-care techniques with meridian points, feel the heart and express the inner emotions through tactile sensations with Soft Pastel Nagomi Art bookmark creation.
Enjoy a cup of Silver Needle white tea made of only the top buds of the Camelia Ainensis plant which promotes heart Health. Bring home a HEARTY experience!
About the Speakers:
– Alena Chow
Alena is a self-taught artist who reawakened her creativity through Japanese Pastel Nagomi Art. In August 2017, she stumbled upon a workshop and was so intrigued she signed up to become a Nagomi Associate trainer right away.
This led to Alena pursuing first, a Diploma as an Associate Instructor, and subsequently, a Diploma in the Advanced Instructor course, certified by Japan Hope Art Association (JPHAA). She went on to continue her painting journey with Crystal of Flower Academy (Japan) and she is now also a certified teacher of Crystal of Flower (Mandala).
Since her first encounter, Alena has used the art form to explore self-care, self-awareness and self-expression,. She is passionate about the benefits, using it build social and emotional wellness and resilience. Alena is a firm believer in taking pockets of time for self-reflection, to get in touch and realign our innermost feelings and thoughts in the current disruptive economy.. She is passionate to share the simple and beautiful benefits of rediscovery one's inner artististic capability through the very simple art form.
In April 2018, Alena started Touch Art Peace, housed under her company, Ascension Connex Comms Pte Ltd (founded in June 2013). Touch represents the sensorial nature of the art form, Art describes the activity, and Peace signifies the sense of well-being that Japanese Pastel Nagomi Art can impart.
She has conducted Nagomi Art Courses at PA Bishan and Toa Payoh Community Centers. Todate, Alena has conducted numerous Nagomi Pastel Art workshops and activities for the corporate, schools holidays programs, and private classes.
More about Alena:
Alena runs hers own her company since June 2013- Ascension Connex Comms Pte Ltd as a seminar, conference consultant, providing interactive presentation skills training and solutions to high sales conversion outcomes after events. She is voice trained by a local news presenter and broadcaster.
With her previous background of 15 years prior sales management experience in the Information Technology (IT) industry, she is passionate about applying technology and art into her meetings strategies & activities to serve her clients' needs.
Alena incorporates her framework of creative activities using Nagomi Pastel Art for corporate team strategy retreats, social, family bonding. Alena also applies an effective framework to impart effective Self-confidence speaking skills through Nagomi Pastel Art for children, women, and professionals.
Alena holds a degree in Business Marketing from Swinburn University and a Advanced Diploma in Computer Studies.
- Ms Lee Hui Fang
Hui Fang's personal belief is "health is indeed wealth". In March 2017, her father was diagnosed with cancer. This is a wakeup call that shook her to be acutely aware of the importance of health and wellness.
After learning her father's diagnosis, She realised that taking care of our health is indeed a simple thing to do. This motivated her to set up Ouch! To adopt my life mission of inspiring others to focus on their health in order to live better, more fulfilled lives.
Hui Fang believes that everyone can lead healthier lives and can stay young regardless of our age through unlocking natural wellness as long as we are willing to get started! She also believes that we can start improving our health immediately and focus on preventive healthcare. At Ouch!, she strives to empower others with her skills and knowledge so that they too can have better overall well-being.
Hui Fang graduated from Nanyang Technological University's Nanyang Business School with a degree in Human Resource Consulting. She first learnt meridian therapy in 2006 from a group of Taiwanese professors from National Yang Ming University. Since then, she has fallen in love with the simplicity and effectiveness of their methods and wants to contribute to society by sharing what she has learnt. She continued to upgrade herself with a Diploma in Chinese Medicine Health Management Practice from Singapore College of Traditional Chinese Medicine. She is also a certified trainer with Advanced Certificate in Training and Assessment (ACTA). She is known for making complicated TCM so easy for her learners.
As an experienced meridian therapy trainer and a popular wellness speaker, Hui Fang regularly leads wellness workshops at community clubs, associations and corporate organisations.