Refund policy
Contact the organizer to request a refund.
Eventbrite's fee is nonrefundable.
Hearty Tables is an online cooking and storytelling series featuring immigrant and refugee chefs.
About this event
Food is universal but the culture of preparing it is unique to each community. In celebration of World Refugee Day 2020 and the 40th anniversary of the Refugee Act of 1980, WeaveTales has partnered with the Museum of Science & History in Jacksonville (MOSH) and We Are All America to hold a 6-week video series that brings together storytelling and cooking. Starting on May 30, each week, an immigrant or refugee chef will share stories about families, the journey to America, and how cooking has inspired them as they build a new life in a new country.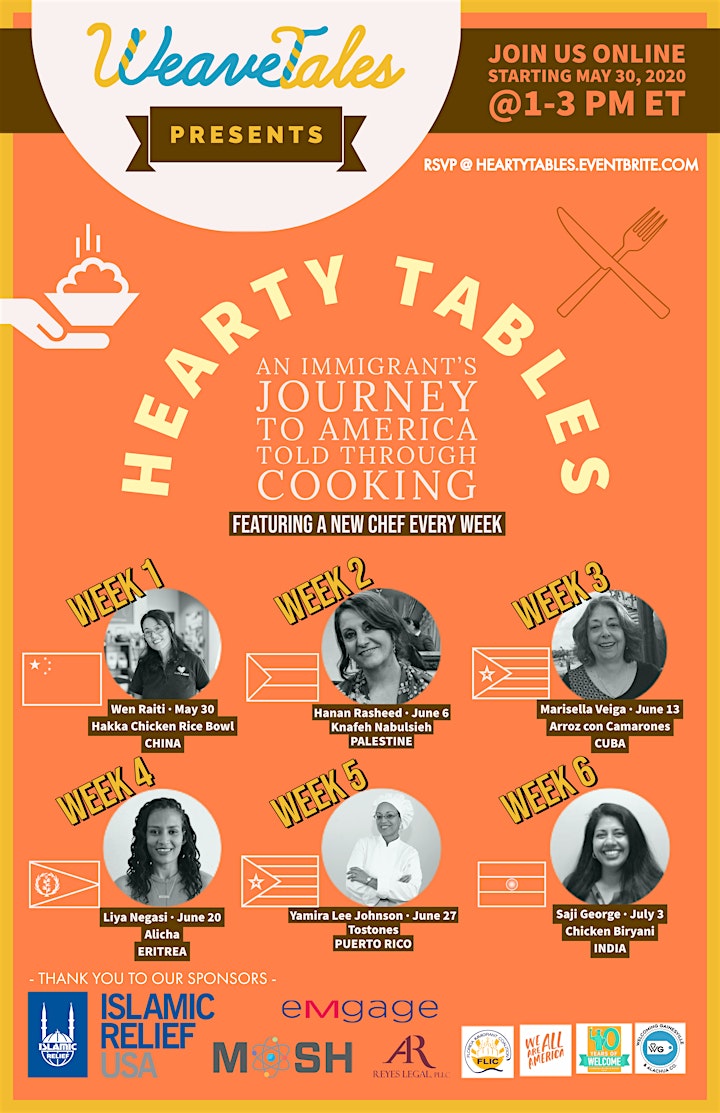 This program will be a great opportunity for the community to learn about the presence and stories of immigrants and refugees in America. The goal of this program is to embrace diversity by encouraging a deeper understanding of cultural differences through food and storytelling.
This program is free to the public; however, we are accepting donations for the ticket sales to be able to support the program.
Saturday, May 30: Wen Raiti / Hakka Chicken Rice Bowl (China)
Saturday, June 6: Hanan Rasheed / Knafeh Nabulsieh (Palestine)
Saturday, June 13: Marisella Veiga / Arroz con Camarones (Cuba)
Saturday, June 20: Liya Negasi / Alicha (Eritrea)
Saturday, June 27: Yamira Lee Johnson / Tostones (Puerto Rico)
Friday, July 3: Saji George / Chicken Biryani (India)
From 1 pm ET on the day of the show, you will be able to tune in for the live premiere of the cooking and storytelling by each chef on YouTube and Facebook. Following the live premiere, from 2 pm ET, you will be able to join us for a live conversation with the chef where you can ask questions!
RSVP today to reserve your spot! We will send you the access information to the live premiere and conversation the day before each show.
Each chef will be sharing their recipe and ingredients days before the show to help some of the viewers tune in to use it as a cooking class. WeaveTales will be taking questions from the audience asking them to the chefs as they prepare the food during the show to make it interactive.
To stay updated about the event and the featured chefs, please follow us on our social media Facebook/Twitter/Instagram @WeaveTales or sign up for email updates on our website: weavetales.org.